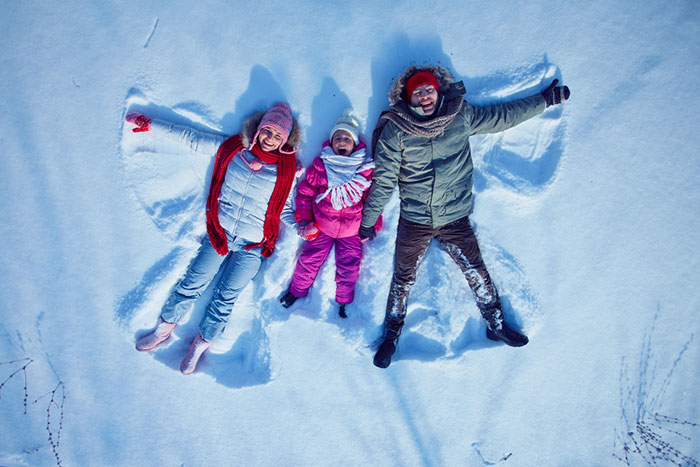 All parents want the child to grow up calm and positive, easily endure difficulties and not get upset over trifles. And we even know what it takes. In order for some kind of trouble to happen, we showed with our own example how to treat it: "Yes, bullshit, little things, you can see what is broken and repair there", "Anyone can forget the words, you will rehearse more – and everything will work out" .
It is laudable to react to problems like this, but this is not enough to foster a positive attitude towards life. It is necessary first of all to demonstrate a sense of the joy of life in relation to everyday reality.
And with this, many have a problem. And it is the weather that causes negative emotions most often.
Perhaps it is not that it is overcast on the street (it is raining or it is snowing). Just accusing the weather we are accustomed, easier and safer. What to answer the question: "Why are you so tired and absent-minded?".
List all your problems and experiences? In most cases, the answer: "Bad weather, I just can not collect my thoughts" is the most suitable.
Nevertheless, for the education of children in optimism, our attitude to what is behind the window is very important. After all, weather conditions are something that we cannot change, but can only accept, with joy or without.
If with joy, then the child will form this state of "all is well", as well as a sense of environmental friendliness, important for psychological health. If without it, the habit of blaming everything around in its mood and its problems will be fixed. In addition, meteo-dependence is formed in this way – when a person feels bad physically, he experiences a breakdown and a headache under certain weather conditions.
Typically, these people go to doctors in order to find a cause of a somatic nature. But many of them are absolutely healthy!
Just as a child, their parents, coming to the window, too often said: "Ugh, what a dampness, what a wind, what a snow" – and complained that in such weather "there is simply no strength to do anything".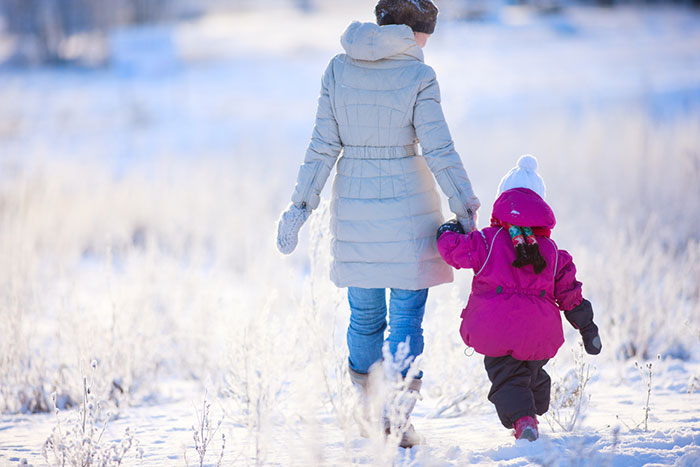 Most people say they love summer. This is understandable, because like any living creature we strive for light and heat.
Summer gives us a feeling of freedom and peace, reduces anxiety and generally allows us to live more relaxed. Wanted to take a walk – went out and walk. And if you wish, you can live in nature.
Winter is a man of many obligations. Even in the most urban conditions, in the cold season we become more responsible, sensible and persevering. And all because of a sense of self-preservation: it changes habits and even character.
We are internally adjusted to overcome, become stronger, ready for difficulties.
"A few years ago I was in a very difficult situation. My husband left, filling in the whole business, apartment and leaving me a penny with a one-year-old child in his arms. I was never taken to work – no complaints about life did not work.
My sister evicted me from the parent's apartment, although both of us are heirs. I could not even arrange a child in the kindergarten: for some reason he was deleted from the queue. There was a feeling that the whole world was against me, against me living in the world.
In terrible depression, I called a psychologist. He listened, offered group classes and made an appointment. in the park. We, the "clients", gathered three people there. "Now we have to meet with another group, let's go here on that slope," said the head.
We are going. Straight through the snow, which sometimes reached the knees. When they reached the slope, the psychologist rang somewhere and said: "You have to go through a little more, get to that glade".
When we reached it, I was completely exhausted. And when I heard "a little bit more," I literally shouted: "Enough! What kind of nonsense ?!
We have not just come to you. We begin to study immediately! "" So we have already begun, "our manager replied," and very successfully. " Then in the course of the work, the exercises were different.
But this walking on the snow I liked the most. I even now do it with the child. All moms walk in the park along the paths, and my son and I walk right through the snowdrifts.
We both need vitality and confidence. Although, of course, I already have it all. " Marina, Denis's mom
Exercise to overcome is not only walking in the snow, but also, for example, a walk in the wind or rain. Moreover, most people in Russia receive such psychological training for free. We do not need to arrange it, but simply do not avoid it.
Do not always strive to protect children from adverse weather events, take a walk in bad weather, let's feel the power of the wind and the fact that we have the strength to endure it.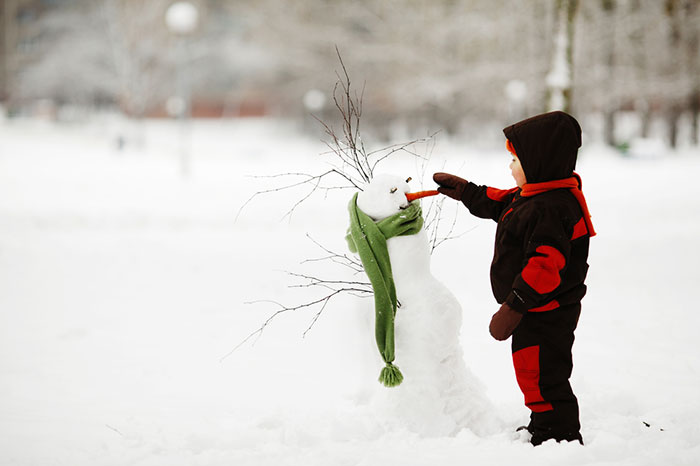 Igor and his mom make a snowman every day. In general, they had plans to sculpt a whole snowy town: houses, animals, and a Christmas tree. But they walk for two hours, and during this time only a snowman is obtained, and the next day it always turns out to be broken. "No, well, who cares?
Not otherwise teenagers behave so aggressively, "said the upset mother and suggested that Igor go for a walk later to catch the destroyers in the same place. Imagine their surprise when it was not schoolchildren who came to break the snowman (they just "constructively" added the snowman with a glazed mobile phone), but a pretty girl-neighbor in a pink fur coat and hat with embroidered snowflakes. "You do not repulse your fingers with a spatula, otherwise you don't look where you are making dubbing," said the grandmother, when the girl beat the sculpture with all the force. Then the grandmother turned to Igor: "And you, boy, why don't you play with a snowman?"
Children love snow: it gives the opportunity to diversify street classes, on the spot. In addition, it is a very obedient material, it can be converted as you wish.
But even snow is an excellent test. The way a child plays with it allows you to see a lot.
There are children whose activities are dominated by research interest: they take the snow in their hands, hold them for a long time, tamp them up, blow, watch how the shape of the snow-covered snow changes from heat. Often they try to bring a layer of snow or a piece of ice home, they pour it with water.
They also like to look at individual snowflakes, and they themselves realize that two identical cannot exist. Such children in life are calm, they like to watch what is happening, to draw their own conclusions.
But often they have no interest in doing something of their own. There are children who, on the contrary, are building all the time. Not necessarily snow figures – maybe labyrinths, walls or just walkways.
It is important for such guys to realize their own plans, and the snow gives such an opportunity. Finally, there are those who love to destroy.
These are children who for some reason do not manage to throw out aggression in another way. After all, even children can not scatter toys in an irritated state.
Absolutely all snow games are useful. If you want to correct something that alerts you in the child's psyche, then connect yourself. For example, offer your child your help in building a fortress and, thus, teach them to take into account the opinions of other people.
Or get snowballs in the game – a great way to cope with the accumulated anger.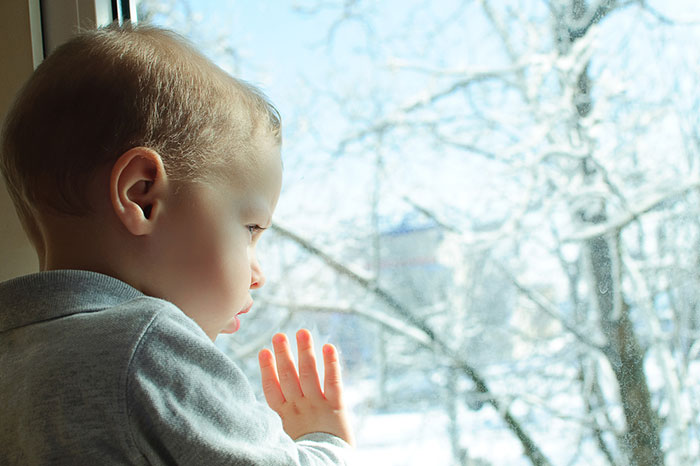 Cold treatments were popular back in antiquity. Pouring water or staying in cold caves was recommended for children and adults suffering from nervous disorders, complaining of poor sleep and anxiety. After all, cold is stress for the body.
It forces to switch the adaptation forces of the body to solve this particular problem. Simply put, when it's cold, we think less about problems of a different kind – to warm up. Of course, activities like pouring icy water or snow-rubbing are a personal matter.
For this, we need appropriate training, and (especially when it comes to children) the advice of a doctor. But regular walks are another thing. The "necessary" level of stress will be provided in any case, even if you just walk in the park, on the playground, around the house.
The main thing is not to wear so many clothes to the child so that he could not move his hand, not to tie a scarf up to his eyes and not to strive to transfer part of the walk to the shopping center ("Well, walked well until the store went").