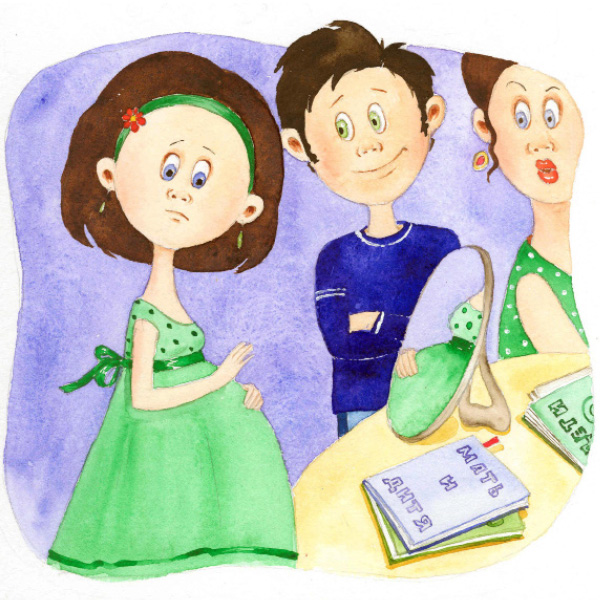 We constantly hear and say the word "special", "special", referring to the complexity, importance, responsibility of this period in the life of a woman. But these words also mean "unique", "uncommon", "unique". It is difficult to find another sphere of human life that would be surrounded by a similar number of stereotypes, superstitions and prejudices.
But at all times, another thing was also recognized – the tremendous importance of the bearing and birth of a child for the inner life of a woman, the growth and development of her personality. At this time, it is especially important to correctly prioritize and strive for maximum awareness of one's own experience, and not to become an exemplary pregnant woman or an ideal woman in labor.
Seven women talked about their frustrations related to pregnancy and childbirth.
I dreamed it would be the best 9 months of my life. But already in the first weeks of pregnancy I had to come down from heaven to earth … Constant fatigue, nausea, breast soreness … I didn't have enough strength even for a short walk, and I thought that I would be an active future mother … I gained a lot more weight than I expected.
And insomnia, and the sea of ​​tears over trifles … It was a shame that I fell into complete despondency and at some point completely ceased to be interested in their appearance, and some of the fashionable clothes from stores for pregnant women never put on!
(Katya, mother of Luke, 3 months.)
Certainly, pregnancy is a time of joyful waiting. But it is also a time of serious changes in all spheres of a woman's life: biological, bodily, emotional, personal and family.
This adjustment, which psychologists compare with the crisis of adolescence, takes a large amount of mental energy and often makes a woman vulnerable. At some point, under the pressure of stereotypes and seeking to win the approval of society, it can lose direction, panic and lose self-confidence.
We live in a society inclined to strongly idealize motherhood. A pregnant woman can be irresistibly beautiful and sometimes really seems to glow with a special light, but there is hardly any future mother who has been in complete harmony with herself and those around her for nine months and at the same time looked like a model on the cover. Pregnant women are people too, they have good and bad days.
On a good day, arrange a photo session and keep the best shots visible, and on a bad day, make an effort and choose a walk in a beautiful peaceful place. But it is unlikely you will benefit if you endlessly compare yourself with a pregnant movie star or strive to repeat other people's exploits.
In women's forums, many people write about a special spiritual state during pregnancy. One took a great interest in meditation, another took up drawing, the third for the first time after school, sat down again at the piano … And I just cried, was angry with my husband, suffered from anxiety for a child and from fear of childbirth
(Maria, mother of Ilya, 2 months).
For many women, this is truly a time for a close look inside of themselves, the acquisition of new mental resources. Everyday hustle and bustle recedes because we are focused on the main thing – such concentration in many cultures is achieved by performing special rituals and practices. Some of them — for example, proper breathing, work with affirmations, and self-massage techniques — are taught in courses for pregnant women, and you can learn a lot from your own book.
If for some reason a woman cannot or does not want to attend courses, she can help herself. You do not have to retire to an ashram for meditation or do handicrafts in like-minded society; you can start with a simple diary.
Write down all your fears and anxieties – at least in free form, even as a list, even in verse, you can – there are no rules here. This is your diary, which you will not post online or read to your husband if you do not want.
Thanks to him, you will have a personal psychological space that is not measured in square meters and tends to expand without limits. Take advice from the excellent book "Yes. Pray.
Love "and start choosing thoughts like dresses in a closet. Pregnant not to face the dull bleak colors!
Maybe you, like the lady from the forum, want to buy a box of watercolors and draw … a collection of clothes for pregnant women!
I do not like the way my loved ones behave. In my opinion, we, with their future son and grandson, deserve more attention. The husband somewhere heard the phrase "Pregnancy is not a disease" and now repeats it endlessly.
My mother only criticizes, my father teases me the old way, he even started calling me a fat one, even though I said a hundred times that I was very afraid to crawl after giving birth. Friends, in my opinion, I am avoided. They have parties, vacation planning, and I have swelling and an evil gynecologist in consultation …
(Lena, expectant mother)
Not only your life, but also the life of the whole family system as a whole undergoes a psychological restructuring. Your husband and parents, each in their own way, are preparing for the adoption of a new role and related responsibility.
Perhaps the future grandfather is trying to defuse the situation with the help of humor, and the new head of the family just reminds you that you are healthy and will cope with temporary difficulties. With mom there may be difficulties in which a visit to a psychologist can help sort things out.
Very often, during pregnancy, the displaced, seemingly forever forgotten resentment, conflicts suddenly surface. You begin to look at your relationship with your mother in a new way, relive and rethink the experience of your childhood – and this is only the beginning of the process.
To become equal to mother, to separate from her psychologically, to start living your own female life, you will have to go through a complex range of emotions and feelings – anger, devastation, pity, compassion … And for your mother this is also a difficult time, especially if she is just preparing to accept grandma's status . Support her, be tactful, and the special sensitivity of pregnant women will help you!
You should not expect your loved ones to read your thoughts or guess your cherished desires. Feel free to start the dialogue first, but follow the rules. What kind?
You yourself can formulate them. Pregnant women really have a heightened intuition, which can be strengthened, if you do not concentrate on the mistakes of others and your own, but try to hear your interlocutor. Husband annoying tone of the capricious princess?
Try to get out of the way and just play another game. One business woman during pregnancy began to call the spouse "my sovereign" and, by her own admission, never regretted it.
And the other magically got rid of toxemia after having started with the initiative to resume the tradition of family evenings with a guitar.
My older sister told me that the midwife for her childbirth "put a deuce." And I am a perfectionist and counted on five plus. And everything went wrong!
The birth began at the wrong day, and "my" doctor did not have time to come. My husband was on a business trip.
And I went to the hospital in a dressing-gown on the ambulance, and not on our car. And the medical staff was too rude.
I refused the decision to give birth "by myself" and agreed to anesthesia and incision … I still remember childbirth with an unpleasant feeling of annoyance, although, of course, everything turned out well and my daughter was born healthy.
(Nastya, mother of Evdokia, 1 month).
Perfectionism, without failing to help achieve excellent grades in school and defeat competitors in the service, can greatly harm you when you are pregnant. Real childbirth will surely differ from the ideal, no matter how long you work on their project.
For some women, accustomed to striving for maximum control over the situation, pregnancy and childbirth can be a completely new experience, and sometimes the first serious confrontation with real reality. Real life cannot be fully programmed.
Affirmations and a positive attitude, careful information gathering and planning are extremely helpful. But your plan of ideal childbirth must necessarily include more than one single event scenario. Otherwise, you will not be able to relax and go with the flow when it is the wisest decision, and you will waste huge forces on overcoming cognitive dissonance.
If everything went against your plan and after a long time you continue to "scroll" past events, try to "let go" the feeling of disappointment and dissatisfaction as soon as possible. And put an excellent mark for your optimism and ability to cope with difficulties.
The son is completely different from what I imagined. He didn't follow either his father's blue eyes, nor my long fingers, and, frankly, he was generally like my aunt, whom the whole family was calling Freken Bock!
(Olga, Roman's mother, 3 months).
Mothers are often ashamed to admit that they get a feeling of admiration for the baby weeks after giving birth, and sometimes later. Different women need a different amount of time to take a real child, which can be quite different from their imaginary twin.
Fortunately, a real baby has something that even the most beautiful fruit of our fantasies does not have – you can take it in your arms! And about the appearance of a newborn baby after birth, it is too early to draw conclusions.
Soon you will enjoy the favorite game of all parents – watch how the genes of all your relatives shimmer in the outlines and habits of your son or daughter, as in a kaleidoscope in the most bizarre combinations.
In my opinion, I look good for a woman who just gave birth to twins a month ago, but no one notices that! Of course, compliments tell me, but they are much less than enthusiasm for newborns.
Ambient only curiously look at my big stroller. And I seemed to be invisible!
(Lisa, mother of Polina and Igor, 1 month).
Adopting a new role takes time. No one becomes the perfect mom at the moment of giving birth. We need experience, which consists of mistakes and working on them, overcoming doubts, gradually taking responsibility for the helpless little man completely dependent on you.
The work ahead is so great and important that there is nothing surprising in the fact that some part of us wants to entrust it to someone more experienced, and we sometimes feel nostalgia for the "old times". Do not blame yourself for such feelings.
The possibilities of our psyche are really very great, and over time she will be able to integrate not only the roles of the "right" mother, the wise guardian of a kind and mischievous girl who wants to escape secretly to dance, but also a dozen of roles and appearances.