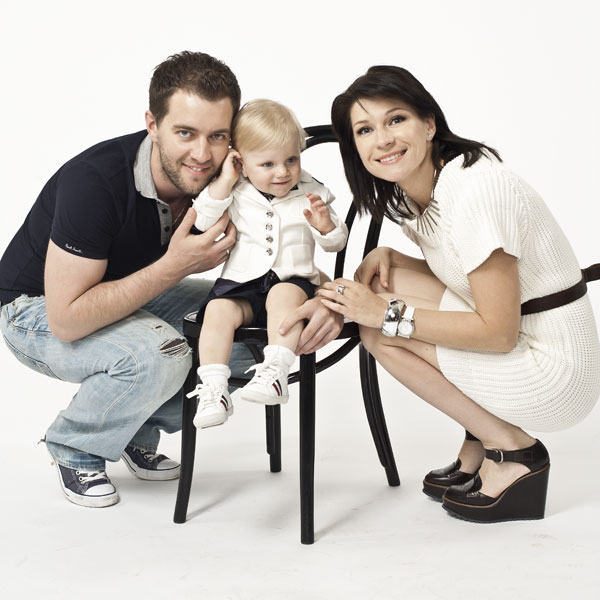 HAPPY PARENTS You really did not stop working in the series almost to the birth? CATHERINE VOLKOVA Indeed.
Up to 8 and a half months I was at the site. And actually it's great! At first, my contract was until October, until my 4–5 months, when the stomach was not yet visible, but then the producers decided to prolong it, although they seriously doubted for fear of toxicosis.
And I also waited for toxicosis. But, thank God, I had no toxicosis, no other problems, for eight and a half months, I proported like a butterfly.
Thank you very much to all our team on the court, everyone guarded me, everyone helped.
S.R. Probably, with this mode, the weight did not gain at all? E.V.
Of course. Yes, I really didn't want to. There was no such thing, here, give me some strawberries with pickles, and a cake.
And because all the time was in motion. One must eat not "for" two, but "for" two.
And these are completely different things. The kid should get everything only really useful, and all the flour will go to mom in the ass and in the sides. And, of course, movement and work help to psychologically disconnect from any negative thoughts peculiar to pregnant women.
True, I remember, I really wanted to sleep, and when I was already released in the last month, I first of all slept off. And I realized how boring it was at home, but I'm alone, it's winter outside, you're not particularly out. "It would be better if you worked," said her husband, looking at me.
And I still love to skate and asked Andrei to come out with me, hold my hand. "No!" He replied.
S.R. Is it last month? E.V.
Well, what's up?
S.R. Gave birth together? E.V.
Yes. I did not force Andrei, but I asked him, he first answered "no", because he was madly afraid of blood. But our mutual friends who gave birth together told him how good and beautiful it is.
So somehow he approached himself and said that if he took part in conception, he should also help in birth. Standing, holding my hand.
S.R. Did it help you? E.V.
In fact, at first, I thought that I had made a mistake and did not need it, but then, when the process started, I realized how important such support of a loved one is. You can quarrel with him.
At the doctors, it is impossible!
S.R. You returned to the site when Liza was.
E.V. . exactly one month. I had a contract … It was very difficult to leave her.
Left with our grandparents. A month with one, a month with others.
S.R. And sleepless nights? E.V.
There were, of course. Lisa had very strong colic for the first two months, her mother spent a whole hard day with her, and Andryukha and I came overnight.
But, you know, all these difficulties are so quickly forgotten. Tell me now, but I don't remember!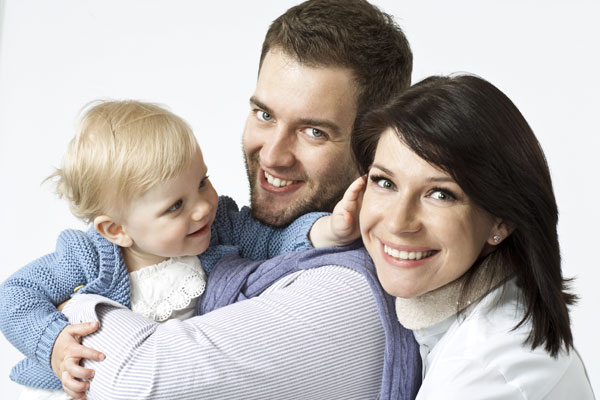 S.R. Let's then about what is happening today.
E.V. Lisa grew up, and at 11 months I enrolled her in a group for children from one to two years old. And although she was the smallest, she felt very free, stretched for everyone, was not scared of anyone.
The children sing, dance, learn to share, learn about the world around them, make crafts. Therefore, we already have a lot of these handicrafts, which I call reports on how mother worked with Lisa. And we have been going swimming since year, too, with her, of course.
Just like adults: swimsuit, sleeves. For the first time, Lisa was a little scared – the water is cool! – and then with pleasure! It is like a fish in the water, and in the horoscope Fish.
In general, it is now early, and later we plan, of course, to give it to different circles: dancing, gymnastics. Where she likes, there will be engaged. But do not load up to the ceiling to fall unconscious.
Although now she has so much energy that, in my opinion, she can not sleep at all, but move, move, move without stopping.
S.R. Ekaterina, did you meet Andrei Karpov after the project "Dancing with the Stars" that glorified him?
E.V. Yes, after. True, I have not seen this project.
But my colleague in the Theater of actor, where I play, Daria Sagalova, just participated in it and knew Andrei well. And somehow, at the beginning of spring, at the play "Fool", where we both play, Dasha invites her friends.
We leave after the final to bow, Andrei rises to the stage and carries Dasha flowers. "What an interesting guy," I tell her. "Free!" Answers Daria. I just laughed, and we forgot about it. The next day, they played Figaro, Dasha let slip: "Andrei asked about you."
We play the play, go to the dance before the intermission … And this dance, performed more than once or twice, of course, I know by heart. So, I go out, I lower my eyes to the auditorium, and I see: Andrei is sitting in the first row, his arms folded, and looking straight at me.
Without telling anyone, he came again. Something happens to me like a stupor, and I forget all the movements that have been worked out. With the thought "What a shame!" I stand and just clap for the whole dance.
And so throughout the entire month Dasha, no, no, yes, he will say hello to me from Andrey. And I pass on to him. "Maybe you still go somewhere?" Asked Sagalova. "I am a girl, and I will not do the first," I replied. In general, so it all dragged on, Andrew also did not know how to continue.
In the theater, met, greeted, and nothing more. But then one day I received a text message from an unfamiliar number on my phone, where I was invited to a dance lesson.
And the signature: "Andrei K.". But the first time you can not agree, right?
And I answer that I'm sorry, I can not, other plans. I call Sagalova, I tell, and she knows. "I refused," I say. "Well, you fool," replies Daria. Half a day passes, I think: "Plans could have changed!" And I am writing to Andrey that I can come.
The next day we met and practiced dancing for 45 minutes, after which he said the phrase: "Well, yes, you are not a log". I said, "Thank you," and from that day on, we never left again. Let for 10−15 minutes, but met every day, walked, he taught me to dance.
We have always been interested together.
S.R. Was the birth of Liza a challenge for both of you?
E.V. Yes, the child really becomes a test, because the man begins to be terribly jealous.
And Andrei was like that. He even told me that he knew that for the first two years the husbands were deleted from the life of the women who had given birth.
But this is not true, and I told him that. Just husbands themselves should not be turned off from the process, should help, take over part of the economy.
And if at the same time mom also works! So we all went through this too, and there was jealousy. And there was a moment, I remember, probably, in the first month, when I still could not join the new rut, and I want to sleep all the time, and wash my head, but you don't have time to lay it, and it is most convenient to walk in a tracksuit.
And Andrey once said to me: "Look, look at who you are like, you used to wear heels …" And so on. I was so hurt and hurt! "Yes, I do not have enough time and energy!" – I say. I remember we had a fight, but in the evening he came, apologized, said that he would never say that again.
And when our friends had a child, Andrei made a toast and said that he had made one mistake (that's when he told me so) and wishes the young father not to repeat it.
S.R. Did he help with Liza? E.V.
I could shake at night, put her to sleep, change the diaper. (By the way, we use Pampers Premium Care diapers, and they are not only thin and at the same time well absorbed, but also very comfortable in putting on.) Walked, of course. But since Andrei, just like me, is a very busy person, grandparents help us.
Here is the grandfather, my dad, loves to walk with Lisa. Usually he goes to the park, meets there with the same grandparents with wheelchairs, talks about the children – enjoys it all. And in the summer, our grandparents enjoyed the purchase of slides and sandboxes to the country.
Grandpa recently became interested in fishing, and Lisa also bought fishing belongings: a vest with pockets, a children's bag with floats, with worms. And here they are at the cottage doing it together.
S.R. And what does Liza like besides fishing?
E.V. She loves the cartoon "Masha and the Bear." Yes, and I love him, because only under him can the daughter be fed.
Make it easy to open your mouth. It is like hypnosis. He likes to do mosaic, collects animal figures.
She is not particularly listening to the books yet, but she turns over the pages and looks at the pictures and shows them very willingly. Very musical, mobile, very flexible, the morning we start with listening to the CD with children's songs and dances under it.
In this we are lucky with her.
S.R. And who would like to see her after school, have you already thought? E.V.
Well, not exactly an actress. In this profession, because how? Maybe lucky, maybe not.
Let her follow in the footsteps of her father, become an architect, or go to some art history department. And better – like a grandfather: jurisprudence, the economy, in general, something with brains. For example, my second education is financial.
In fact, the girl needs to get a normal education, because nowadays you need to be able to earn money on a piece of bread. And sitting on someone's neck … The world has changed, women have become very independent.
And living depending on the rich husbands insanely unhappy. I am for her to get an education, learn languages. It is also impossible to rape, but it is impossible to allow it to drift.
You need to raise both the whip and the gingerbread. And do not succumb to the provocations.
Unas, for example, were already moments when Lisa fell to the floor, kicked and screamed. I left, she rose and ran after me.
S.R. Catherine, who is more difficult to be: an actress or a mother?
E.V. Mom.
This is very hard work. No matter how difficult the shooting was, but after the house I rest there.
This one groundhog day, which is repeated daily! The role of the mother is the most difficult, the most responsible. I think any mom will confirm this.
Although now Lisa has grown up, it has become easier, and with her it is very interesting, she is so affectionate. Sometimes even the rehearsal does not want to go, I want to stay with her.
And it's great when the whole family is together. Of course, there are happy moments when all three of us go for a walk in the forest, for two hours, for three.
We are so good! Lizka sleeps in a carriage, I go next to my beloved person … I can not believe that this can be!