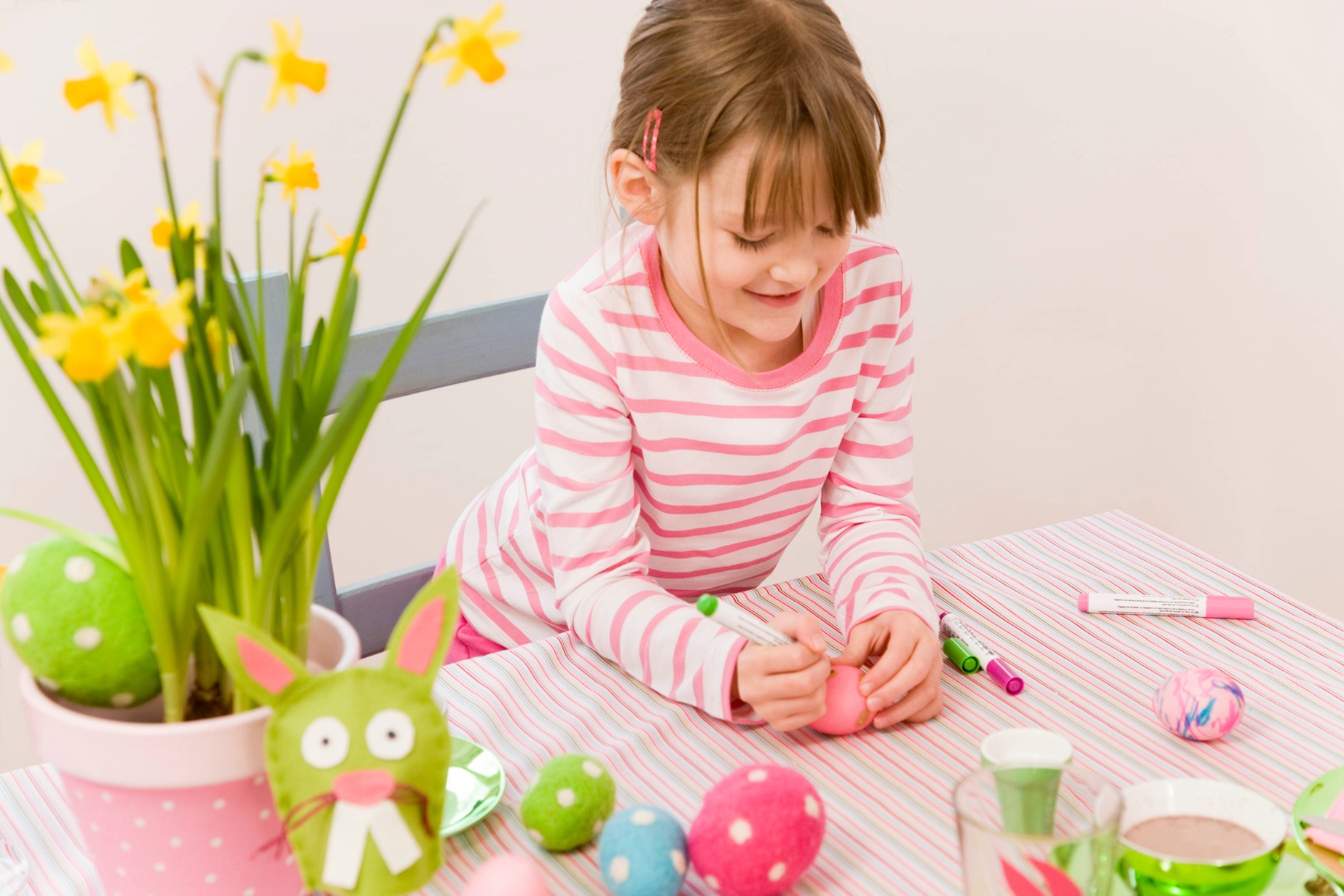 Everything connected with Easter bears pleasant efforts, joyful and kind attitude. Clean Thursday before the holiday is a special day.
It was believed that on pure Thursday the nature is purified and renewed, and with it our dwellings and our souls. Why don't we support this tradition and try not to formally, but truly "wash" the insult and anger, discontent and cruelty, all those feelings and thoughts that poison our lives from our souls?
On Thursday, they bake cakes. Do not deprive your child of the opportunity to plunge into the exciting flavors of vanilla and sweet baking, especially as homemade Easter cakes are more delicious than purchased ones.
Scarce will help you knead the dough and observe how it "fits", and then with pleasure decorate the finished cakes with icing, colored powder or candied fruits.
While there is time, we will prepare charming surprises for relatives and friends with the baby. The complexity of the work must be age appropriate and not cause any particular difficulties.
And if something goes wrong – mom will always tell.
Fluffy applique. In this technique, you can make an appliqué for a holiday with a baby or an Easter card for your grandmother. Take woolen threads of different colors and cut them with scissors into small pieces (each color separately). "Trim" spread in different jars or boxes.
Now you can begin to work. Draw a suitable picture on a piece of cardboard or thick paper.
These can be chickens or bunnies on green grass.
When the template is ready, discuss with the baby what threads of flowers you will need for work. Then generously lubricate a fragment of the picture with white glue or paste (homemade glue based on water and flour) and show the child how to take the chopped wool with your fingers and sprinkle it on it.
Put a thick layer of thread, lightly press down with a finger, let it dry, and then shake off the excess. We do the same with other fragments of our application.
It will turn out volumetric, fluffy and nice.
Applique on a plate. Even the smallest artists will cope with this work. You will need disposable paper plates, paper and paint.
Cut a few white egg-shaped blanks out of thick white paper, only larger ones. Let the baby paint the paper eggs with the most varied patterns using paints. You can use both a brush and fingers.
Glue three painted eggs on a paper plate. Beauty!
Easter gift is ready.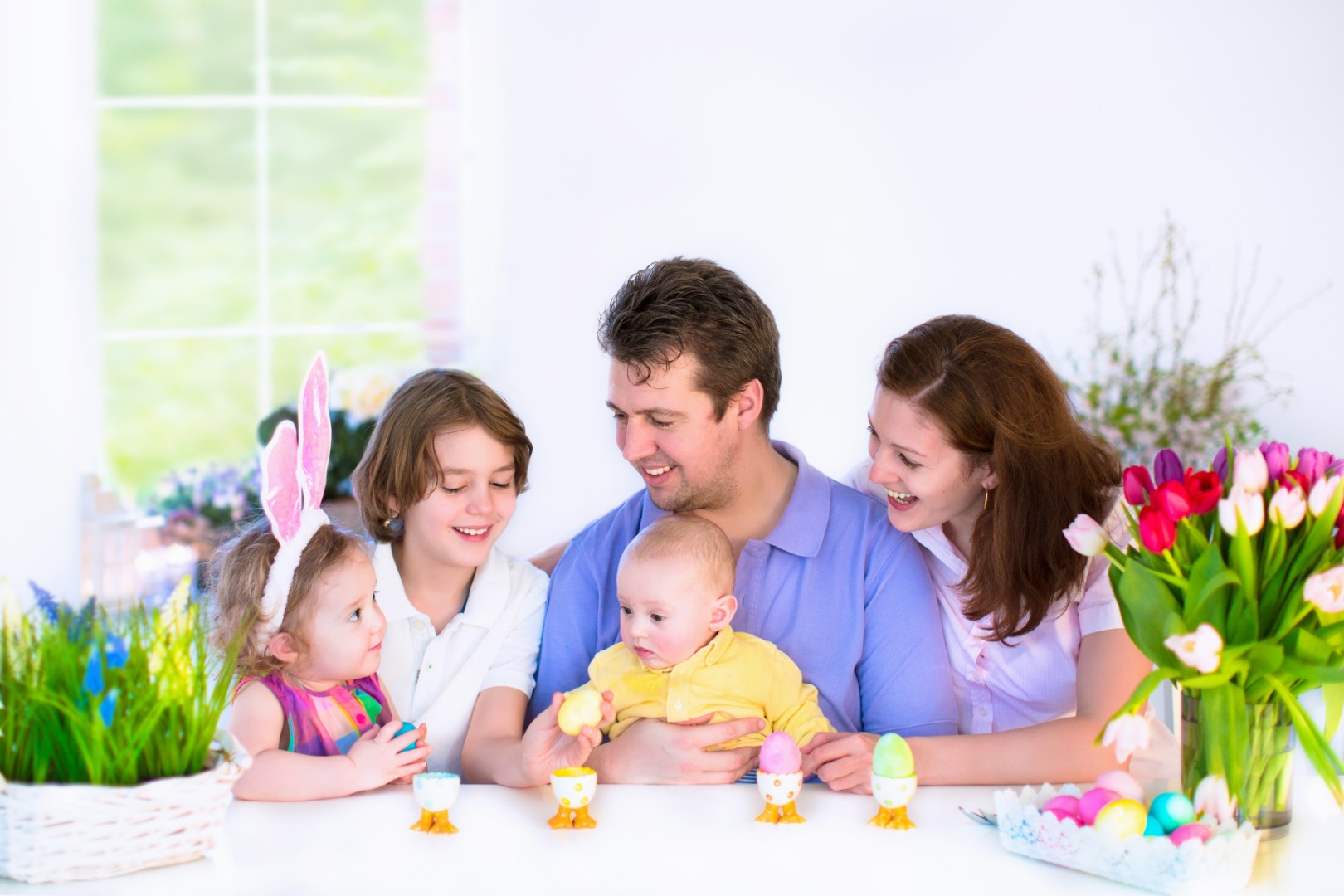 Chicken from pompons. Kids just love to make pompons from bright woolen threads.
Maybe because they are so soft and fluffy, like little chickens? And let's make funny chickens out of pompons! First, you need to cut two identical patterns out of cardboard.
Their size depends on what size of pom-pom you want to get. Start with not too small, so that the baby is more comfortable to wind it with a thread.
Now take a thick woolen thread of yellow color and show the child how to wrap cardboard discs, threading them through the hole in the center and bending around the edge of the disc. It is necessary to try so that the thread lies flat, each subsequent coil is close to the previous one. Of course, the baby does not immediately come to do it carefully.
But it's not scary. Pompon still work.
When the baby has covered the whole carton with threads, take sharp scissors, push them between the discs and cut the threads along the entire outer edge. Now we will hold a strong thread between the discs, wrap it several times and tie it tightly, securing the cut threads.
Now we make an incision in the cardboard blanks and remove them. It remains only to fluff the resulting pompon, turning it into a ball.
Two yellow fluffy balls joined together, bead eyes, red cardboard beak and legs – and you have a chicken in front of you.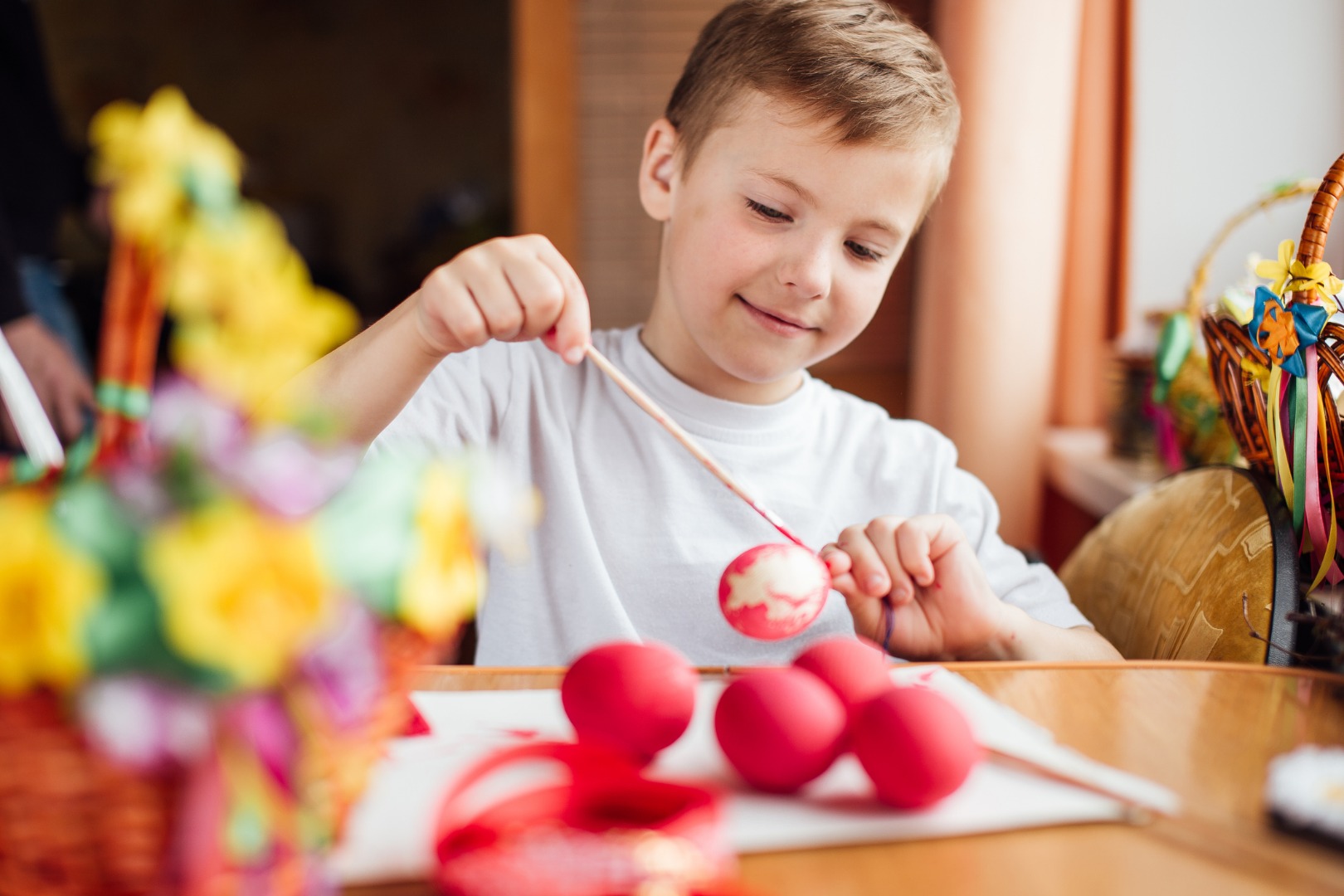 Painted eggs – one of the most beloved attributes of Easter kids. Still would!
It is so interesting to first paint them together with my mother, and then, on a Sunday morning, before you eat, to play "clatter". This is an Easter game that kids in Russia loved very much.
First, they cluck with the sharp end of the eggs, then blunt. Whose krashanka was the strongest and did not break, he wins all the eggs.
The search for such a "tough nut" will bring moments of fun to the whole family, gathered at the festive table.
Paint the eggs. Try to paint the eggs are not purchased dyes, and use the popular method.
Fold the onion peel in a saucepan and boil for about half an hour. Then dip in the broth eggs and boil until cooked.
The more husks – the richer the color will turn out. Cool colored eggs and wipe with vegetable oil to make them shine. Here you have a reason to talk with your baby about the natural colors that people used in ancient times.
In addition to onion peel, eggs were painted with a decoction of spring herbs, spinach, beetroot and carrot juice, turmeric, horsetail, black sandalwood and other natural coloring substances.
Birds If you glue the cut out of paper to the painted eggs and the beaks and draw the eyes with a marker, you will get bright cheerful birds. And if you stick paper ears, tails from wads of cotton and draw faces, bunnies will come out.
Put them in small baskets or on plates with green paper cut into strips – the decoration is ready!
The speckled egg. It will be very interesting to the kid to make such a hack. Eggs, painted in an unusual technique, you can decorate the kitchen, hanging them on long strings or ribbons.
But first we need to free the eggshells from the contents. Scarce himself can not cope with this, so the mother or grandmother must come to his aid.
At one end of the shell make a small hole with a needle, and on the opposite side – a little more. Blow strongly into the small hole, blowing out the white and yolk in the plate. After that, gently wash the shell inside and out, dry.
Now you can begin to work. We need food color of several colors and a candle (preferably from natural wax).
For crafts, choose eggs with white shells. Light a candle and drip heated wax on the shell with the child.
Then, dip the egg in a light paint, for example, yellow. On the painted and dried egg again we will drop wax and paint the egg in a darker color. And again we drip wax and paint the egg.
When the last paint is completely dry, gently clean the wax. It will turn out very amusing egg: dark in multi-colored points.
Eggs with a pattern. Surely the baby will be interested in making eggs with a pattern.
To do this, pick up small leaves of plants (for example, parsley or celery), wet them and gently spread on the egg shell. Now tightly obtyanite egg gauze and tie.
Boil eggs prepared this way in onion peel or dye. Expand the cooled eggs and peel the leaf.
In its place will remain a bright imprint.
You can give markers to the little artist, and let him paint the egg with any patterns and drawings he wants. You can even draw on the shell funny little faces.
It turns out bright and fun.
This is not the easiest, but very interesting activity. You can bring to it all family members who do not mind.
So, put a plate on a thick cardboard, draw a circle around with a felt-tip pen, cut it out. We put a smaller plate in the center of the circle, circle it with a felt-tip pen, cut it out.
We have a circle. To make the wreath more rounded, we wrap it additionally with a cloth in a circle – for example, with a string.
Twine wrapped with a ribbon of red, hang a bell. We cut the nylon fabric of a bluish color with stripes 5 cm wide and 50 centimeters long. Stitch the "forward needle" stitch along the center of the strip, tighten and fasten the thread.
It turns out a beautiful flower. We will end up with a few pieces. We begin to decorate our wreath with flowers, we tie a beautiful bow on top.
Done! You can hang on the door so that everyone can see that you have a holiday!