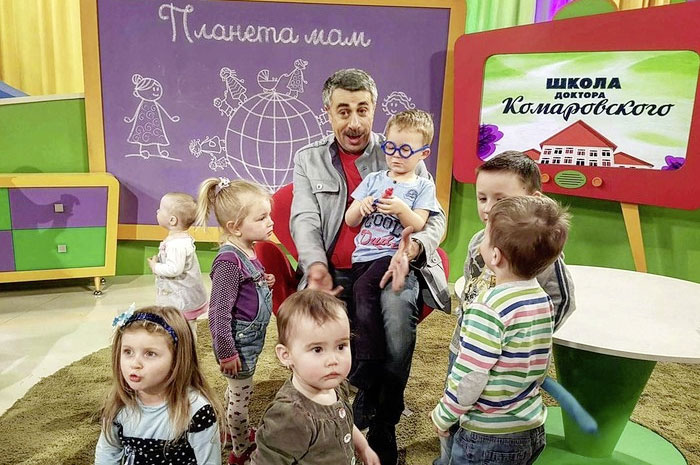 "Happy parents". Everyone knows you as a doctor, as a pediatrician.
And who are you other than that?
Doctor Komarovsky I still have a lot of other incarnations! I am a fisherman. I'm a photographer.
I have a doctoral instagram and a personal one: on the first, 1.5 million subscribers, and on the second, 90 thousand. And these 90 thousand are very dear to me, because they came to me not to ask about snot and poop, but just to see my photos .
I love to travel – it means a traveler, I love my children and grandchildren – it means dad and grandfather. Like this!
S.R. And how many children and grandchildren do you have?
Dr. Komarovsky Two sons, two grandchildren and one granddaughter. You can imagine – two sons, two grandsons and a granddaughter! David and Matthew and Miroslav.
And, since we have one girl, naturally, she is in the center of attention. We all live nearby, in the same city, the children – with their families.
The sons obey the father, the grandchildren – the grandfather, and my daughters-in-law are also obedient, so there are no problems, complete mutual understanding.
S.R. Doctor Komarovsky is already not only a brand, but also the most famous and the only known pediatrician in the entire territory of the former USSR, as well as Canada, Israel and other countries.
How did it happen? Did you aim for such popularity?
Dr. Komarovsky God forbid, no, no and no! It just all matched.
First, people have a catastrophic lack of information, and pediatricians have a catastrophic inability to adequately communicate. I myself recently learned how much attention in the West, in American pediatrics, is paid to the art of communication. How to go, how to say hello, how to talk to a child, how to talk to a mother, how to find a common language with dad and grandmother.
Our doctors do without it. We believe that the more clever words a doctor says per unit of time, the more he will be respected.
And my mother, when she leaves the office of our pediatrician, has more questions than answers. And there is nobody to ask, because the doctor and the parent speak different languages. It is very difficult for our pediatrician to go down to her mother's level and try to explain everything to her in such a way that it comes to her.
But this is nothing demeaning. On the contrary, this is his main task.
After all, who treats children? Not doctors, but mothers.
Doctors create the illusion that they can and will do better, but in fact, moms and dads can do much more. The pediatrician's task is not to treat the child, but to teach parents how to help the child and create normal conditions so that he does not get sick.
It is most important. The doctors, unfortunately, do not do this, so I am left alone in this space.
Here, not only my abilities as doctors play a role, but also my art of communication. My task is to make mom my ally. But at the same time, to be honest, the main and very acute, very painful problem remains, alas.
The fact is that even when I give people seemingly simple, understandable and effective tips that allow you to be parents calmly, easily and happily, then 15% of the population can take advantage of these recipes at best. These are those who watch me, go to the site, read my books. The rest prefer not to be interested in anything or to use the experience of exclusively senior comrades: not to think about anything, smear the child with green paint, rubbing with goat fat, soar legs, put banks, treat a cold with antibiotics, etc.
Sometimes, the realization of this embraces despair, but then, when we see that the annual audience of the site, social networks and video programs of Dr. Komarovsky is 160 million people, we understand that this is still a lot. And for them, too, it is worth jumping and jumping.
Our task is superimposed on huge mental problems. Do you know what the most important question I ask myself in each city, where do I come to meet people?
How many men will be in the audience? Here in Helsinki, the men at the meeting was 50%. And in Bishkek, 500 moms – three dads.
In Russia, in Ukraine, in Kazakhstan, 15–20 percent, I don't expect more. In fact, the number of popes in meetings, meetings dedicated to children – is a diagnosis of society.
The higher the level of intelligence in the city, the more men in the room. Unfortunately, in the entire post-Soviet space, raising children is a woman's burden.
And this is terrible. Fathers do not understand how they can help children, which makes me very, very sad. My dream is to do everything in the end, so that it is the fathers who take responsibility, read, take interest, make decisions.
It is very important.
S.R. Today, is there any positive trend in the inclusion of fathers in the life of children?
Dr. Komarovsky There is, definitely. I have been meeting with my parents for 10 years, and earlier every man in my room was like a daisy in a bouquet of tulips. And now – 20% of men in the room!
I have a policy of harsh gender discrimination at all meetings: for example, men have the right to ask questions without waiting in line. And by and large I would like to make the slogan of my meetings for the audience like this: "Bring two men and pass for free!" I would like to collect a whole orchestra of dads, sitting moms in the gallery and, forbidding them to ask questions, I would ask the men how they came to life like that.
After all, today, when it comes to the health of a child, papa sees his main task only to run to the pharmacy. And when a man chooses his phone, he understands this half a year, and when he is given a list of drugs for his child, he silently goes and buys them. Then parents put these medicines into the child and think that they are treating him.
It's horrible.
S.R. How to reverse this situation?
Dr. Komarovsky can, if the basics of knowledge about self-treatment in school. And what to do with the fathers. Only patient advocacy.
The boy, as a rule, repeats the actions of his dad. Therefore, it is necessary to grow the first generation of interested fathers.
If dad is engaged in a child, then he will be engaged in his children. The most difficult thing is to make children of those men who have not experienced adequate paternity in their childhood take care of themselves.
That is, they did not know the father who would sit near his bed when the son fell ill, do not know the father who went to the parents' meeting, does not know the father who checks the lessons, etc. I'm not talking about the fact that the father should know what vaccinations to do, at what age to give complementary foods and what is the pediatric dose of paracetamol.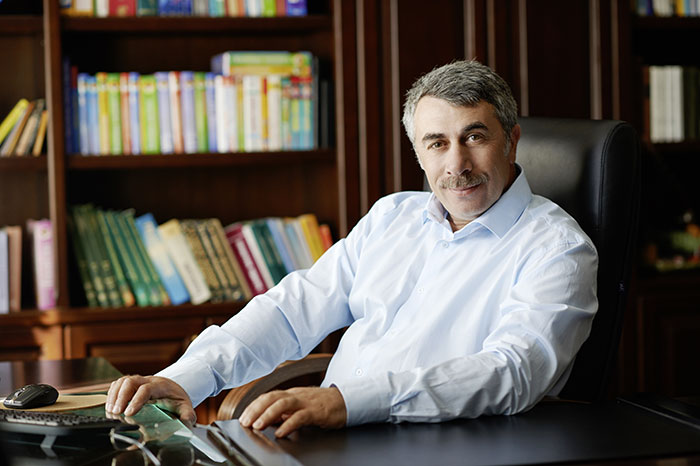 S.R. Yes, the situation with daddies is sad.
And what, in your opinion, should be the ideal mother? You can't blame our moms for not paying attention to the child …
Doctor Komarovsky The ideal mom is the one with dad. Much to our regret, again in our insane traditions, after a woman becomes a mother, she ceases to be a woman. She believes that she has already done her duty, her husband is not going anywhere, and you can relax.
This is the first problem. The second is the definition passed down from generation to generation: the mother-heroine. That is, one child raised – already the mother-heroine.
Motherhood as a feat is a national ideology. I believe that my task is to teach my mother to remain happy, beautiful, energetic, athletic.
To live not in the interests of the child, but in the interests of the family. Because the child needs a beautiful mom, around whom dad walks and licks.
That's what matters most. And if a sleepy zombie walks around the house, it's bad for everyone. Having seen enough of their mothers, they are not able to change the situation.
The whole family rests on a woman. Therefore, a sleepy woman is the end of life.
And try to sleep in our mentality. Here you brought the child from the hospital, he yells.
And he screams, according to female logic, only for two reasons: either he is cold or hungry. Therefore, it should be fed and wrapped in three blankets, because of what he yells even more. Not every man is able to withstand it: the child's op plus a sleepy, angry wife, who has not only sex, her life is in question.
Not all men pass such parenthood tests, the family collapses, the child remains with an angry sleepy mom who is always looking for a partner. We must learn to remain a woman and do it, I believe, even at school.
There is one more important nuance characteristic of our country. We have a very bad attitude to self-treatment. The slogan: "Do not self-medicate" is our key one, although in fact WHO believes that self-treatment, guided, conscious, that which is being taught, is the key to modern knowledge.
Actually, this is what we do. We learn that in 90% of cases when a child has a problem: with appetite, with intestines, with a rash, with allergies, with snot-cough, – there is an algorithm of educational treatment.
S.R. How do you assess parents' awareness of a healthy lifestyle, about modern methods of treatment?
Dr. Komarovsky Much better than before, but still leaves much to be desired. Like many sources of information used by parents. This is a real problem.
And it is very important how the information obtained corresponds to the global one. I often come across the fact that the information that parents receive from doctors, from the media, unfortunately, is business. When parents recommend certain types of care, certain drugs are for material reasons only.
I face this all the time, testing the pressure of the producers of everything that is possible. Everybody needs me to say how good it is.
And the parents, in turn, turn to me for advice: advise a thermometer, pacifier, bottle, etc. We even made a special kit for newborns from Dr. Komarovsky with basic accessories, which we selected and checked ourselves, and with instructions.
S.R. It is really difficult for parents to understand the goods, and what can we say about the doctors.
For example, how do you think doctors of private and public clinics differ?
Dr. Komarovsky I do not think that there is any fundamental difference. I have the opportunity to look at the recipes of state doctors and private and deep doctors, I don't observe any fundamental differences.
In private clinics, doctors are no longer paid for higher quality, but for the lack of queues, for convenience, for service.
S.R. Where are your grandchildren being treated?
Dr. Komarovsky Their parents are engaged in it, they know the basics of helping children. It is not difficult.
They do not consider it shameful to read papins books.
S.R. What do you think is the most wrong thing that parents do about the health of their child?
Dr. Komarovsky Have confidence that there are some magic pills that can improve a child's health, increase immunity and other similar tales. These tales earn billions.
People need to understand that the child needs to create normal conditions, the child's lifestyle is created by his parents. Everyone knows the paradox, when children are dirty, hungry, and no one needs them, they don't get sick, and loved ones, well-fed, warm ones don't come out of their ills.
Why? Maybe because we have a completely wrong idea of ​​how to ensure children normal conditions. But the truly normal conditions are: not to overheat, not to overfeed, to provide unrestricted locomotor activity.
And this means that dad must get off the couch, stop drinking beer and go running with the child. But laziness.
It is better to pay money to the pediatrician and give the child a pill for immunity.
S.R. But these are recommendations for healthy children.
And now, they say, sick children have become more?
Dr. Komarovsky This is a categorical delusion. There are as many of them as they are. But what parents are doing with children now is no match for what was 20 years ago.
At that time, a child came from school, threw a briefcase and ran outside for a walk. And now? The child sits in front of a computer or tablet and talks not with the mother, but with the phone.
And parents, in order to provide the current child with everything they need, must be plowed from morning to evening. As a result, children communicate with the tablet more often than with mom and dad.
They do not walk, sit at home, free sports are over, people stopped understanding what summer is in the village, they prefer to bask on the beach and eat filth. Why?
All this is laziness, laziness, laziness. The way of life of children changes dramatically. They move less, eat more sweets, we already have an obesity epidemic.
And this situation is getting worse. The direct task of the state is to do this: to create conditions for sports, normal nutrition, recreation.
In addition, the pharmaceutical industry is well aware that people, because of their laziness, sincerely want to solve any of their problems with the help of tablets. And the pill is from everything.
And, instead of going for a walk, forcing him to move, stimulating the appetite, we go to the doctor, treat dysbacteriosis, vascular dystonia and other invented diseases. We have special diseases for mummies.
In Europe, in the USA, it is believed that a child who suffers from viral infections 6 to 12 times a year is a normal, normal child. He should be ill with them, they simply do not need to be treated.
And we have a child who has snot 5 times a year, is often ill, and everyone is immune to it, instead of hardening.
S.R. And what other invented diseases for mummies?
Doctor Komarovsky Each city has its own conditional doctoral mafia. Somewhere everyone is treated with intracranial pressure, somewhere everyone has problems with dysbacteriosis, somewhere everyone improves immunity.
No matter what city you come to, there is something different everywhere.