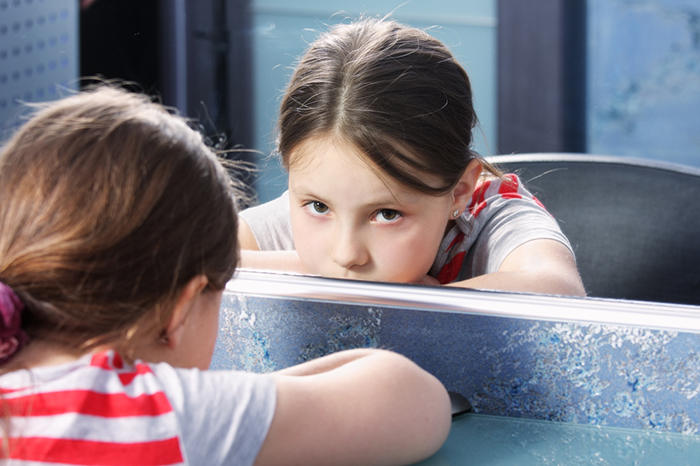 Going to the matinee, the same Masha every time asks: "Can you even paint your lips?" And is very upset if the festive dress turns out to be small. Because on matinees they choose a prince and a princess, and if the prince is the most active and smart boy, then the princess is the most beautiful and slim girl in the most magnificent dress.
Even if the rhyme she tells with errors. And Masha has a girlfriend who goes to a model school and even takes a picture of advertising chocolate.
She uses special children's cosmetics ("to look natural"), does special gymnastics ("not to get fat"), but never eats chocolate. Masha really wants to be the same as her. And parents just shrug: "What can you do?
From childhood I have to get used to the idea that someone is carrying more, and someone less. "
In reality, adults can do a lot. Whatever the surrounding reality, the child for a long time perceives it through the prism of the views of the parents.
Yes, children see standards of beauty in everything that concerns their appearance, because today even dolls are more similar to models from magazines than to pictures from the book "Healthy Man". And they realize early that these standards need to be met.
However, it is up to the parents to determine whether the child will find a golden mean between the demands of society and individuality, will feel harmony with his own body, can love himself and be confident in his attractiveness to others.
We often talk about the appearance of very young children. Infants always cause affection, and besides, the possibilities for communication with them are somewhat limited.
If we can find out from a crying two-year-old child that he was upset, then what can we say to a two-month-old crumb? "Oh, what sad eyes" or "What kind of tears!" The children's laughter causes the same reaction. With those who are older, we will focus on the reasons, and we will make compliments to the baby: "How are you smiling!", "Oh, what cheeks!" Even outsiders can tell anyone who is in a wheelchair or on mom's arms: "What a cute beautiful baby! "But in a sense, these are compliments to adults, not to a baby.
If a stranger speaks about the appearance of a child of an older age, this causes a negative reaction from adults – after all, a bias towards appearance is a sign of communication between loved ones. It turns out that with age, children hear compliments of their appearance less and less.
And this is perfectly normal, if absolute acceptance and love are preserved, if the child feels that he likes his parents. This is the basis of self-acceptance.
It is laid in the preschool age and in the future is rather difficult to correct.
Arina, 32 years old, Tanya's mother: "My mother never said that I was beautiful. She only said that I was "a copy of my grandmother", and more often in those moments when I was unhappy. She was simply in conflict with her mother-in-law, and our external similarity irritated her.
All my childhood I went, without raising my head: it seemed to me that the others were discussing my shortcomings and laughing at me. Only when she met her husband, she became more self-confident – he always looks at me with delight.
Now I know that I look good, that I am attractive, and this is a wonderful feeling. But for some reason I still feel shy to talk about looks, to make compliments.
For example, it is difficult for me to tell my daughter that she is beautiful, although I sincerely believe that this is the case. "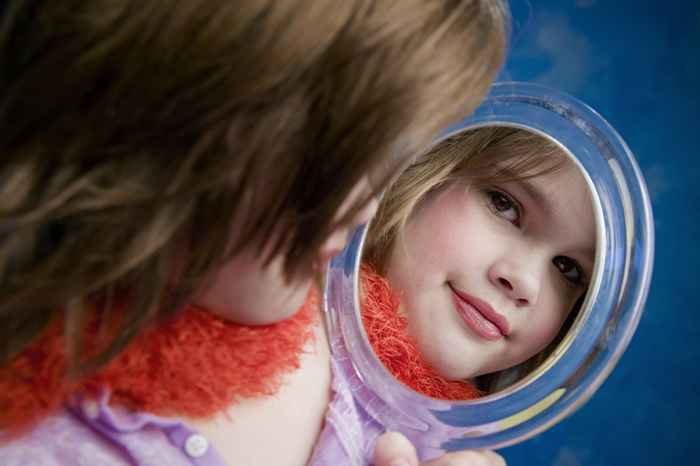 Words about appearances are needed, but this is not the case when the more the better. Sometimes parents are too focused on external data and form self-acceptance in the child, not self-acceptance.
In the future, this will not help communicating with people, but will rather interfere. People who consider themselves exceptional think that they are allowed more than all the rest cannot accept the characteristics of other people as well as their own.
In addition, their understanding of the role of appearance is often distorted, hyperbolic.
Fairy tales help create adequate attitudes with regard to appearance. There, this topic is presented exactly as needed – people from ancient times sought to realize the interrelation of external and internal beauty, created metaphors for any of the problems in this area. In fairy tales there are many examples of the fact that beautiful external data alone does not bring happiness.
Capricious narcissistic princesses are always left with nothing unless they are corrected in time. Lack of love for people and kindness dooms a person to loneliness and cold, even if outwardly he is beautiful. There are examples of what happens to a person who is dissatisfied with his appearance and is unable to switch to anything else.
So, evil stepmothers always hate their stepdaughters for their beauty, and then they themselves suffer. There are excellent examples of how individual traits or abilities change our perception of appearance.
An ordinary person becomes beautiful when he begins to sing in his charming voice, weave extraordinary laces, and compose fascinating stories. And although initially there is a division into "wise" and "beautiful," it always turns out that they are equally attractive in appearance. Fairy tales are good because they can be told to a child of any age, without being fixed on the problem (sometimes the topic of appearance is not very pleasant, even painful, and sometimes it is too difficult to find words).
They can be repeated several times, discussing various aspects of the plot with the child, you can simply read them in a timely manner – in any case, this is excellent psychotherapy. And if there are not enough famous fairy tales to solve a problem, write your own. The simplest example also became a classic long ago: the boy was small and weak, but he began to eat porridge and grew up.
True, when telling her, adults place emphasis on porridge, but the essence of fairy tales is that the benefits of them are many-sided. A child who needs to know that with time everything can change (he will become stronger, more attractive), he hears exactly that.
As they grow older, fairy tales are being replaced with more and more realistic ones – from the lives of the parents, friends and acquaintances themselves. The main thing is that they also contain the correct attitudes: on what true beauty is, on positive self-perception, on the fact that, if you wish, a person achieves anything, and appearance features cannot prevent this.
Daria, 29, Elvira's mom: "Being a dark-skinned girl in a small Russian town is a test. Even adults looked askance at me, letting go of such unflattering comments that I was ready to fall through the ground.
Mom, dissatisfied with her personal life, called the period of my birth a "mistake of youth" and could not provide any support. I was saved (yes, this is so, without exaggeration!) A grandmother living next door, who sometimes voluntarily sat with me. She told me a fairy tale about Thumbelina, but in her own way.
Each time Thumbelina got into some new place and at first she didn't even know how they would react to it. Depending on the local inhabitants, it was called beautiful, terrible and terrible.
At school age, this tale became my "plan". I wanted to quickly grow and go to where I will be considered beautiful. I felt better, more confident, thinking about it.
True … did not have to go anywhere. While I was growing up, the situation changed. Now, no one looks at people with a different skin color, another eye cut, people with glasses, or those who are noticeably taller, like aliens.
My little daughter has never faced the problems that I had. She feels beautiful from birth. "
No matter what we say, there is a factor that is even more important for self-perception – this is our own attitude to appearance. Moreover, children learn exactly the true attitude towards themselves of the adults around them, and not how they try to teach it. Parents argue that appearances are not the most important thing, that attention should be paid to spiritual growth and self-improvement, and the little daughter only does what is spinning at the mirror.
Perhaps because the mother, dissatisfied with her appearance, deep down in her heart rejoices at the obvious superiority in this aspect of the child, is inwardly proud of him and hopes for all the bonuses that he will receive from this in the future. "Beautiful people live easier, they can not try as usual." It is this setting that will be perceived, even if it is not uttered aloud.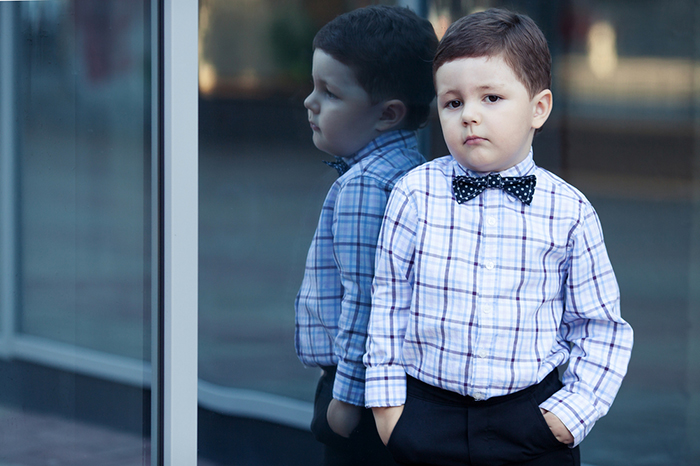 Pavel, 35, father of Jacob and Yulia: "In our family, it is not customary to discuss appearance:" The main thing is who you are, not what you are. And do not pay attention to anyone. " And how could I not pay if in the kindergarten all the time I got the role of Kolobok, and the children in the yard were teased by Sharik?
In the summer before the first class, I went with my brother to visit my uncle. He barely saw us, said: "Well, you, friends, do not follow me at all.
Aunt Anna and I will make you handsome athletes. " All summer every morning we ran, played football, did without pies and ice cream. The principle of the uncle and his wife was: "It's necessary to be a good person, and if you're good-looking, it's even better."
I think it is right. And I also attract my children to sports and a healthy lifestyle.
Heredity they got is not very slim – I do not want this to be a reason for grief. "
It is simple for a girl to make compliments – everything is in superlatives, in detail, in comparisons with well-known standards of beauty. The boy compliments "you are like a beautiful prince", "you have such beautiful eyes", "the most beautiful little boy in the world" will not appreciate – rather, he will be confused and discouraged. After all, even at the youngest age, boys have different values ​​in terms of appearance.
They will like more compliments of strength, sportiness, maturity. Boys like to look "like dad" more than girls like "mom." For a compliment, they consider expressions like "you are funny in this costume", "you look so funny" (of course, with positive intonations).
If you really like to say "handsome", just adapt the compliment for the little man, adding a little bit of irony.