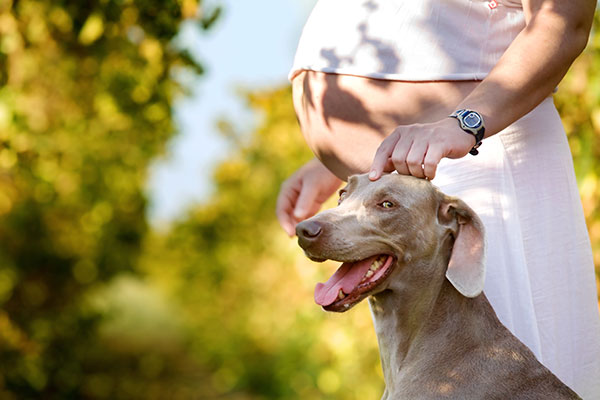 A dog is not an older brother or sister. Words cannot explain to her that a new, small family member will soon appear in the house.
Put a crib, playpen in advance and let your pet understand that it is impossible to lay claim to this territory. In addition, before you introduce the animal with a precious child, be sure to take him to the vet.
Let him check the degree of socialization and emotional stability of the dog and give you advice on how to teach her to live in a family.
When that same day of arrival from the maternity home comes, do not dismiss the dog and do not chase it away. Otherwise, the animal will have a bad association with "a small convolution in the hands of the hostess."
It is better to give the child to someone from the relatives, and play with the dog for five minutes.
Then introduce the animal to the baby. The dog will need some time to decide to approach.
Be patient, do not make sudden movements and wait for the dog to sniff the baby. Do not force the dog to approach an unfamiliar and strange subject. Do not pull the leash, do not push.
If she is anxious, then she thinks that this creature is dangerous. Therefore, it may try to attack first.
Do not be deceived that your dog has a great relationship with a child just because she has always been good or has a reputation for being an excellent nanny. Each animal is its own world, its own character.
Do not change anything in your usual rhythm of life, continue to give the dog as much attention as before, and in any case do not chase it out of the room when the baby wakes up. According to veterinarians, in this case we are not talking about possible jealousy, because it is a human feeling.
But the dog may feel a lack of attention. The role of the child in the family is still unclear to her, and she may try to "appropriate" him to herself.
Your favorite pet is sitting next to the crib and does not want to leave? It is not good to smile and think: "What a glorious thing that protects the baby so much!" In fact, he wants to take possession of him!
It may happen that you notice how he growls when you take the child in your arms. This is a dangerous signal.
Consult with a professional trainer – he will assess the degree of its aggressiveness.
They are difficult to explain to a child who is still not able to speak and is too small to learn to notice dangerous signals in the behavior of an animal. Therefore, it is the parents who should provide him with maximum security and never lose their vigilance.
Every age has its own safety rules.
From birth to 6 months your baby is in the crib. There is almost nothing to fear.
Just make sure that he does not come into direct contact with the animal, in particular – so that the dog does not lick the baby (for hygiene reasons).
From 6 months to 1.5 g. Your child sits down, crawls on all fours, starts walking. You must protect him from the places where the dog eats and sleeps, so that it does not seem that the baby is attacking her or trying to take away her favorite delicacy.
From 1.5 g. To 3 years old Scarce discovers the world for himself … and does not notice the danger at all. At this age, he can sit on a dog on horseback, poke fingers in her eyes or pull the tail. Therefore, you must be doubly alert!
Heard a growl? Remove the kid from the dog.
Is the dog running away? Do not let the child run after her.
Little by little, the baby will learn to distinguish between these signs and behave accordingly.
From the age of 3, the Child tirelessly plays and draws the dog into his legwork. Fortunately, at this age he is already able to understand what you explain to him.
The time has come to teach him the main rules of behavior with an animal: that a dog cannot be touched when it sleeps or eats, that it is impossible to rush to the dog with a cry, you cannot approach the dog if it sits under the table or under the bed: it may think that it is attack, and in response to expose the fangs and so on.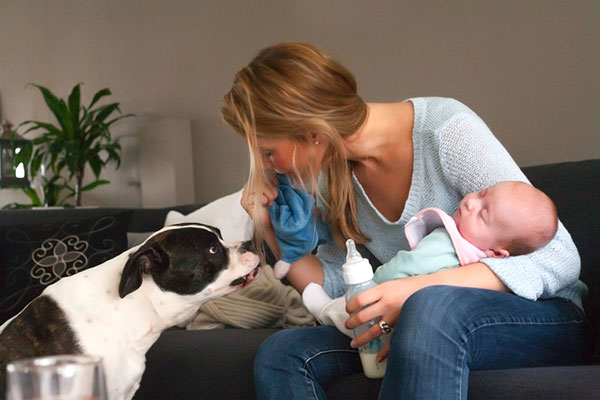 Experts believe that, raising a dog, first of all you need to teach it to control its teeth (in other words, to moderate the pressure of the jaws during the game). As a rule, a puppy teaches his mother: she signals if he clenched his teeth too tightly and hurt her.
Continue this training further, punishing the puppy every time he starts to bite. If a firm "no" is not enough, take the baby by the scruff of the neck, put it on the floor, then gently turn it over on its back and hold it until it stops biting.
You need to get your pet to perform simple commands: "stand", "sit", "place", etc. Making obey is a matter of confidence in the voice, experts say. The dog is like a child.
You can simply say to her: "You can't do it" – and immediately make you obey or endlessly repeat "Stop, stop, stop" – and all to no avail.
The dog must understand that there are already owners in this house and this is you. To do this, try to control its first steps in the three most important areas:
Sleep. The animal should not sleep in your bed.
It can take it for granted and demand more! The dog should have its own rug, best of all in some quiet corner of the apartment, from where it could watch everything that happens in the house.
Nutrition. Do not allow the dog to eat from your plate when you are sitting at the table.
The dog should eat from its bowl and best of all – after the owners.
Games and caresses. You can establish a good relationship with your dog as soon as you take the initiative to contact. You have to decide for yourself whether you want to pet or play with him, and not vice versa.
In the case of a puppy, everything is different. From 3-4 months, he needs to be close to the one he put in the first place to feel safe.
He can sleep next to you, he just needs it.
Another important topic is the protection of animals from parasites. It would seem, here it is – freedom!
Finally spring came, you can go on a picnic and take a walk longer in the park, but the warm weather brings not only joy. Heat is a signal: take care of pets! Ticks and fleas are the source of many diseases.
To protect the dog, many owners choose drops and pills against ticks and fleas, which are usually not more than a month, and in fact it is much more convenient to use collars, which, perhaps, do not smell very nice, but have a much longer duration and longer protect your pet from possible troubles.