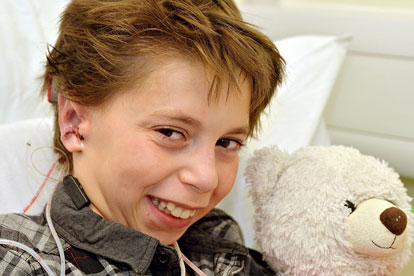 Nine-year-old Kieran Sorkin (Kieran Sorkin) was born without ears. With the help of special hearing aids, the little Briton hears well, but now, on the eve of adolescence, the absence of ears is hindering his socialization. "When I look at my comrades, I involuntarily begin to envy, because I want to have ears, like theirs," admits Kiren. "In addition, I would like to be able to wear sunglasses and headphones."
And now, thanks to the latest achievements of medicine, the dream of little Cyrene has become a reality! The doctors from Great Ormond Street Hospital in London sewn a pair of ears "grown" out of the cartilage tissue they had taken from the ribs of the boy. The operation, conducted by Professor Neil Bulstrode, lasted more than six hours.
It took a long time to carve out cartilage tissue and form an auricle from it before sewing it under the skin of a boy. "I'll sew, just like your mother," the surgeon joked before the operation.
The result met the expectations of the child. "It took him a while to understand – now he has ears. And then he said, "WOW," the boy's father shared his joy.
Of course, this operation was purely cosmetic, but psychologists already say that it will bring significant benefits to a teenager: "This will give Cyrene confidence that it is so necessary at a young age, and his life will change for the better." Now, after 6 months, doctors are again waiting for the British in the operating room to correct the auricles.
The second operation will be purely preventive.