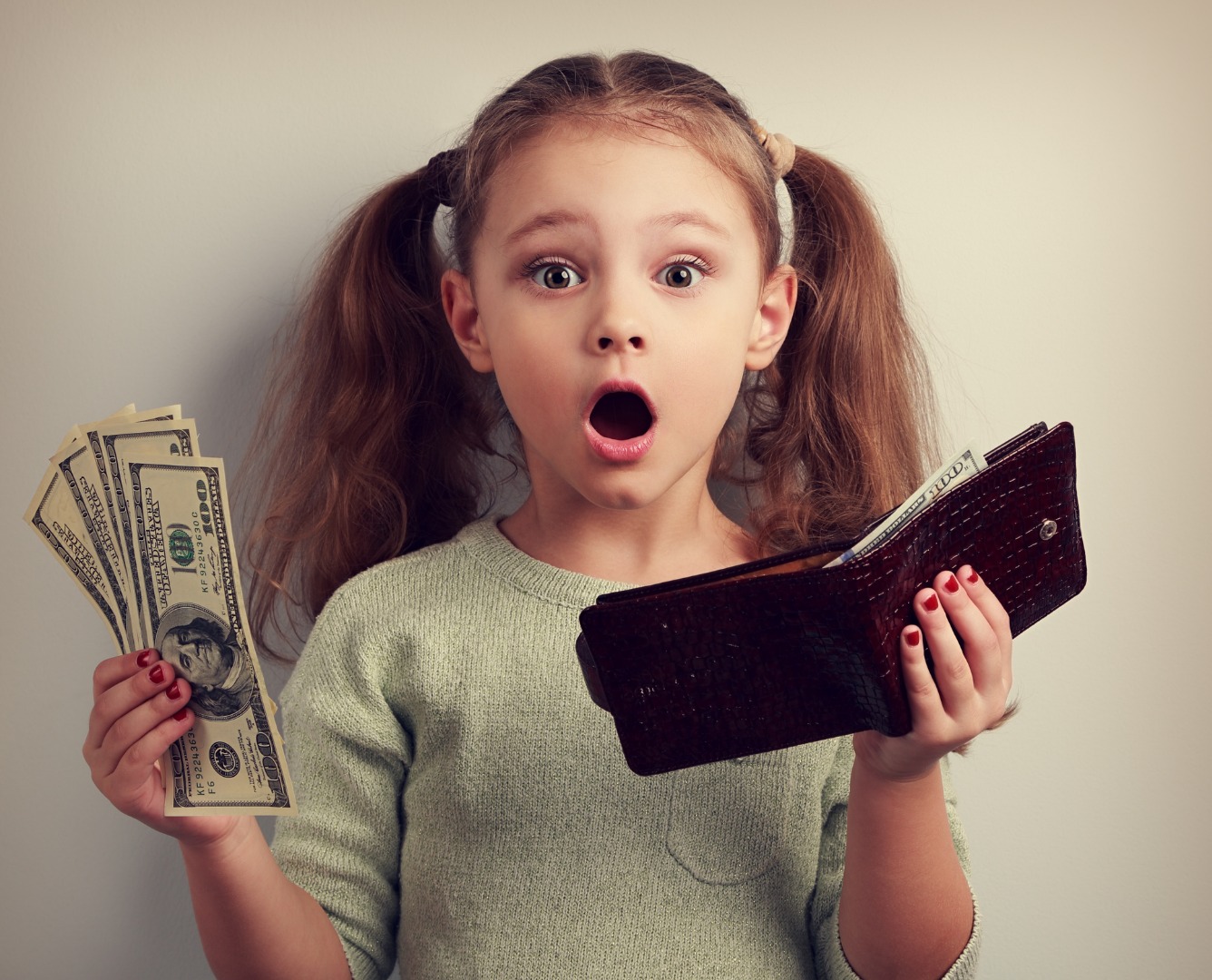 Your girl is already 10 years old. Her need to have her money is determined by the social factor: the child is preparing for adult life in society.
Children aged 6–7 years are already advised to start giving pocket money.
Why does a child need money? By the age of six, the child becomes interested in numbers and letters. At the same time, he begins to be interested in money.
At this stage it is important not to ignore his need, but to support the baby. We start to give pocket money once a week.
We help the child to plan their expenses, save, save. It is important to remember that by berating him for unreasonable expenses, the parent removes the baby from himself and loses his credibility. Instead, we ask and help the child to draw conclusions independently.
This will benefit in the ability to manage money, and strengthen the relationship of the baby and parents.
Further, as planning is successful, we begin to give money for 2 weeks, for 3, and then for a month. Independent management of your money gives the child an opportunity to develop independence, learn how to plan their budget, form the basics of economic literacy.
In this case, the child, seeing your trust in him, your attitude towards him as an adult, receives excellent support, and begins to believe in his own strength and capabilities himself.
What will happen if you do not give the child money? The child sees that his friends give parents pocket money, but he does not.
He is angry, offended by the distrust of his parents. Sometimes children think that they are not loved, valued, misunderstood, considered small, silly, etc.
The child is experiencing discomfort and the need to change an unfair situation.
Next, the child is looking for an approach to parents. He tries different ways to get what he wants: negotiate, beg, persuade, demand, deceive, steal, etc. It takes a lot of strength to fight "for justice."
Growing up, a person does not know how to manage money, all the forces go to receive it.
What happens to your daughter? Every time she is forced to beg you for every little thing. You argue with her, refuse or agree, depending on your mood, decision, etc.
Nothing depends on the daughter. She has to cheat, dodge, learn to convince you, make trouble, demand, adapt.
The child grows in a very strong dependence on you and your decisions. The belief in own forces and opportunities is lost.
No decision making experience. No experience in managing money, setting priorities. All forces go to tricks, contracts with you, adjustments for you.
How to fix the situation?
Talk to your daughter about her feelings and experiences. Tell her how much she loves you, that you consider her a reliable person, and from this week you will give her pocket money. First give small amounts.
Watch her spending. Probably, at first she will be mindlessly spending all the money quickly on bullshit. Possible fear that you take away, change your mind.
Talk to her, support, do not criticize spending. Tell me how you expect the family budget.
After the novelty of the situation leaves, confidence will appear, the girl will calmly argue and come to the correct conclusions.
Do not give her ready-made solutions. Help her find them herself by asking leading questions.
Then gradually increase the amount and period from one week to a month.
If you disagree with your daughter, talk about feelings. It is important not to blame the child.
Remember, she is not to blame for your feelings. It is your responsibility!
Surround the child with support. You will build a trusting, warm relationship.
And this will be the key to her well-being and success in adult life.