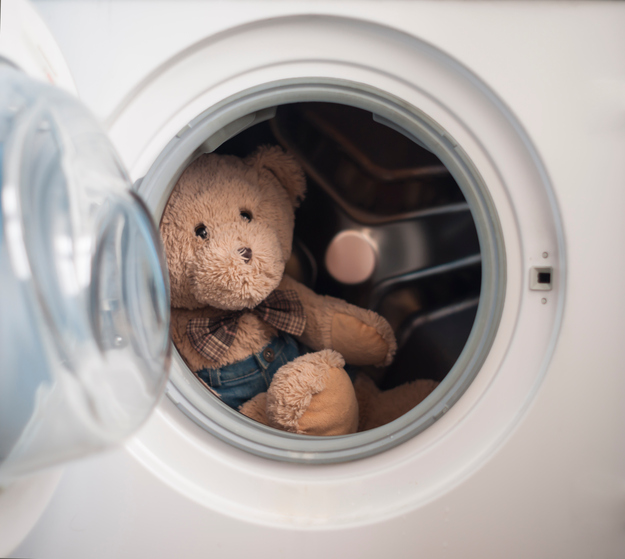 Toys bring to the child not just joy, but also great benefits, because they help him develop his abilities and even know the world around him. However, under certain circumstances, dolls, plush hares and rubber ducks can cause harm to the child.
This is primarily about the bacteria that inhabit all the "very brand" items, among which are children's toys. Moreover, the danger may be even seemingly clean rattle or just bought a soft bear. Babies are most vulnerable to microbes from 4 to 8 months, when they pull into the mouth all that they see in their eyes or in their hands.
At this stage, doctors recommend washing each toy immediately after purchase, then – as it becomes soiled and once a week – for prevention. At the same time, special attention should be paid to the toys that the baby takes with him for a walk or to the clinic: dirt and bacteria accumulate on them the most.
The method of "cleaning" will depend on what material the toy is made of. Soft toys and a developing mat can be vacuumed, and in case of heavy pollution, it can be machine-washed in a delicate mode.
Plastic skarb is better to handle a solution based on water and baby liquid soap. When heavily soiled, such toys are best pre-soaked in a basin, and then rubbed with a stiff sponge, generously sprinkled with baking soda. Machines and robots on batteries, it is desirable to handle a damp, well-wrung cloth or napkin soaked in alcohol.
But there are universal rules. So, in the first year of life, while the child is still very small, you should not use products that contain chemical ingredients, otherwise the risk of developing allergies may increase.
It is better to prefer usually baby soap or special children's laundry detergents. If you buy detergent from European manufacturers, look for the label Eco or Bio on the label – a guarantee that all components included in the composition are of natural and safe origin.
Rubber bath toys require special care. Due to the fact that they are constantly in contact with water, the main danger is mold. Her presence in the bathroom will give a dark or black patina in the tile joints.
This is a sure signal that over time, water with black "scales" will begin to pour out of the squeak toys. In this case, the rubber arsenal will need to be immediately updated.
And so that your favorite toys last longer, squeeze them well with your hands so that there is no water inside, and arrange them to be regularly ventilated under the sun – on the windowsill, balcony, dryer or clothesline. Mold that loves moisture and darkness does not tolerate ultraviolet radiation.
In order for the toys of the baby to accumulate less dust and allergens, it is necessary to take care of the cleanliness of the apartment air. This task is best handled by modern air-cleaning systems.
If the baby has already manifested an allergy to house dust, which is caused by microscopic mites, one cannot do without these aggregates. If there are no air cleaning devices at home, then do not forget to regularly air the nursery and do wet cleaning 1-2 times a week.
Before you buy a plush toy for your baby, do a simple experiment: pinch the animal by the skin. If a piece of lint remains in your fingers, it is better not to risk: the child can inhale it, and this is not safe.
On rubber and plastic toys check paint. If it is erased, it is worth slightly rub the surface with your finger, give up the purchase.
At home, before giving a baby a duck, wash it with soap and smell it: a strong smell is a good reason to cancel acquaintance.