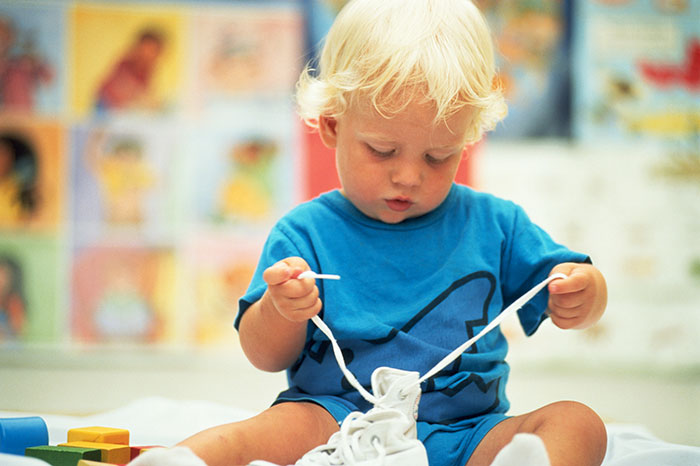 It is believed that by the kindergarten age, the child must learn to solve simple household tasks: use cutlery, wash hands, remove toys. Partly so.
A person goes through a certain stage of development, you can read about it, say, with the Soviet psychologist Lev Vygotsky, who described them with amazing accuracy. It is known that when about a child begins to lift his head, he gets up on his feet, when fine motor skills develop more or less and he can cope with a "lightning" or buttons.
Many everyday skills really form at three years, as well as others at five, at seven, at twelve, throughout life. Three years is generally an amazing age: a child, for example, understands that, besides him, there are other people, there is a whole world. Before that, children, playing hide-and-seek, close their eyes with their palms and think that they have hidden.
And only then comes the realization: if I don't see, it doesn't mean that no one sees me. In three years, a person absorbs everything like a sponge, learns easily and adopts models of behavior of parents.
One of the secrets is to do different things together, and not to force. It is almost impossible to teach a child specifically, but it is possible to create conditions in which he himself will be happy to master knowledge and skills. If mum and dad read, he, too, will certainly begin to read, because it is his family culture.
And if the parents, having come from work, are exhausted on the sofa and send the child to read, if only they do not interfere under their feet, then the book will become for him not a best friend, but a sworn enemy. The same thing will happen if you take away the allegedly inappropriate books: "It's too early for you to read this".
And in other situations, it is just enough for parents to be around and try not to discourage the desire to explore the world.
Do not demand from the child that you do not do it yourself or do it, but not in plain sight. Want to teach to brush your teeth? Do this together, not in turn.
Children learn independence by imitating adults. At some point, they take up a spoon, not because they were forbidden to eat with their hands, but because everyone around them eats with a spoon. A similar situation with laces.
The child first watches as they are fastened by the father, the mother, then the desire to repeat is awakened in it. The main thing – do not interfere with his attempts, do not rush and do not get tired to help.
You can not order emotionally humiliate. There is nothing worse when adults say: "You are already three years old, and you still do not know how …" He will learn to learn, but you spoil the relationship.
Do not compare with other children and do not scold if something does not work. Spilled soup? Just take a rag and wipe it off: this will show that nothing terrible has happened, that the problem can be solved this way.
He is so embarrassed because of what happened, reprimand from his mother only creates a feeling of guilt. Henceforth, the child will be afraid to once again take the initiative, if only he does not feel his anger again.
Help when necessary. If the child is holding the plug incorrectly, it is not necessary to retrain or, worse, beat his hands. Just ask: "Are you comfortable?
Look, and you can still keep it up here. " Be equal, learn mutual aid.
Forget the phrase: "Until you do it yourself, we will not go anywhere." In this way you demonstrate that the strong can overwhelm the weak. A child is your favorite person, not an object of education.
After all, you will not refuse your spouse or request to iron your clothes or cook dinner, to go to the cinema in the evening, so why is it worse? Do not be afraid to spoil, providing assistance.
Man can not be spoiled by love.
Stay on the side of the child, if anyone else, including caregivers, relatives, acquaintances, will start scolding him, saying that they have been spoiled and other children at this age have long done everything themselves. Your task is to protect it, and not to alter it to please strangers for the sake of their convenience.
Let me choose. Independence is not just the ability to do something on the orders: "Brush your teeth". This is primarily the ability to formulate desires, make decisions, and it must be developed.
Let the child choose not only cartoons, toys or books to read, but also clothes, food, activities. Naturally, this does not contradict the fact that parents, as close people, should be at this moment side by side, provide support and help with advice.
And most importantly: you should not worry about what the child has learned, whether his skills correspond to age, according to outsiders. Just be near, love, support and enjoy his childhood.