Globalization penetrates not only into the economy, but also into the stomachs: french fries, hamburgers and other fruits of Western civilization are being eaten at all latitudes today. The result is a widespread increase in obesity and related problems such as diabetes, cardiovascular and oncological diseases.
It is time to revise our eating habits and borrow the best from abroad.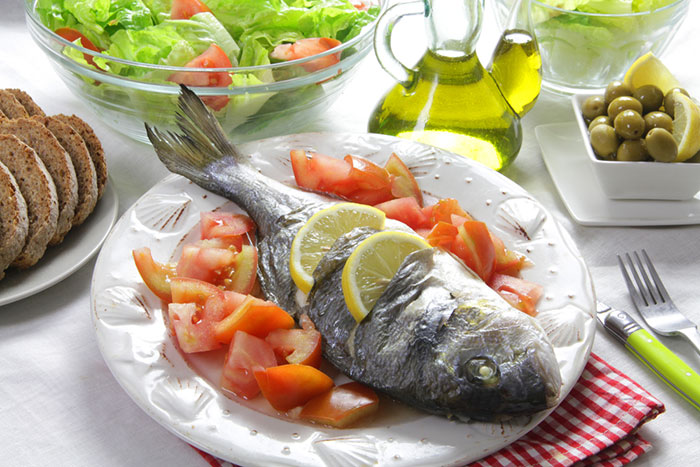 Vegetables, fruits, cereals, fish, some meat, olive oil – why not a healthy diet? Herbal ingredients supply the body with dietary fibers, vitamins, minerals and antioxidants. Fish gives omega-3 fatty acids, which reduce the risk of heart disease.
Polyunsaturated fats found in olive oil raise blood cholesterol to a lesser extent than saturated fats from butter and margarine. It is no coincidence that the traditional cuisine of the inhabitants of the Mediterranean coast (especially Greece and Southern Italy) is approved by nutritionists from different countries.
Studies show that heart disease is less common here than in other European regions.
Pros . The abundance of fruits, vegetables and grains, fish, moderate consumption of lean meat and olive oil.
Minuses . Despite the advantages of Mediterranean cuisine, there are quite a lot of overweight people in Greece (27% of the population). Perhaps this is due to low physical activity and overeating – the size of dishes in Greek taverns really amaze the imagination.
So, adhering to this diet, it is important not to forget about the sport and monitor the volume of servings.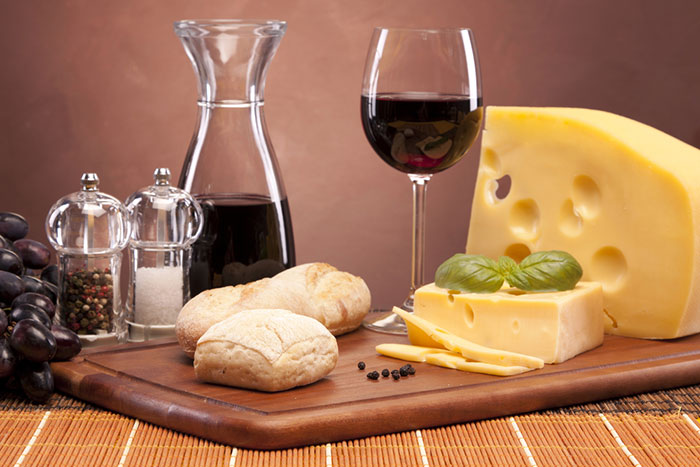 It was the French who invented the word "gourmet", the concept of "high cuisine" and the Michelin restaurant guide. Food and festivals in her honor are an integral part of French culture.
Feasts last a long time, and many traditional dishes are very high in calories (which cost some cheeses and sauces). However, France has a relatively low incidence of cardiovascular disease and obesity.
This paradox was noticed by doctors at the beginning of the XIX century. It is often explained by the protective properties of red wine, which heals vessels (if you drink it a little), but, apparently, it's not just him.
Mireille Guiliano, author of the best-selling book "Why French Women Don't Get Fat," describing the usual French menu (2-3 dishes for breakfast, 3-4 for lunch — and certainly with wine), remarks: "French women" eat their heads "and do not stand up because table with a feeling of full stomach or guilt. " Maybe this is the key to the French paradox: there are small portions, deliberately, and the feast to be considered primarily as a reason to communicate with loved ones.
In general, any doctor will confirm that thoroughly chewed food quickly causes a feeling of fullness and is better absorbed. In addition, the French walk more and spend less time behind the wheel.
Pros . A large number of fruits and vegetables, small portions, moderate alcohol consumption, healthy gourmet food without overeating.
Minuses . In France, a fairly high level of liver disease. In order not to abuse fats, high-calorie meals are better "diluted" with fruits and vegetables, and desserts allow themselves no more than once a day.
As for alcohol, it should be limited to 150 ml of dry wine per day.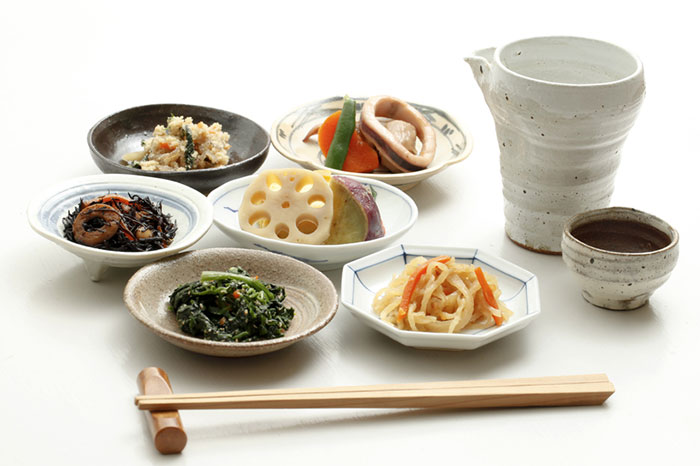 In the Land of the Rising Sun, one of the lowest obesity rates in the world (about 2%) and the highest life expectancy. There is an undoubted connection between this fact and the fact that the Japanese eat. The Japanese diet can be an excellent basis for a healthy diet: an abundance of rice, all kinds of noodles (wheat, rice, buckwheat), vegetables (bamboo stalks, seaweed, eggplants, mushrooms), fish in all forms (raw, fried, boiled or steamed ), natural soy products that reduce blood cholesterol levels.
And instead of coffee – tonic green tea, rich in antioxidants.
Traditional Japanese menu is not limited to the fact that they offer numerous network sushi bars. Eating in Japanese means eating a cup of rice (preferably brown) every day, 2-3 types of vegetables with each meal, cooking small portions, replacing black tea with green tea.
And if it seems too bitter to you – try another traditional and very useful Japanese drink instead – barley tea (also known as barley coffee produced in the USSR).
Pros . The abundance of fish and seafood, including algae, helps to compensate for the iodine deficiency that occurs in most of our compatriots. And the modesty of the Japanese portions of our Russian scale and it is worth learning.
Minuses . One of the problems of the Japanese diet is the abundance of salt, which increases pressure and increases the risk of cardiovascular diseases. Try replacing it with a light, low-salt soy sauce (not forgetting that they should not even get too carried away) or use spicy herbs and lemon zest.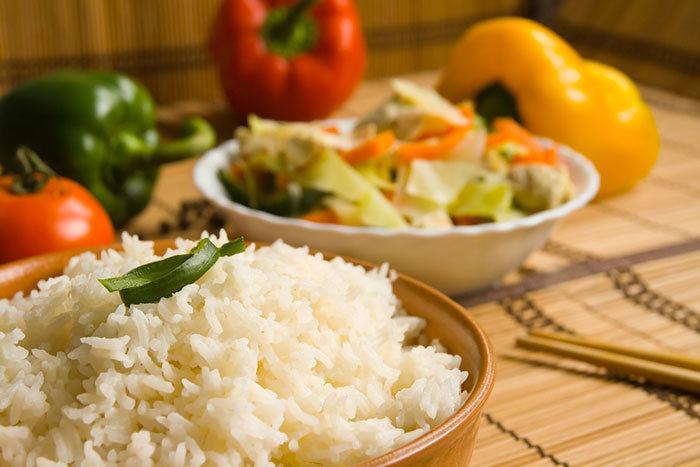 Just as in the case of Japan, what is considered Chinese cuisine in Europe and America (or rather, what is offered under this type in restaurants) has little in common with the food of the inhabitants of the Middle Kingdom. Traditionally, the Chinese base their diet on cereals, seafood and fresh meat with seasonal vegetables and fruits.
But all sorts of fried dishes like pork in sweet and sour sauce or deep-fried shrimp do not appear on their tables as often as in the menu of Chinese cafes, which are oriented towards Western consumers.
Food for the Chinese is an important part of not only physical but also spiritual life, because a joint meal brings harmony and unity to the family. Compared to Western cuisine, Chinese is rich in plant food and low in fat.
People who eat in this way lower their cholesterol levels.
Pros . Lots of seasonal fruits and vegetables, cereals, rice, noodles, seafood, lean meat. Meals are cooked in a pair or in a traditional semi-circular pan – wok, allowing you to do a minimum of fat.
Minuses . In Chinese cafes and restaurants, food is often cooked in boiling oil (for example, fried rice, wonton, an analogue of ravioli). Many dishes are quite salty and spicy, which is not very useful for people with sensitive digestive tract.
The first thing that comes to mind when mentioning South American cuisine is all kinds of corn tortillas with sharp fillings: fried and crispy – tacos, rolled up and baked in a sauce – enchilada and, of course, dried to a state of chips – the famous nachos. Indeed, corn (maize) is one of the key products in Mexico and neighboring countries, where the ration is mostly vegetable: cassava, sweet potatoes, bananas, pumpkin, tomatoes, all kinds of legumes and grains. Vegetables are used as a side dish, as a main dish, and even in combination with sweet fruits like mangoes.
Meat and fish are often among the delicacies.
If you want to diversify your menu with Latin American dishes, replace meat with legumes once a week. Take a closer look at the corn: it is one of the most dietary, hypoallergenic and low-calorie cereals.
On the basis of this product, South American cuisine offers a lot of recipes for various salads, cereals, soups, main dishes and even pastries.
Pros . Many vegetable dishes (beans, corn), as well as vegetables, rich in protein and dietary fiber.
Minuses . Abundance of fiber is only suitable for people with a healthy gastrointestinal tract. Products rich with it will be contraindicated in gastritis, duodenitis, colitis, which is often found in modern citizens.
So it is better to gradually increase the proportion of legumes and fiber vegetables in the diet.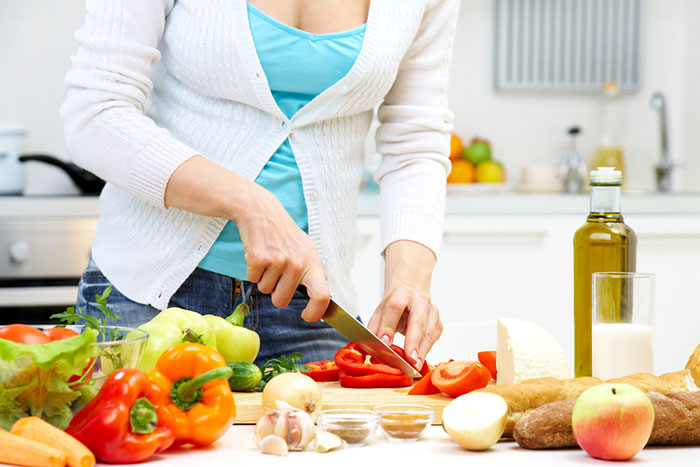 The peoples living thousands of kilometers apart, in fact, have much in common in their diet. At the heart of all these types of food – vegetables, fruits and cereals.
From the traditional menu you can borrow and many other useful ideas that will help us control our weight and reduce the risk of disease.
1. Set yourself a full breakfast. Porridge, toast from wholegrain bread (dried bread is easier to digest than soft), fruits, dairy products (cottage cheese, yogurt).
As an option, try the Japanese "energy boost": egg miso soup, fresh vegetables, brown rice and tofu bean curd.
2. Eat vegetables during each meal. In the stores and in the markets today there is such a variety of vegetables from all over the world that it is not difficult. Steam vegetables, bake, boil, stew; In extreme cases, no more than 2 times a week, quickly fry in hot oil (so food absorbs less fat and saves more vitamins).
Cook all sorts of salads; By the way, traditional Greek salad is a great option for a healthy and nutritious dish.
3. Cook whole grains 2-3 times a week. Compared to the processed grains, they contain more vitamins, mineral salts and fiber, while calories are lower.
Today, you can find not only whole grain cereals, but also bread, pastries, all kinds of pasta – for example, Italian wholegrain flour (pastaintegrale).
4. Do not forget about legumes. Dishes from them are unfairly forgotten in Russia, and after all in them there is a real storehouse of vegetable protein, salts of potassium, phosphorus, magnesium, iron. And then it is worth to turn to the Eastern and South American cuisines, where legumes have long been used very widely.
Beans, peas, lentils, chickpeas can be the basis for such appetizing and simple dishes as chili con carne (Mexican bean stew with pepper and meat) or Tuscan soup with beans.
5. Choose lean meat. In order for the body to get enough protein and iron, an adult person needs 100–150 g of beef, pork, lamb, turkey, or chicken without skin. Try replacing the traditional Russian combination – meat and chips – with lighter Chinese and Japanese options with rice and vegetables.
6. Seafood – twice a week. Fish and all sorts of seafood are indispensable for Russians, whose food does not have enough iodine. Baked on the grill or in the oven, the fish will retain all its beneficial properties, does not require additional fat in cooking, and rice or vegetables will be an excellent addition to it.
Pay attention to the Japanese algae (wakame, kombu, nori): their taste may be quite different than that of the Soviet seaweed salad, and the benefits are far beyond expectations.
7. Watch the amount of consumed fat: first of all, minimize the hidden fats that are contained in sausages, muffins, cakes. Prefer polyunsaturated fatty acids from vegetable oils and fish.
Alternate different types of oils: not only popular with us sunflower and olive, but also corn, rapeseed, sesame and others. Do not forget that the maximum benefit from butter (both creamy and vegetable) can be obtained if it is used not in ready meals, but in its natural form.
Lyudmila Volkova, MD, Dietician at the Weight Factor Clinic
In our vocabulary, the word "diet" is associated with something that is inherent in an unhealthy person: with treatment, restraints, or hunger. Therefore, I would call the above-mentioned traditions of the nutrition of different peoples nutrition systems. After all, it is the system, that is, regular, everyday food, that forms our food preferences, and, consequently, it largely determines the state of health.
If we briefly say about the undoubted advantages of the nutrition systems of different nations, they are united by moderation in the sizes of servings, preference for fresh foods and dishes, minimum culinary and temperature processing, and, of course, a diet 3-4 times a day. And these are the best lessons that we should learn from foreign traditions.
On the one hand, there is nothing wrong with diversifying your menu with unusual products or dishes. But in the quest for novelty and exotic, it is also worth observing the measure. Culinary traditions are formed under the influence of the local climate, lifestyle, even microflora – and can cause a reaction in an unfamiliar foreigner.
In addition, products that are brought to us from overseas, inevitably undergo a particularly strong processing that helps them withstand long transportation and storage. In this regard, fresh local food (for example, seasonal fruits and vegetables) will no doubt be more useful than "overseas".