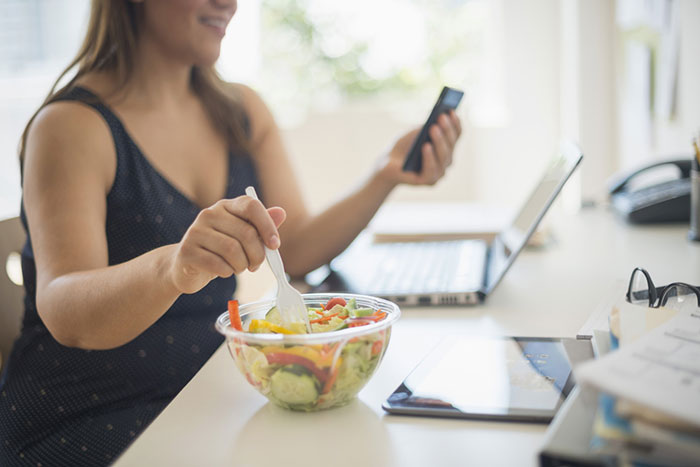 one) What to eat:
* Dairy products: yogurt, cottage cheese – 0%, sour cream – 30%, butter – no more than 40%, milk – skimmed.
* Juices (orange, grapefruit) – freshly squeezed.
* Cheese (Emmental, Roquefort, Camembert).
* Smoked salmon, high quality ham, beef tenderloin.
* Fruits and vegetables: tomatoes, cauliflower, radishes, carrots, celery, salad chicory, bell peppers, fresh apples, nectarines, bananas.
* Frozen foods: red fruits, apple and berry compote, salmon fillet, chicken escalope, green beans, spicy herbs.
2) Recommended product volume (in grams)
green or red vegetables – no limit;
meat / eggs / fish / side dish – 100 g (not more than 200 g per day);
rice / pasta / cereal – 100 g;
3 dairy products per day (yogurt, cottage cheese or 30 g of cheese);
3 fruits per day;
some fatty foods added to the dish as desired (for example, 10 g butter or a tablespoon of sour cream 15% fat);
Bread – 125 g per day (4 small sandwiches).
3) One for all: breakfast
a drink (hot or cold) without sugar or with sweetener;
2 slices of bread with a slice of butter + low-fat dairy product + one fruit + 1 egg or a slice of ham (or 50 g of cold boiled meat);
a cup of low-fat cottage cheese (or fruit yogurt with muesli or whole-grain cereals such as Fitness) + a glass of freshly squeezed juice;
on Sunday, it is permissible to replace ordinary bread with a croissant, sweet bread or gingerbread.
1. Effective those diets that are poor in fat. Reduce the amount of oil in your diet. For this:
a) forget about pans – boil, steam or bake in foil or sleeve;
b) use "light" butter;
c) put less oil in salads (for example, in a vinaigrette, replace it with balsamic vinegar).
2. Watch for the amount of starch. For example, if you have a macaroni day, choose a small plate, not a large one.
3. Buy small packages (cheese, yogurt, cottage cheese, sour cream). When you open it, you need exactly one meal.
4. Go to restaurants and cafes with pleasure. What then is there to take – unsalted, steamed vegetables? No, no and NO!
Choose a baked rabbit in mustard sauce and a ball of sorbet. Just give up bread, wine and cheese.
5. Do not neglect breakfast! It never happens that there is nothing to eat.
Finally, take a wholegrain sandwich or an apple to the office.
Nutritionists echo each other: at least four snacks a day will make your lunch and dinner easier. At a time when you have no time to break away from the computer, the following options are valid:
apple – satisfying the brutal hunger
a glass of Coca-Cola "light" – a little pleasure and zero calories
tea or herbal drink – tonic effect
chewing gum or sugar-free candies – when you just feel like chewing
small cakes (meringue or biscuit), granola bar – for recharging with energy
10 popular snack foods that you get fat
Snacks during the day are an inevitable attribute of any modern person. We are too busy – working or household chores to organize a full four meals a day. And too accustomed to throw something in your mouth on the go.
Particularly conscientious consoles that they choose "light" foods for snacking. And deceive themselves. Read on
We remind you that all the few breakfast options described above.
Saturday
Lunch with the whole family in a cafe
– a portion of ravioli or ravioli steamed + chicken curry with a side dish of rice + mango.
Home dinner with friends
– cucumber salad, fish, baked in foil + grilled tomatoes + toasted bread + tartines with berries and basil.
Sunday
Family brunch
– a piece of ham + a piece of smoked salmon + a bowl of soft cheese + bread (small 3 sandwiches) + fruit mix (apples, lemon juice, raspberries) + grapefruit juice + tea / coffee.
"Smoked salmon ?!" you will say. We answer: yes.
It is more calorie compared to regular lightly salted, but you need these calories.
Home Dinner
– 2 toasts with "something fresh" + vegetable sticks (cauliflower, radishes, carrots, celery) under a yoghurt sauce with Provencal herbs + fruits.
Monday
Lunch at the office (prepare your boxes-containers ahead of time)
– salad (germinated wheat, radish, apple, sweet pepper, cheese, eggs).
Dinner at home
– green salad + beef, baked with tomatoes + fruit yogurt + bread + fruit.
Tuesday
Lunch at the office (if you are at meetings until the middle of the day, and there will definitely be little time to eat)
– ham sandwich or panini with cheese + apple.
Dinner at home with children
– grated carrot salad + steamed fish + low-fat dairy product, apple and berry compote + soft cottage cheese or cottage cheese dessert.
Wednesday
Lunch in a restaurant with colleagues
– miso soup and a portion of rolls (if you are tormented by the feeling of hunger after noon, eat any fruit to choose from).
Evening: going to the movies
Eat two yoghurt before leaving. Do you feel light hunger after watching a movie? Head to the pizzeria.
Pizza?! Yes: dough plus tomatoes plus champignons plus ham – this is your "set menu" for the evening (although, perhaps, a bit fatter than we would like).
Thursday
"Quick" lunch at the desk
– ready food from the supermarket + fruit.
Dinner at home
– salad (slices of steamed chicken, green beans, a mixture of aromatic herbs) + bread + fruit milkshake.
Friday
Lunch in the service canteen
– half a grapefruit + fried chicken or fish with a side dish of vegetables + bread + a glass of natural yogurt.
Dinner with friends
– Have a bite of yogurt and fruit before leaving the house. And then follow the "diet" program.
Aperitif – a glass of champagne or wine. Appetizer – seafood or avocado salad with shrimps.
The main dish is meat with vegetables. Dessert – a scoop of ice cream with fruit syrup or sliced ​​fruit.
Avoid bread and cheese!
The menu does not resemble anything similar? Dont be upset.
Just eat a little bit of everything, and on Saturday you will cut down your diet a little.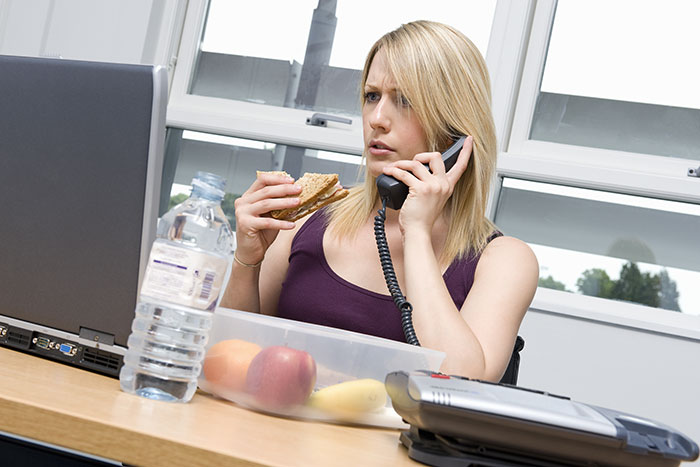 Diversify your slimming host list. Add to the menu:
exotic fruit juice;
ready-made salads (preferably, on the basis of vegetables – such as "koul slou" or canned);
melon, lettuce, onions, plums, apricots, citrus and pineapple, spinach;
canned food: crab meat, tuna in its own juice.
Saturday
Lunch at a fast food restaurant
– chicken pieces with a fresh salad garnish.
Dinner at home with friends
– warm salad with goat cheese + roast veal with eggplant caviar + bread + fruit "soup."
Sunday
Family brunch
– roasted whole grain bread + compote without sugar + 2 soft-boiled eggs + cheese (Camembert or Shavrou) + multifruit juice + tea / coffee.
Dinner at home
– Salad (pasta tubules, tomatoes, radishes, cucumbers, lettuce, crab meat, mozzarella) + 2 apricots or one circle of fresh pineapple.
Monday
Lunch at the office
– homemade sandwich cooked in the morning + nectarine.
Dinner at home
– half a grapefruit + quiche with seafood + mashed spinach + baked apple.
Tuesday
Lunch "on the run" in the office
– two servings of ready-made salads (meat or fish, vegetable).
Dinner at home with children
– half a small melon + vegetable risotto + homemade sorbet.
Wednesday
Lunch with colleagues at an oriental restaurant.
– vegetable roll + steamed fish + a cup of white rice (plain or with vegetables) + green tea.
Note: try to do without fruit juices!
Evening: go to the cinema
– eat a muesli bar before going out;
– after returning – a piece of meat + 2 apples baked in the oven + creme brulee mousse.
To the note: it is better to refrain from bread, but the dessert is obligatory – it will correct your diet in calories!
Thursday
Lunch at the office
– salad of grated carrots + 2 slices of ham + 1 yogurt.
Dinner at home
– salad in glasses (tuna in own juice, canned corn, soy sprouts) + Roquefort cheese + bread + one fresh fruit to choose from.
Friday
Lunch in the office canteen
– salad of vegetables and herbs + fish in tomato sauce with rice + cottage cheese (try to do without bread!).
Dinner with friends
– have a bite before you go out (yogurt, fruit), and then proceed according to circumstances in accordance with the instructions received earlier.
What next? To continue the program, "fix" the previous week's menu by repeating the menu of the first week or make a "mix" of two weeks to your taste. This diet will quickly become familiar to you, just enough to follow it for a month.
The main thing – do not lose motivation.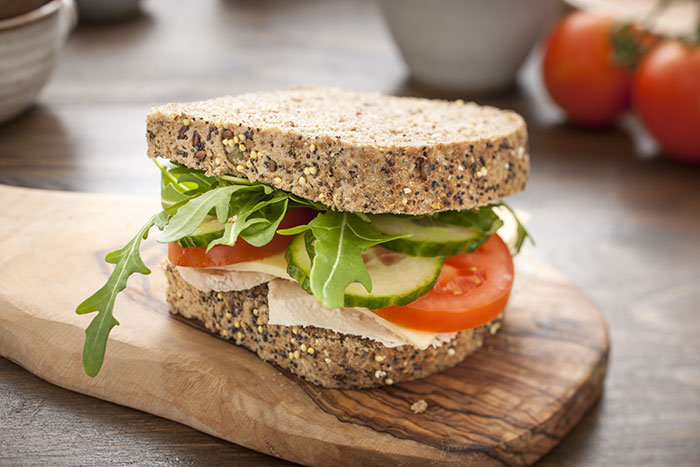 The prospect of choosing between chicken breast and celery salad makes you sad? Do not give up! You can reduce the calorie intake without ceasing to enjoy the taste.
White fish with zucchini, Provencal chicken with grilled eggplants, salmon risotto and vegetable thyme fondue – believe me, cooking these dishes takes a minimum of time and effort.
* Caviar from eggplants (or zucchini)
For two servings: 2 large eggplant (or 4 small zucchini), clean and cut in half. Dry with a paper towel and chop together with a tablespoon of low-fat sour cream in a blender.
Salt, pepper and sprinkle with lemon juice.
* Cucumber salad
For one serving: brush half of the cucumber. Remove the bones.
Grate and pour with bio-yogurt. Add salt, a curry pinch and chopped mint leaf.
* "Sandwich for losing weight"
1/3 baguette grease with butter. Put a slice of ham (or chicken, or smoked salmon), on it – a slice of Gouda cheese or Emmental and mugs of plum-like tomatoes (or cucumbers).
Top with lettuce leaves.
* Quiche with seafood
For four portions: put the stuffing on a shortbread dough – mix 4 eggs, salt and pepper to taste, 400 ml of skimmed milk, some sliced ​​tomatoes and 150 g of shrimp. Sprinkle with grated Emmental cheese and bake in the oven until tender.
* Meat in Tomatoes
For four servings: in a mold, lightly oiled (or lined with baking paper), lay the onion sliced ​​into rings. Prepare the meat (beef is ideal – the pulp of the shoulder part): rinse, salt and pepper.
Put in a deep dish, cover with vegetable broth to preserve the flavor, add tomatoes, cut in half and in small pieces, cloves of garlic and once again – onion rings. Salt it.
Stew in deep dishes for at least an hour.
* Strawberry tart with basil
Sand the dough, put it in the form and sprinkle dry beans on top. Bake the cake in the oven. When it is browned, take out the beans, fill the cake with a mixture of low-fat cottage cheese and strawberries.
Sprinkle with fresh minced basil and cook a few more minutes.
* Homemade sorbet
For four servings: Mix 400 g of frozen fruit or berries with yogurt and milk. Add a little sweetener if desired.
Punch in a blender and serve immediately.
* Milkshake
Mix one vanilla yogurt with any red fruit and banana. Punch in a blender.
If the consistency is too thick, add milk.
* Fruit "red" soup
Punch strawberries in a blender and sprinkle with berries (red and black currants, raspberries, blackberries). Serve from an approximate calculation of half a glass per person.
Why you do not lose weight: 5 objective reasons
We are accustomed to assume that excess weight is a consequence of overeating and excessive use of alcoholic beverages. But besides these obvious reasons, there are a few more that we don't think about.
But they can be your personal obstacle on the way to a slim figure. Read on
Simple tricks: how to reduce calorie intake without dieting
Good news for those who are unable to sit on rigid diets and are not able to deny themselves sweet or fat: to lose weight, you do not have to completely give up everything that you love. Restrictions require only the total caloric content of your daily diet.
And this is really done with the help of a few tricky tricks. Read on
Chronology: a diet for those who do not like to limit themselves
Can you lose weight while enjoying the divine taste of soft cheese, peanut butter and chocolate? And if so, why hasn't anyone told us so far about this ?! Because the whole world continues to ignore the most important rule – the meal schedule.
Let's say a categorical "no" tedious calorie counting with the method of Dr. Alain Delabos! Read on