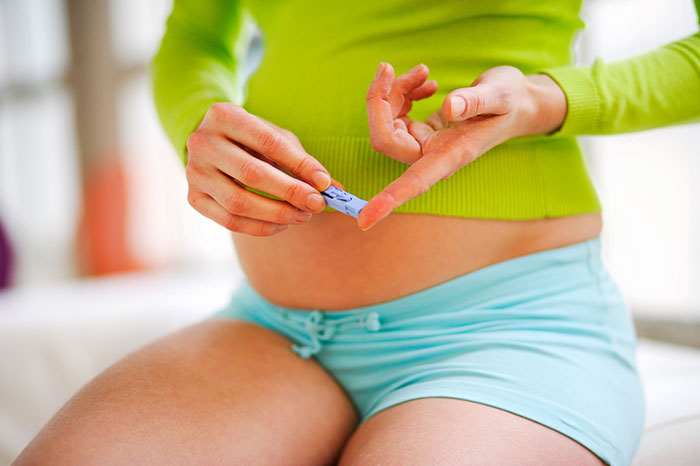 Gestational diabetes mellitus, or pregnant diabetes mellitus, is a disorder of carbohydrate metabolism that occurs or is first recognized during childbirth. In Russia, the disease is diagnosed in about 7% of expectant mothers.
The main symptom is constantly elevated levels of sugar (glucose) in the blood from the 20th week of pregnancy. Women with such a diagnosis are more likely to give birth to large children, which often leads to complications during childbirth. Increases the risk of polyhydramnios, edema and hypertension.
And if time does not reveal the disease, the child may experience congenital anomalies in the development of various organs.
Glucose is the main source of energy, and in order for the body to work normally, it must penetrate into the cell. This process controls the hormone insulin, which is produced by the pancreas.
If it is synthesized too little or its interaction with cells is disturbed, glucose is not absorbed and its content in the blood increases. In this case, the diagnosis of diabetes mellitus is made. During pregnancy, additional prerequisites arise for its development: some hormones that are actively produced during this period (for example, estrogen, cortisol, placental lactogen) can weaken the effect of insulin.
Typically, this effect begins to manifest from 20−24 th week. To maintain blood sugar at a normal level, the pancreas of a woman is forced to work with increased stress.
If she does not cope with her task, insulin deficiency occurs and gestational diabetes can develop.
There are several factors predisposing to the development of gestational diabetes during pregnancy. First of all, it is overweight in the future mother and diabetes mellitus in her next of kin. Women who have been diagnosed during a previous pregnancy, and those with impaired glucose tolerance are at risk.
The probability of the disease increases if the expectant mother is over 30 years old or has already had a large baby, and also if she is rapidly gaining weight. If at least 3 of the above factors are present, a pregnant woman after the first visit to the obstetrician-gynecologist must be referred to an endocrinologist.
Given that in rare cases, gestational diabetes can occur even in women who are not at risk, all expectant mothers take a blood test for sugar at the very beginning of pregnancy. If the glucose index is higher than 5.3 mmol / l, a woman is recommended to have a carbohydrate-restricting diet and follow-up with an endocrinologist throughout pregnancy. She will visit the doctor more often, and on the 20th week of pregnancy she will be offered to undergo a special glucose tolerance test.
At the same time it is carried out and all pregnant women from the risk group, regardless of the results of the previous blood test.
If the diagnosis is confirmed, first the doctor prescribes a diet with a limited carbohydrate content for 10-12 days. If the reanalysis does not show improvement, insulin injections are prescribed.
On the third day after birth, the glucose level usually returns to normal and insulin therapy is canceled.