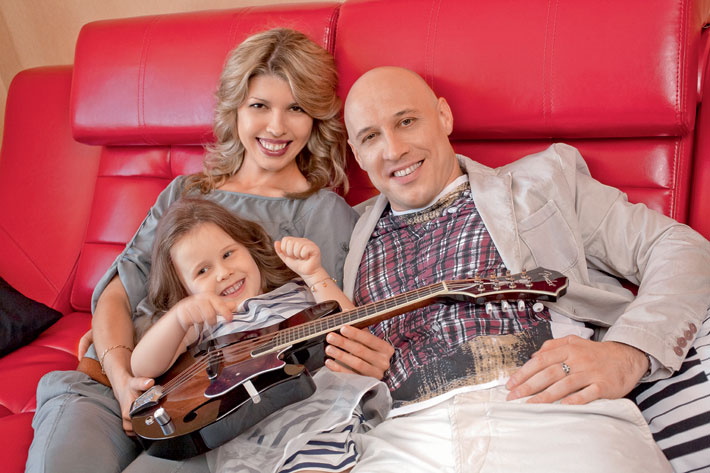 HAPPY PARENTS Often a couple has a relationship crisis with the appearance of a child. Did you have such problems? DENIS MAYDANOV No, quite the opposite, although, I must say, we were fine before Vlada, and Natasha and I have been together since 2003.
By the way, from the time when my daughter was born, and my career went uphill. It was in the year of the birth of Vlada that I began to perform my songs myself.
Natalia Maidanova When Vlada was born, there were difficulties associated with life in the first place. Firstly, we lived in a rented one-room apartment. Secondly, there was a change of our regime.
Before Vlada, there was one regime associated with the schedule of Denis, who was used to getting up at ten in the morning, going to bed at three at night. Then everything changed dramatically. Daughters can not explain that she is a child of show business.
She woke up at five in the morning, and had to deal with her. And then we did not have the opportunity to bring a grandmother. I was alone with Vlada, so three months after giving birth, without any diets, I became thinner than before.
But really all this happily coincided with the creative rise of Denis. The first songs appeared in his performance on radio stations, and he needed to continue this movement. I understood this perfectly well and understood that it was impossible to load him with the care of the child at that moment, the creative person should do it alone.
Therefore, all the fire took over.
S.R. And when did you start helping Denis as a director?
N.M. Vlade was one year old, it became a little simpler, we moved to a large apartment, our grandmothers began to visit us more often. Sat on the phone, was engaged in the site.
I was on maternity leave and at first hoped to go back to my previous job – to continue my marketing career. But then Denis and I decided that he needed me more.
Not only as a wife, but also as a director. Well, when Vlad was two years old, we transported our grandmother, which coincided with the beginning of a stormy touring time.
S.R. That is, when you're on tour, you have a grandmother with Vlada?
D.M. Vladka stays in the neighboring house – that's literally opposite to ours, where she lives with her grandmother, with my mom.
That is, we have two apartments nearby: in one Vlad lives with her grandmother, in the other – we are with Natasha. We were forced to build the life of our family in this way, in two houses, when we realized that we could no longer abandon our careers to the mercy of fate.
Mom's arrival helped us a lot, one can say our plan worked: on the one hand, we untied our hands, were able to work actively, on the other, Vlada lives very close to us and under the supervision of her grandmother.
S.R. Vlad and sleeps at the grandmother? D.M.
Yes. Although we, of course, always, whenever possible, try to take her to us.
But our schedule is so tight that it does not happen as often as we would like.
S.R. Vlada does not worry that she does not live with you? Not asking to go on tour too?
D.M. Of course, experiencing. Misses the same way as we do.
But she is a smart girl and takes everything as it should. Tolerate, in short. Growing up – and take it on tour necessarily.
In the meantime, she goes to all Moscow concerts, knows all the songs by heart and sings from the auditorium. And then he asks: "Dad, did you hear me singing loudly?" N.М.
We do not have months, but, thank God, people came up with Skype, allowing us to communicate. Still hard. Despite the fact that Vlada reacts to our separation, as an adult: she holds back tears, understands everything – but my mother's heart just breaks.
And the feeling of guilt is always present … Of course, all hard. But we plan that as soon as circumstances permit, we will be reunited, and grandmother will come to us.
S.R. On the other hand, children appreciate when parents are worth something and mothers work not only as moms … N.М.
Yes! I have examples of mothers who have spent their whole lives with their children at home, justifying themselves with the need for children.
As a result, there is no gratitude from the children for this, and they have no other life. Parents should lead by example.
S.R. Would you like a boy or a girl?
D.M. I wanted a girl.
Maybe because it is the third "whale" that I lacked for the two already existing. One is a mother who alone dragged me since childhood, because my parents divorced and she devoted her whole life to me.
Mama is a great "whale" in my life. The second great "whale" was the wife – and support, and support, like-minded friend, and, moreover, she is the beloved woman and mother of my child.
And Vlada is the third "whale" on which my life, my creativity stands.
S.R. Vlad's name is unusual.
In honor of someone? D.M.
Well no. We chose for a long time, because Natasha in the class, for example, had five Natasha. I didn't want Vladka to repeat such a story, so they decided to choose a Russian, but infrequent name.
And they chose a very old Russian – Vlad. It under the patronymic Denisovna fit well: Vlada Denisovna Maidanova, three solid "d".
S.R. Denis, and you were not present at her birth?
D.M. Not.
I don't think a man should be there. There are doctors.
Why should a man go into medical affairs? I think that to each his own.
And my task is different – not to attend childbirth, but after birth, to provide a decent life for my wife and child and surround them with care and love. And Natasha also believes.
S.R. It is good when the views in this coincide, but it happens that wives insist, husbands shy, everyone quarrels … D.M. We have a lot of the same.
We never quarrel at all, do not swear.
S.R. How do you do it?
D.M. Simply, we are very close people.
S.R. Is it because you are so similar or so different? D.M.
Similar. Wife – Aquarius, February 13, I – Aquarius, February 17.
Both greatly appreciate freedom, do not climb into each other's personal territory – and every person should have it – and we understand each other as much as possible. In addition, we are driven by one goal: to realize what we came to Moscow for.
S.R. Do you have a head of the family or are you equal? D.M.
Head of the family, of course, me. But there is a well-known and very wise concept of the head and neck in the family. So it is with us.
I take strategic decisions, but Natasha always and in everything participates, of course. And sometimes her arguments are stronger than mine.
But above all, we are friends and associates. If for someone a wiser decision, we take it. I think if I were engaged in some other activity, then my wife would be there with me.
And I would feel easy. And not only thanks to two higher educations, but also to its analytical mind.
You know, a smart head and a beautiful girl will not be lost anywhere.
S.R. Simply put, do you complement each other?
D.M. Absolutely.
S.R. What do you think in your harmonious relationship that Natasha grew up in the East, in Tashkent?
D.M. I think yes. It immediately bribed me.
The eastern way of life and the worship of a man – all this was present.
S.R. And what is this expressed?
D.M. On the one hand, at the level of halftones, on the other hand, when a man speaks, he is not pereoca
And the woman will express her opinion, but later. Just knowingly there is respect, there is an understanding that the man is the head of the family. In any case.
Although Natasha is quite an expansive person. And she can buck and lead more actively. But at this moment I begin to understand her and even smile.
N.M. In fact, Denis, of course, made a compliment to me, because I would say that it is impossible to quarrel with him.
Denis is a very restrained and wise man, he avoids sharp corners. It is me, on the contrary, explosive, in my dad, probably, character. But at the same time I leave quickly.
When I explode, I have to let my emotions out (then I will chill myself), but at this moment you cannot curse with me. And Denis knows this very well.
S.R. Do you have any principles of raising a daughter?
D.M. I spend little time with her, but I try to lay the most basic. Some kind of human basis that a father must lay: how to behave, how not to behave, where you can use charm, where cunning, where knowledge, where rigidity is all I try to convey to her four-year-old brain.
And it absorbs well, because there is a very short distance between us, it is completely my copy, very similar to me in childhood. She is me, only in a woman's appearance.
Both by character and outwardly, flesh of flesh and even thought from thought on some cosmic level. We feel each other, we are very bored and, in spite of our separation, what my father should convey, I understand.
Sometimes we just sit next to each other and talk about serious things, about what adult life consists of. Maybe she is still too early, but nevertheless she also lives in society: she goes to kindergarten, to fitness, to the pool, so in this world of hers she already needs to get up on her feet. N.M.
Vlada is a very creative person. He says he wants to be a writer, he writes fairy tales. And now he composes, directly with the plot, poems, songs.
Although we don't force, we'd rather oppose it to link life with professional creativity.
S.R. Why? N.M.
I do not want her to go to show business, for example. For me, it would be better to become an engineer or a doctor. Her life would have been calmer.
Show business is a big stress, and there is either a pan or gone, with no options. And if there is a normal human profession, you will still work one way or another. Here you always need to break through your head like through walls.
I want to protect her from this.
S.R. And what is her character? D.M.
She is the leader, will be the leader. Even stronger than me: if I am Aquarius, then she is a lion in general.
I really like her stubbornness and intransigence. If you made a decision, out of respect, of course, he will listen to the advice, he will do what he should, but he will remain unconvinced. I think she will embody some of my dreams.
If I go to work and if I am really talented, I will, of course, help her. But if it goes to another world – and there will be a leader.
Now he goes to kindergarten with children a year older and does not give himself a grudge.
S.R. What is the most difficult thing for you in education?
D.M. Lack of time. For example, in order to have a good rest, we need to go somewhere together with my wife and lie down under a palm tree and listen to the sound of the sea.
It doesn't work out like this: because we rarely see our daughter, we always take her with us. In the winter there were two weeks in Thailand; there was no rest as such. I am tied to Natasha, she is to my daughter, and we all went one after another in a circle.
But then we were together!