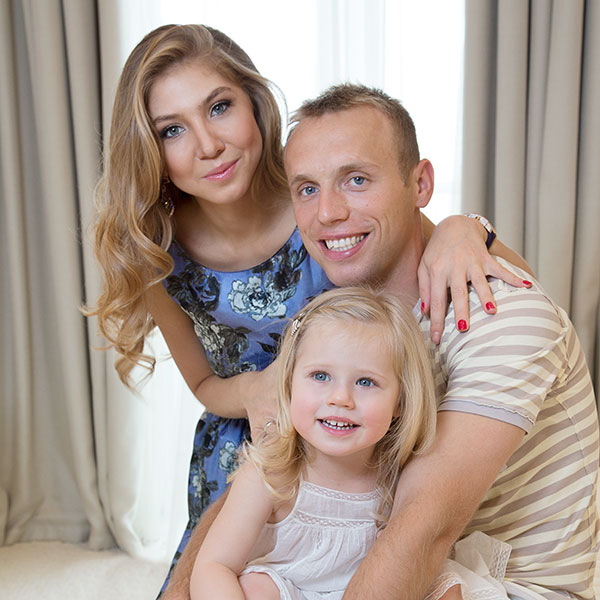 HAPPY PARENTS Denis, at the end of last year you won the prestigious annual prize "Gentleman of the Year", awarded to footballers. And for what give this honorary title?
DENIS GUSHAKOV First, for proper behavior on the field: I have never had red cards, deletions from the field; I don't hit anyone. Secondly, I never refuse to communicate to journalists.
This is also important because they are among those who decide who will award the prize.
DARYA GLUSHAKOVA And Denis is a gentleman at home, in the family. I never carry bags: for Denis, it's not a problem to help me with everything, even wash the dishes and wipe something in the house.
Not to mention something more serious.
S.R. Is such a gentlemanly innate or acquired trait?
DENIS Of course, raising a house is important. Until now, for example, my mother tells me to behave properly on the field. And at the same time, probably, a big role was played by the fact that already at the age of 11, I, in fact, lived on my own, having moved from the Rostov Region to a sports boarding school, to Moscow.
Only came home for the holidays. I think we can say that life itself set me on the right path.
S.R. You both lived in the same city of Millerovo?
How did you meet?
DENIS Even in school, one studied for a while. But we met only when Daria was in graduation, and I already finished school and played.
DARIA It was when I was finishing 11th grade. And a little later, in May, I remember, I go in school uniform, having just passed the first exam, I carry two glasses with kvass.
Meet me Denis. With a friend and, of course, with a ball.
He came up, saw that my apron straps fell from my shoulders, smiled: "Let me fix it to you!" And that was how it all began. And then he went to Spain, called me from there, we talked for two hours …
DENIS … Then Dasha went to study at the Medical University, in Voronezh, but at the weekend, she often flew to Moscow to me. Forty minutes just fly!
And hid it from their parents, they are strict with her. And once I got sick, the temperature rose high, Dasha rushed in, healed me in two days literally …
DARIA … And in the morning Denis went somewhere, and I decided to wash the floors. Suddenly he enters.
With flowers, with a ring and a proposal! Since then, we have been together for five years.
S.R. And the birth was together?
DARIA No. I did not want this. Just do not think my husband a place to give birth.
When I gave birth, Denis was always near the ward. And Lera, having been born, screamed very much, could not stop.
So she, screaming, and carried to the Pope. He took the daughter in his arms: "Oh my sweetie, my girl, Lerochka!" And – amazing! – she suddenly stopped screaming, calmed down.
S.R. Denis, did you immediately feel like a dad?
DENIS I think this feeling comes gradually. However, I remember, very soon after the birth of my daughter, the time came when I could no longer imagine life without her.
At four months, I first left Dasha and Lera for the training camp, and I was very bored and rushed home.
S.R. Denis, it is clear that the Russian national team player has good reasons to get enough sleep and not get up at night with the child …
DENIS I always got up. At night, I gave Dasha a rest, and almost every time I fed my daughter with expressed milk. Heated, fed, and in the morning for training. And I changed diapers, and walked with my daughter in Sokolniki in any weather.
I immediately realized that this is the same as my child, like Dashin.
DARIA I just got very tired of the fact that my daughter did not take any breast. A month and a half sucked and threw.
And up to 8 months, I decanted every three hours for an hour. It turned out that I had an hour to sleep every three hours. I do not know what would have happened if it were not for Denis …
DENIS But, despite the additional functions of the "nursing father", this period was one of the most successful in my career. Scored the most!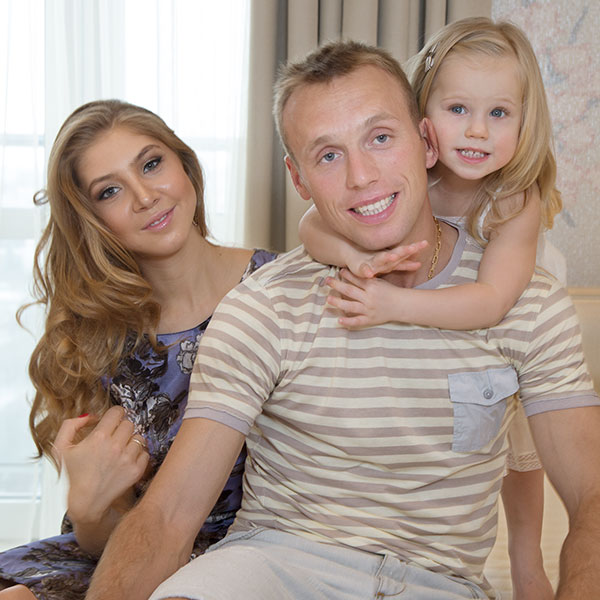 S.R. From what?
After all, you are tired more?
DENIS Probably, this Lera gave me strength. Happiness gives strength.
When you arrive home, she runs to meet, kisses. Or it fits: "Daddy, I love you!" And daddy is melting like ice cream.
S.R. And you, Daria, also do not sit at home?
DARIA I am a dentist, intern doctor, I want to be a surgeon, I work in a clinic. And I really like my work.
Moreover, I stubbornly walked towards my goal, starting with a gold medal at school and ending with an almost excellent diploma. In my opinion, a wife should also be busy with something, and the wife and mother of a doctor are generally a cause for pride.
S.R. Give Valery to the sport?
DENIS Required. I think of figure skating, and Dasha is about rhythmic gymnastics. Three years give up, I think.
Lera is a sports, restless, loves to run, jump. In my opinion, she is the most alive child in the yard. Fidget!
But Lera and I were the same in childhood. Trees climbed both.
And I even stole a sweet cherry from neighbors.
DARIA But I don't want Lera to play sports professionally. Childhood will not be!
What will happen? Unknown. I would like to see her as a journalist.
Or an actress, for example. She sings with us already, and dances, and reads poetry.
S.R. How do you calm a moving child?
Severity?
DENIS Yes. We believe that up to three years it is already necessary to calm down, set the framework, what is possible, what is impossible. And it's okay if you have to slap for this.
Because you will dissolve – later it will be late. And it is important that the family had an understanding between everyone.
Dasha and I understand each other, we need Lera to understand us. In addition, we have an agreement with Dasha: if someone has scolded her daughter, the other should not be sorry.
Of course, the heart breaks when Dasha puts her in a corner for five minutes, and Lera shouts: "Pa-pa, come here!" But you understand that this is necessary. I don't think that later Lera will remember that they slapped her, punished her …
S.R. Denis, now, probably, you still want a boy?
DENIS Boy, of course. Footballer! But, you know … I wanted the first boy too, and when my daughter was born, I realized how great it was!
And let another girl we will have! But the boy is also needed, I am one in the family, I need to continue the race.