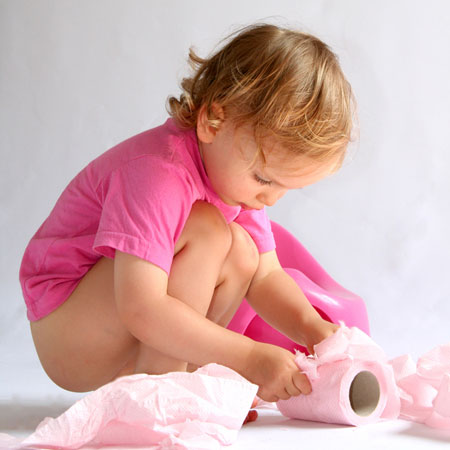 Urination and defecation in a newborn are reflex actions that he cannot control. In most cases, they immediately follow the feeding. Already in the first months, most babies feel uncomfortable with dirty diapers and let you know about it with unhappy grunting or crying.
By 4 months, the child begins to distinguish bodily sensations and may feel that something is happening in his tummy. By one and a half years, the baby's nervous system matures so much that he can control his sphincters.
Initially, he learns to control the anus and then the bladder.
We already know that up to 1.5 years a child cannot be clean due to age-related physiological features. The reason for the early successes that our mothers can boast is simple: the child was left on the pot for a long time.
In our time, this practice is strongly discouraged.
Even after 1.5 years, do not think that things will go right away. The baby needs time to be convinced of the necessity of serving natural needs in a manner that is not too natural for itself.
After all, before he did not need any additional effort. In addition, during this period he is occupied with mastering many things, and the pot for him is far from the first place.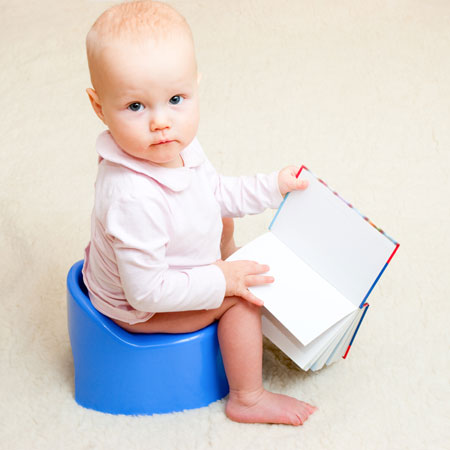 Control over his shipments gives the baby pleasure, because he can do it himself, without the help of his parents! Retaining and removing something "superfluous" from the body is unexpectedly pleasant.
The kid expresses joyful interest, considering and even trying to touch the results of his efforts. He endlessly repeats the words "pi-pi" and "kaka", enjoying his new skill.
It's time to support the enthusiasm of the child and offer him a pot. Some children from the very beginning perceive the pot favorably, and its purpose does not cause them to doubt. Others rejoice in him only as long as they consider it to be a toy.
In this case, you will need time and some efforts to teach your child to use the pot for its intended purpose.
At the age of 1.5–2 years, your child learns to celebrate a small, and then a great need for a pot. From the age of 2 he will start asking.
A little later, will sit on it yourself. At first, the baby will successfully control his urges only during the daytime.
But gradually he will be able to stay dry all night. Do not rush the child: the interval between these events can be different – from several weeks to several months.
If the baby can not wet his pants during a nap, it means that after a while he will be able to "hold out" all night.
You can start to leave it without a diaper at the time of siesta. If, however, a surprise happens, changing the bed linen during the day will be much easier than in the middle of the night. The child's nervous system must be sufficiently developed so that he can wake up at night and ask for a pot.
Education is impossible here, but you can praise the kid for "dry nights". Tell him that he copes with everything perfectly, like an adult.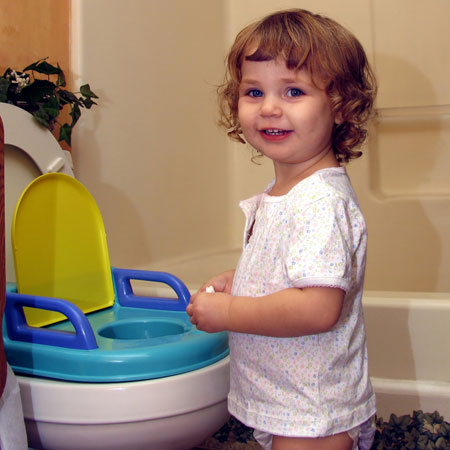 By 1.5 years, get a simple, stable and durable pot. Put him in the toilet (he has no place in the middle of the nursery or living room).
Show your baby how to use the pot. When he is comfortable with the new subject, invite him to sit on the pot at the moment when the most likely result can be expected.
Your child cannot yet feel in time what he needs on the pot, but you will understand this by his facial expressions: in this case, help him remove his pants so as not to miss the moment. Do not hold it on the pot for too long, the first time it may not work. Limit 10 minutes maximum.
And the more you can not be forced to sit on a pot against their will! Calmly try again – and at a certain point everything will work out!
In parallel, you can teach your child to throw a dirty diaper into the bin. During the transition, it is better to use diapers, panties, they are easier to remove and put on, and they look like real panties.
Also teach your baby to wash his ass. You can help him a little at first. This is still one step towards independence in keeping cleanliness. You can also allow your child to walk around the house or go for a walk without a diaper, if the season allows.
So it will be easier for him to gradually break away from him, so that at the right moment the baby will be ready to sit on the pot.
Get ready for the fact that the initial period of getting used to the pot will not do without "accidents". Do not scold the child, he does not do it on purpose. No skill can be perfected in a few days.
Do not grieve the child, showing your disappointment. Rejoice in his first successes, but do not waste loud praises.
Otherwise, the child will have the impression that he has done something special. Using a pot is certainly an important skill, but quite ordinary, and the baby will soon learn how to do it daily several times a day.
Make it easier for him, leaving the toilet door half-open, putting on pants that are easily removed (sports pants, not overalls, and no zipper or button pants). Teach your baby to sit on the pot before going to bed, it will help him stay dry all night.
Nevertheless, put a pot next to the bed for the night.
Do not rush to a child toilet seat, if the baby does not feel confident and safe on it. He does not have to worry about how to keep his balance. In addition, the pot can go without the help of adults.
Do not insist on giving up the pot.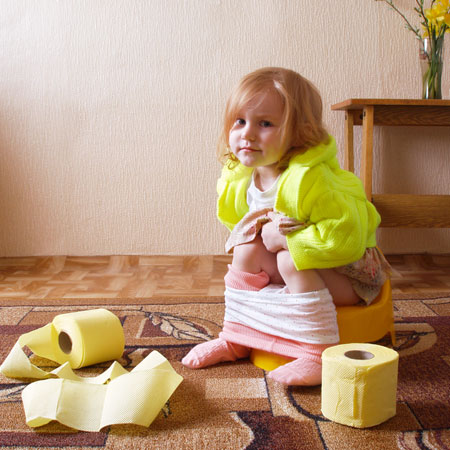 1. Do not raise potty to the rank of a global scale issue. If you are tensely waiting for the moment when your child will be neat and ask for a pot, he will feel it. And this can be a reason for manipulating your expectations.
The area where too many anxieties and expectations are directed, as a rule, becomes a zone of conflict between parents and child. If you are too worried about cleanliness and show excessive perseverance in this matter, you should think about why this aspect of the child's life causes you so much emotion.
2. Do not compare your child with other children. If your nephew or girlfriend's daughter doesn't wear diapers at the age of two, this does not mean that your child will not need them at this age. First, some children begin to accustom themselves to cleanliness earlier than others, and secondly, many mothers exaggerate the abilities of their children. (By the way, boys tend to learn cleanliness skills a bit later than girls.)
3. Do not scold in any case for wet pants. In the process of potty training, such situations will occur more than once. Reassign the child calmly, encourage if he is upset.
4. Do not show your disgust. Small children are very sensitive to the emotional state of the parents, and your intonations will prompt the child how you feel about the need to change diapers. You give him to understand that you consider these things to be completely natural or causing disgust, and, as a rule, do it unconsciously. Do you wrinkle your nose when it washes away?
The kid decides that he is unpleasant to you, and this may affect his attitude towards his own body. Everyone goes to the toilet, and around this topic should not be "extra" emotions.