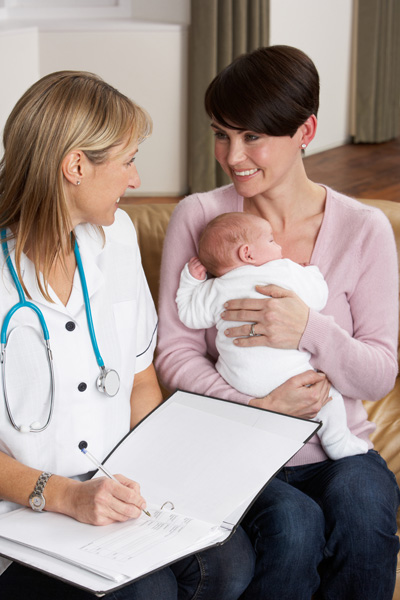 In the first month of life, the baby needs the closest attention of the doctors. Congenital diseases, including serious genetic disorders, do not appear immediately, and it is not always possible to notice them in the hospital.
But over time, as the baby grows and the load on each organ increases, it becomes easier to detect a failure.
Already during the adaptation period, which lasts the entire first month, doctors have every chance to detect defects and start treatment at an early stage in order to avoid complications in the future. In the child's body, a full-scale restructuring is underway: for habitat in the air, the cardiovascular system and the respiratory organs must be completely transformed, and the metabolic processes must be transferred to an autonomous mode of operation. At this moment, the main task is to fix the slightest deviations from the norm, but because the crumbs' immune system is still very vulnerable, the entrance to the clinic is closed to him.
Exit – in the system of patronage observation of newborns.
The patronage nurse and the pediatrician carry out the patrol, most often in turns. They come to visit the baby on the 1st, 2nd, 10th and 21st day after discharge from the maternity hospital. The first is usually the nursing sister, to give mom advice on nutrition and tell you how to properly care for the crumbs.
If the child's condition makes her suspicious, she will notify the pediatrician, who, if necessary, will visit him on the same day.
The mission of the doctor is to conduct a physical examination: he checks the baby's muscle tone, reflexes, palpates the internal organs, listens through the stethoscope to the heart, lungs and intestinal peristalsis. Repeat visits is important if only because any diagnostic method has errors, including due to the human factor.
In addition, during the examination, the child may cry or, on the contrary, fall asleep, and then the doctor will not be able to get a complete picture of his state of health.
The development of the crumbs is monitored not only by doctors, but also by the mother, and her observations become a valuable source of information.
The pace of physical development of the baby can be judged by indicators of weight, height and head circumference. It is more convenient for mother to take measurements at home, although doctors are also obliged to monitor these parameters.
It is better to immediately ask the pediatrician, who needs to report any deviations, to the table indicating the threshold norms. It is necessary to begin the "chronicle" from the first day after discharge from the maternity hospital, daily recording the weight of the baby in the diary.
The growth and head circumference is enough to mark once a month.