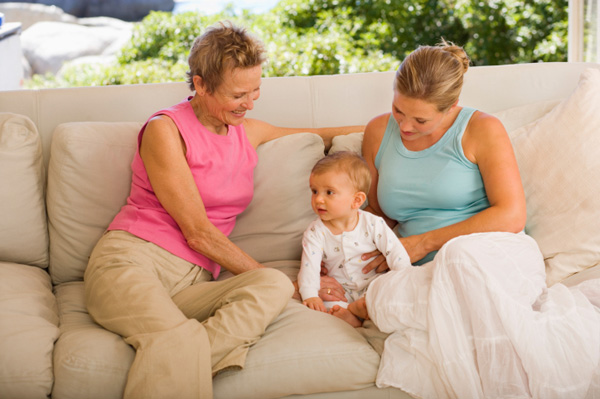 During pregnancy, my mother was always with me, and it helped me a lot. She raised me without a father, and there was nobody closer to us for each other.
But the situation began to deteriorate when the daughter was born. Mom began to come to us every day and tried to stay longer. If I were alone, I would not have been present in her presence, but I saw that it bore Dennis, and he did not dare to tell her that sometimes she was obviously too much for us.
I had to explain to my mother that sometimes we want to be three of us with the baby. It hurt her, she reproached me for simply using it when it was beneficial for me.
And then she burst into tears, and I thought that we had treated her too cruelly, "the 26-year-old Anna, the mother of Alisa, sharing her story with us.
Surely this story is familiar to many young mothers. Nevertheless, psychologists say that a crisis in such a situation is inevitable and even useful for the grown-up family. "Pregnancy itself changes the life of a woman, so family relations are being rebuilt given that soon its composition and structure will change, new circumstances will appear," says clinical psychologist Anastasia Chembarisova. – Features of temperament and character of moms, dads and grandmothers also play an important role in this restructuring.
Unfortunately, not all grandmothers immediately unconditionally accept the fact that young people want to be alone with the baby, that they need to communicate without strangers in order to realize their new parental status and establish a new distribution of family roles. "
"If the newly-made grandmother is too intrusive, you must calmly explain to her that you now have your own family and you can raise the baby yourself," says family psychologist Olesya Agranovich. – Well, if the young father expresses his thoughts, makes it clear to everyone that he occupies a certain place in the family, and reminds both women that the child is the fruit of the love of an adult man and woman. Sometimes it is not easy, you need to show firmness and not to succumb to reproaches from the older generation.
Over time, family relationships are structured correctly. "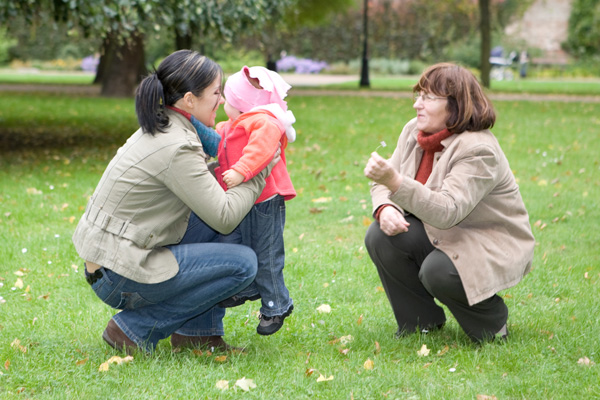 There is one more factor important for the relationship between mother and daughter: the influence of the past, common to both of them. "The most important experience affecting a young mother is her own childhood experience," says Anastasia Chembarisova. – Grandma – the standard of maternal behavior for any woman. Do we, as a mother, or, on the contrary, strive to behave in a completely different way, we still make a start from the only well-known scenario. "
"The future mother, who has preserved the serene childhood memories, usually wants to give the same to her baby. And the one who thinks that they brought her up incorrectly will do everything so that her child's childhood differs from her own.
In any case, a woman paints her image of an ideal mother, based on her experiences, "adds Olesya Agranovich.
It often happens that with the birth of a child, a young woman begins to better understand her own mother: for example, she realizes that she must sometimes be strict with respect to children – what she perceived with hostility, being a child herself.
With the birth of a child, the life of a young woman changes dramatically. After all, now she is responsible not only for herself, but also for the baby.
And the feeling that now she has become equal to her own mother in almost everything can awaken in her the desire of a certain revenge.
Mom, a skeptic and a pessimist by nature, constantly told me that I was too capricious and would never find a man with whom I could start a family. But imagine her surprise when I announced to her that she was pregnant. It seems that only at that moment she realized that I was really an adult woman.
Since then, we communicate with her on an equal footing, she finally began to take me seriously, "says Irina, who gave birth to her first child at 34 years old.
But there are other examples of future grandmothers' reaction to the news of the pregnancy of their adult daughters. "Some perceive their daughters to be pregnant with great concern, which may be due to various reasons," says Anastasia Chembarisova. This is also my own sad experience, lack of psychological and material support in the first years of their child's life, divorce, and disbelief in their daughters become a good mother. In addition, there may be a lack of love for children, and the conviction that the daughter is somewhat imperfect, "unsuccessful," and a subconscious reluctance to admit that the daughter has already grown, and the grandmother herself, therefore, has grown old.
Such an attitude to the pregnancy of a daughter may give rise to extremes in communication: the removal of a grandmother from a young family, or, conversely, an obsessive desire to help, and it is better to do everything yourself as it should, and as if living anew its youth. "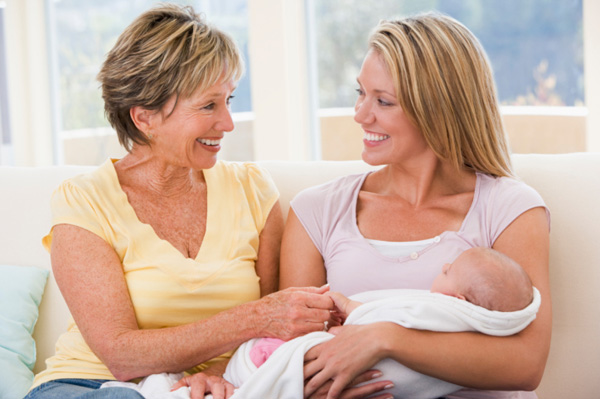 So, is there a middle ground between the super-trust of newborn grandchildren and their apparent rejection? Psychologists say: to maintain the correct distance in a relationship – this means not filling the whole living space with you, but to provide the really necessary help and support. "The talent of being a grandmother is not about replacing a daughter in some sense, but about correctly building a hierarchy of generations and transferring your experience to your daughter while respecting her own," says Olesya Agranovich.
My pregnancy and childbirth passed without my mother, – says Alain, after marriage, moved to another city. – I missed her support. And now, after the birth of the baby, I have a feeling that, in addition to the distance between the cities, there is something else that does not allow my mother and I to communicate normally.
When I share my concerns with her, she does not always understand me. "
Understanding, warmth, moral support – this is the basis of motherhood, which ideally should be from "childhood", and it is this (and not at all a detailed list of baby care tips) that most young mothers are waiting for. Ideally, the future grandmother should sincerely say something like: "I am very glad that you are pregnant, and I am sure that you will be a good mother."
In real life, many women fail to convey this important message to their daughters. They demonstrate their joy in a different way: falling asleep daughters with tips and advice, which are often … taken with hostility! Such a hot temper should not be attributed only to the "cleared" after the birth of hormones.
It is just that a young mother can perceive an indication of some kind of her mistake as an indirect denial of her right to motherhood. Fortunately, in most cases, such misunderstandings do not have serious consequences.
Ultimately, the right to motherhood is given to women by nature itself. But still. We wish each new mother to hear more often from the lips of the woman most dear to her: "I am sure that you will be an excellent mother!"