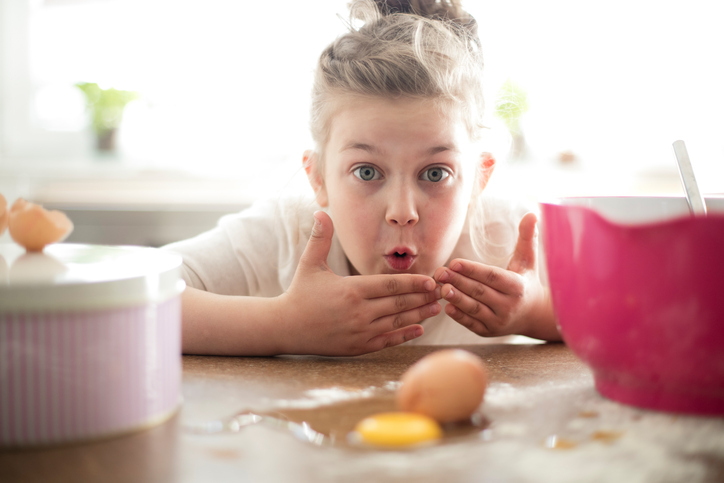 You describe your daughter as a very successful student, a good organizer. Your girl is independently able to choose her own lessons that you rarely meet among eight-year-old children.
But despite the girl's long list of advantages, you are concerned that she is not sufficiently independent in making decisions, does not show practical ingenuity in everyday life.
It seems that you expect from your eight-year-old daughter quite adult and deliberate actions. But she is just a child who does not yet have a rich life experience.
Moreover, due to objective reasons (immaturity of the structures of the brain) children at this age are not able to demonstrate the wonders of organization and practical ingenuity. As you rightly noted, "sincerely can not collect thoughts."
Yes, your girl knows how to use a knife, wash dishes, but for now this is some practical skills. It is still difficult for her to place these skills in a wider context of life situations. And in general, junior schoolchildren are not yet able to navigate either in the essence of the learning process, or in the sense of relationships between people, or in social problems.
That is why your dissatisfaction, remarks, condemnation cannot improve the girl's behavior. She does what she can do now.
Helping her to become more organized will help your patient and sensitive participation. The girl still needs help and tips on how to better organize her affairs.
No trouble is that your daughter sometimes forgets to take the form or write down her homework. Doesn't that happen to adults?
Give your daughter the opportunity to face the consequences of their mistakes. Most likely, these consequences will be unpleasant for her.
Having received such a negative experience, the girl will henceforth become more attentive to her duties. Over time, writing tasks in a diary and taking the form will become a habit.
And you yourself know that it takes time to develop some kind of skill (even in adults).
And it seems that it is also difficult for you personally to allow yourself to make some blunders, therefore it is so difficult to accept these mistakes from the girl. But man cannot be perfect always and in everything.
It is more important, perhaps, to strive not for not making "bloopers", but for allowing oneself to have them, to adequately answer for their consequences and be able to correct them.