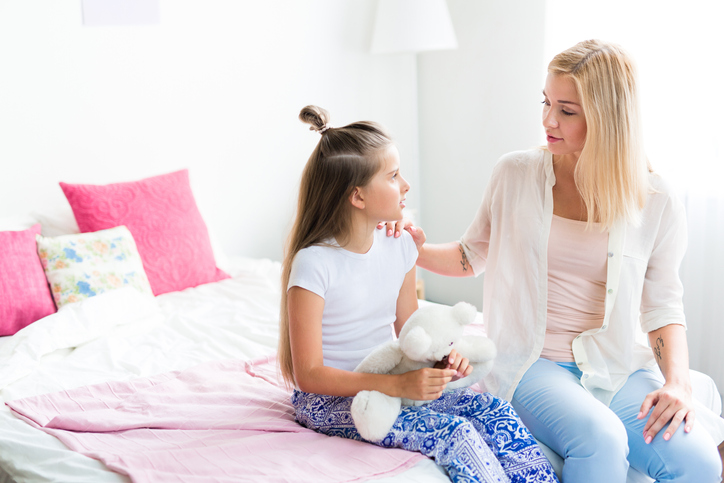 The appearance of a new family member influenced the habitual way of life of both your and your daughter. Many traditions, habits, or much changed, or have become inaccessible. All this, of course, can affect the emotional state of the child.
Apparently, your daughter is experiencing with difficulty not so much the appearance of a new family member, as the change in the nature of your relationship with her. Now the girl may feel that it is harder for her to get your attention in the same volume and quality that is familiar to her – full return.
And of course, this leads to the emergence of internal emotional stress, and then to sleep disturbance, a decrease in the level of body resistance (frequent illnesses), and a bad mood.
How to help your daughter? It is necessary to reduce its internal emotional heat.
This can be done through confirmation that it is still valuable and important to you. It is possible that your girl thinks – since a new man has appeared in her mother's life, it means that I'm not so interested in her anymore. Along with this, she may feel resentment towards you, being dissatisfied with the new state of affairs.
But! It is very important to understand here that many of these experiences may not be present explicitly in the child's thoughts; your daughter may sincerely believe that she is not against the emergence of a new family member.
However, changes in behavior may indicate otherwise.
The solution to the problem can be started with very simple steps. For example, with the organization of your joint leisure with your daughter.
Think with her, where and how you will spend time together, what you will do for how long. Try to make this joint activity a pleasure for both of you, so that both you and the child have pleasant memories or, for example, material evidence of common creativity.
Even a simple joint preparation of lunch or dinner will allow the girl to receive confirmation of the immutability of your relationship to her, the preservation of your emotional intimacy with her. Only now this relationship will become somewhat different.
The gradual involvement of your man in such events will show your daughter that your relationship with her can become richer and more interesting.
If you have already tried to act in this direction and feel that there is no positive change so far, then you can seek full-time help from a child psychologist.