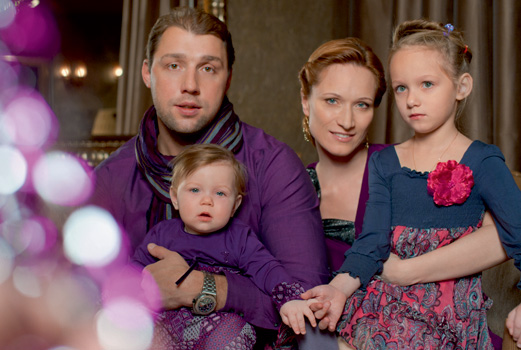 HAPPY PARENTS Maria, with the appearance of your second child, did you feel yourself to be an experienced mother? MARIA KISELYOVA You know, preparing for the birth of the second daughter, Sasha, I already read less books and magazines than four and a half years ago, pregnant with Dasha.
Even then made the clippings, the whole Talmud collected in the folder. And after the birth of the younger one, I confess, I was somewhat anxious, how could I wash her, change diapers, dress: I forgot everything, the skill for four and a half years is lost.
But so quickly everything was remembered! It was literally worth a try once – and everything seemed like there was no break.
Hands do everything themselves.
S.R. Any psychological problems? What happens in the family when the second baby appears?
M.K. Already when the first child is born, there is a tremendous responsibility for it. And although for a professional athlete increased responsibility is a permanent and customary concept, when you become a mother, she grows up to mega-responsibility.
And when the second one appears, plus to this, one must learn to build relationships with the first child already in new conditions. It is in this way, to build up, so that he understands that nothing has changed in them, that he will not be deprived of anything, and that his mother's love will not be less for him.
This moment is psychological and very subtle.
S.R. And how did you prepare Dasha for the appearance of her sister?
M.K. I answered her questions. Dasha asked who was sitting in my tummy, how it was possible to talk with her, what she was doing right there in the stomach, and when, finally, my sister would be born.
She was with us and went to the ultrasound, looked at the screen, who swims there. And immediately after Sasha's birth, she asked so much at the maternity hospital that they took her there.
Dasha came in, looked (which took about five minutes) and said: "Well, everything is clear." But at home, the process of building new relationships has already begun.
Willy-nilly, I had to spend more time with the younger one, and Dasha, of course, quickly remarked: "Mom, well, you're always with Sasha." I began to control myself, literally every action, literally every second.
And if I smiled at the younger one, I should have smiled immediately at the older one too, because somehow I heard from her: "Mom, do you smile more to Sasha, because you love her more?" I tried and quickly adapted to the new conditions. Soon I learned to anticipate moments of jealousy and prevent them or level them.
And after a few days, the elder calmed down, realized that she didn't have less parental love, and I really need to wash, change clothes, feed the child, and there's nothing special about these necessary and ordinary actions. I think today we have managed to create some kind of harmony in the relationship of the sisters.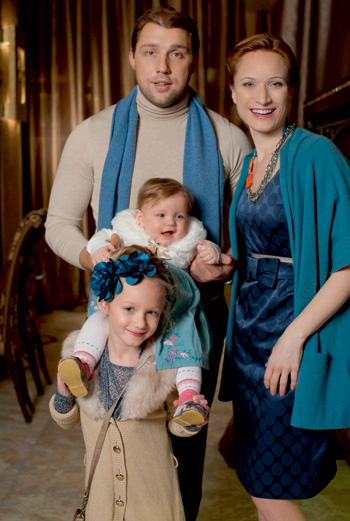 S.R. And now there are no problems? Toys, for example?
M.K. Perhaps this moment is yet to come.
Dasha allows Sasha to take toys, although moments of greed from her, of course, happen. Tears, insults, if Sasha tears up her book, for example.
Usually, Dasha takes her to her game room, puts her nearby. I ask: "Dash, what can Sasha touch?" – "Let her touch everything," Dasha generously resolves. And Sasha starts to make fun!
But I will tell you about another moment in the communication of sisters. I was preparing for a completely natural jealousy of the elder, and then suddenly, jealousy arose with … Sasha.
To this I was not ready.
S.R. Sasha is not yet a year old, is she jealous already?
M.K. Yes! I was amazed when we once sat on the couch, one daughter on my one knee, the other on the other, and suddenly the younger one became indignant.
And then she is not, and it is not so! Squeaks, swears, throws out the nipple and climbs, climbs on me, while trying to push Dasha away. Dasha resisted at first (after all, she is a little girl, still five years old, also wants to sit on the arms of her mother), but at some point she yielded and got off of me.
Sasha remained alone in her arms and instantly calmed down. Smiles: here, they say, I won a mother.
S.R. Dasha understood what was going on?
M.K. Of course, she understood everything: "Well, mom, now she is jealous of me!" And this situation continues. For example, this morning, when I was holding Sasha in my arms, the eldest woke up and approached me.
And I took her on the second hand. Sasha's eyes changed, she threw him at Dasha, and she said: "Well, now it will start again. I'll have to get down. "
And got down.
S.R. How nice that Dasha is so sensible. Girls are different in character?
M.K. Very different.
Dasha, when she was small at all, did not go to everyone, it was important for her who took her in her arms, she first looked narrowly, then decided whether to go or not. And Sasha is such a smiling baby, she is ready to immediately go into the arms of everyone. It is clear that not for long, but the first impulse is exactly that.
Her temper is a hooligan: she will throw the toy on the floor and look at my reaction. Just pick up – she again throws and looks. For her, this is the biggest buzz.
Naughty, cheerful, kind, open … and mischievous! Dasha, in my opinion, less open.
Although, maybe it seems to me because Dasha is older, I do not know. But they are different, of course.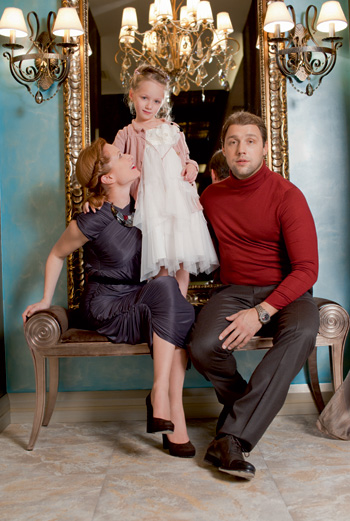 S.R. Does Dasha play any sports? M.K.
Already a year of rhythmic gymnastics. She is very athletic, very active, she must be occupied with something so that the energy goes into a peaceful course.
S.R. And synchronized swimming?
M.K. This is what she wants to do. We often took her to the rehearsals of our new year project, she knows all the girls who swim with us, and for her the biggest celebration is when she comes to workouts.
When asked who you will be, she replies: "I will train the girls. I will do synchronized swimming. "
But while we have not yet begun this process, while we are still learning to swim. In any case, rhythmic gymnastics is only a plus for synchronized swimming.
I think this is one of the best sports for girls. And not only because I was engaged in it.
Girls synchronized develop very harmoniously, because in their classes there is a musical component and choreography. And the figure develops proportionally, because there is no emphasis on any one section of the muscles.
Plus they can swim beautifully and move beautifully on land. In addition, this quenching is constant.
And besides, since 1997 we have not lost a single international start in this sport, and this is also a great stimulus for practice.
S.R. And what a new year's project? M.K.
Christmas tree on the water "Little Mermaid and the Pirates' Treasures", launched in December in the pool of sports complex "Olympic". We did this New Year's performance for the whole family together with our spouse Vladimir Kirsanov and our large well-coordinated team. The project is a continuation of the "Show of Olympic champions" in synchronized swimming, our common with my partner in synchronized swimming, Olga Brusnikina's brainchild for the past seven years.
Another of our shows, "The Reflection of the Stars," unites sport and art. As for the "Little Mermaid", the first thoughts about the children's musical performance on the water appeared just after the birth of Dasha, and came to life after Sasha was born. Our water project can be called a family affair, because we work together with my husband.
And I am much more comfortable because not only at home, but also at work, Volodya and I are together. Next to him, I feel more secure and confident.
S.R. Mary, how are you, with your workload, also managed with two young children?
M.K. Lack of time is, of course, my biggest problem.
But we have a nanny, whom we are grateful for her attitude towards girls, and parents also help us a lot. We live outside the city, so, fortunately, daughters have the opportunity to breathe fresh air. And we devote all our free time with my husband to children.
Sasha is still too small, and Dasha, wherever possible, we carry with us, even on business trips. In addition, Volodya and I are interchangeable, he can be completely alone with the girls.
Feed, water, wash, put to sleep. And now two at once.
Perfect dad!
S.R. Soon the beloved New Year.
Which one do you most remember? M.K.
I remember our first family New Year. Just before going to Bali, I learned that I was pregnant with Dasha.
It turns out that we did not celebrate this New Year together, but the three of us. Well, almost threesome.
And just recently, a year ago, we also met the New Year almost four together, because before the appearance of the youngest there were only six days left. We danced: Volodya in her arms with Dasha, and I – with Sasha in the stomach.