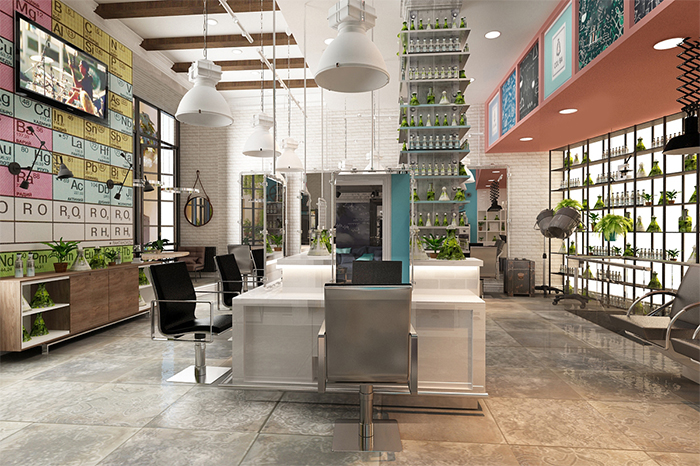 Creating the perfect hair color is the mission for which the best Moscow colorists have gathered in a stylish loft in the very center of the capital. The interior of the color bar ColBa, designed in the style of a real laboratory, was designed by the capital designer Alyona Mescheryakova.
Producer of the project Vasily Mikhailov, winner of international competitions and participant in international fashion weeks (shows Jean Paul Gaultier, Giorgio Armani, Elie Saab, Alberta Feretti, Iceberg, Kenzo, Valentin Yudashkin), admits that he drew inspiration while wandering through the streets of New York. "There many shops, cafes, beauty salons often offer only one service or product, but the best one. I decided to make such a space for our girls, where the best stylists will create the perfect hair color for them, while they communicate with their friends and their children play, "the top stylist of Wella Professionals explains the concept of ColBa.
The ColBa Color Bar menu, made in partnership with Wella Professionals, a leader in the field of dyeing, consists of dye cocktails based on the most modern dyes and hair color maintenance products: pure Inspire Long Color granules, Innosense non-allergenic dye for perfect reflection Illumina Long Lights, Instamatic inks for creating soft, muted shades with a fashionable effect of patina, toning firming composition of Sebastian Cellophenes based on organic dyes and fruit extracts, cocktails for shine Crystal Gloss.
The signature "dish" of the color bar: ColBa cocktail – dyeing your hair in a unique individual shade based on one or several modern technologies. Of course, this service is provided only after a personal consultation.
As a dessert, you will be offered to refresh a haircut, make styling, manicure or makeup.
For moms it is especially important that you can come to the color bar with the babies. While the mother will take care of herself, the child will spend time with a professional babysitter.