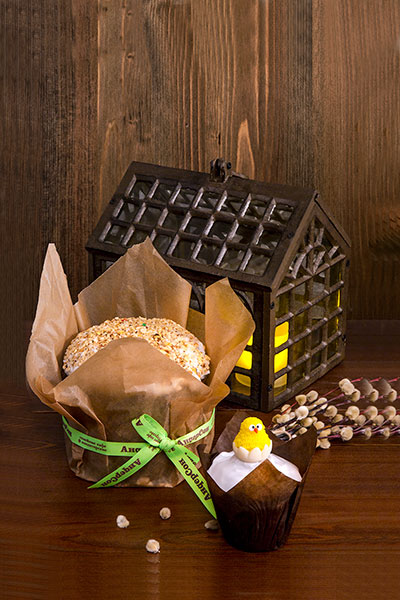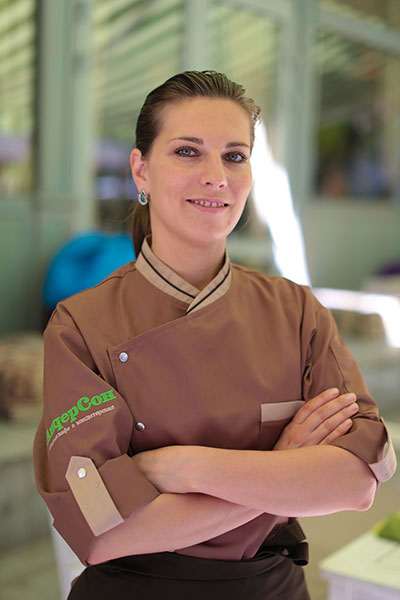 In olden days, in rich families, 48 ​​dishes were served on the table by the number of fasting days. Now for such feats usually no one is ready.
Meanwhile, some rituals are observed today. Perhaps the main attribute of Easter today – painted or painted eggs.
Krashenki and pysanky can be entrusted to make dad with children. And at this time mom can do the preparation of Easter and Easter cake.
The presence of these dishes is not accidental. Milk (as well as dairy products, including cottage cheese, the basis of Easter) and bread (that is, cake) were considered sacred food.
So if a young roasted lamb (that is, the lamb of God) is not included in the number of dishes that you will serve at Easter, you can restrict yourself to Easter and kulich.
Easter recipes are usually passed down from generation to generation. Some mistresses prefer raw Easter, while others believe that boiled (or choux) Easter is tastier and longer stored.
But this is a matter of taste and habit.
The main component of Easter is cottage cheese. It must be of high quality.
It is better to choose a product that is dry and smooth in structure; it is also important that it does not taste sour.
Cottage cheese for Easter should be wiped through a sieve, and it is best not to be lazy and do it twice – in this case, it will be saturated with oxygen and air. If to drive cottage cheese through a meat grinder, then it, most likely, will be viscous.
If you are going to add raisins or other dried fruits to Easter, then you need to sort them out, wash and dry them. Almond – peel and chop.
It is also possible to decorate Easter with melted chocolate, candied fruits, berries — for what imagination and desire will suffice.
If you do not have a special form – pasochnits, then you can use any suitable container (preferably in the form of a pyramid). Some artisans are adapted for this salad bowls, cleanly washed flower pots and even children's buckets.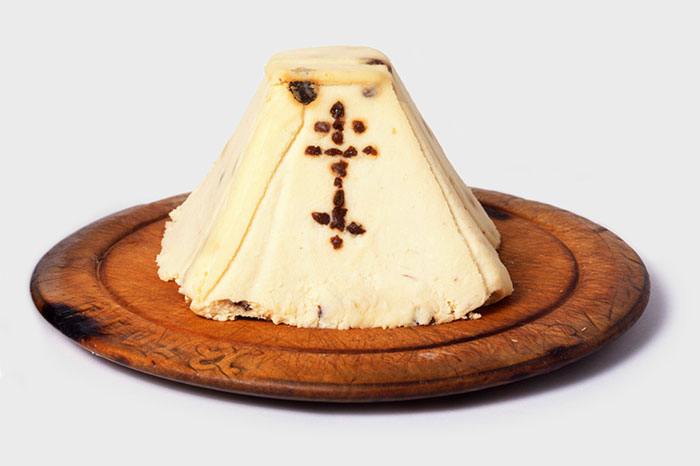 Easter cottage cheese (classic raw)
Ingredients: 800 g of cottage cheese, 150 g of fat sour cream, 100 g of butter, 150 g of powdered sugar, 0.5 cups of orange and lemon zest, 50 g of sugar.
Zest pour boiling water, let it brew for 5 minutes, drain, dry, mix with sugar. Curd the cottage cheese twice through a sieve, add the softened butter, sour cream and zest. Mix.
You can add raisins, candied fruit, almonds as desired. Put double gauze in the form, then put the mass. Leave in the refrigerator for at least 12 hours (you can put a pressure on top).
Then carefully remove the form, release it from gauze and, turning it over, put Easter on the dish. Decorate as desired.
In many families, Easter cakes are baked in several pieces – so that they have enough for the whole family, so that they don't go to visit with empty hands. Kulich recipes, as well as Easter, a great many.
But in almost all agree: the cake must be yeast. The dough can be capricious, afraid of drafts. But you do not bake cakes every weekend?
The holiday is worth it!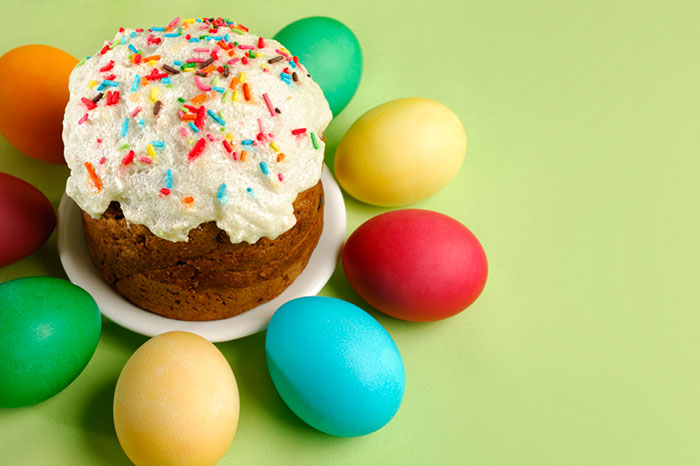 Kulich (for 2 pieces of 650 g)
Ingredients: 25 g yeast, 128 g flour, 200 g milk, 16 g sugar.
Heat the milk slightly (so that its temperature is just above room temperature), add yeast with sugar and flour there, mix to a uniform consistency. Cover with a towel and leave in a warm place so that the brew comes up.
Ingredients: 300 g flour (about one and a half to two glasses), 150 g butter (soften, but not melt), 30 g vegetable oil (about one and a half tablespoons), 150 g sugar, 60 g rum, 100 g raisins, 100 g candied fruit, 120 g of yolk, about 2 g of salt (1/5 tsp), a quarter of a vanilla pod, a pinch of vanilla, a pinch of nutmeg, cardamom, ginger.
Candied raisins soaked in rum. Combine the brew with all products except flour, candied fruits, raisins and rum. Stir this mixture until uniform consistency for 15 minutes.
Then add flour, mix again. At the end, add the raisins and candied fruits soaked in rum, mix well again.
After that, the finished dough is divided into two parts (according to the number of Easter cakes). Put the Easter cakes to a distance of 1-1.5 hours (at a temperature of about 35 degrees).
Keep in mind that the dough will increase again in size.
Fill the baking molds with one third dough. Bake at 165 degrees for 40-45 minutes.
But without glaze, the cake is not a cake!
Ingredients: single egg white, 40 g of powdered sugar (about 4 teaspoons), a few drops of lemon juice.
Sugar powder sift. Egg white should be chilled. Combine all ingredients, whisk until a uniform consistency.
The resulting glaze is applied to the cooled cake, let drain and frost. The finished cake is decorated as desired. The paper stand for the cake looks very beautiful, with paper "laces" cut out.
Such beauty can make children under your leadership.
And what else to do with children? When all things have already been redone: the eggs are painted, Easter cake and Easter are waiting in the wings, it's time to start making marzipan.
Ingredients: 1 cup of almonds, 1 cup of sugar, 1/3 cup of water, 2-3 drops of almond essence.
First you need to clear the almonds. To do this, you need to hold it in boiling water for 1-2 minutes.
Then drain the water, allow to cool slightly and peel off the walnut. Now it will be much easier. Rinse the kernels and dry in a pan for 2 minutes, stirring constantly.
At the same time it is important not to allow toasting nuts! After drying the almonds grind in a blender to a state of mashed potatoes.
Sugar pour water and boil syrup. The density of the syrup should be such that if you take a drop of syrup in your hands, you can roll a soft ball out of it. Make sure that the syrup does not boil into caramel!
Pour the almond mashed potatoes into the syrup and drip the almond essence. At first the consistency will be similar to thick porridge, but after a second it will thicken. Cook, stirring, for another 2-3 minutes on low heat.
If marzipan crumbles, just add water and mash it with your hands. When the plastic nut mass is ready, remember that you need to store marzipan wrapped in plastic wrap, in this form in the refrigerator the fragrant mass will be stored for a month or two.
Sculpt from marzipan is the same as sculpturing from compliant clay. Marzipan can be given almost any shape.
In addition, marzipan can be colored with food coloring or fruit juice.
And here let me roam the fantasy – your own and child. The most actual on the Easter table will look volumetric figures of curly lamb and eared rabbit. In addition to it, you and your children can make a whole zoo — a cow, a pig, a duck, and other animals.
If everyone in the family has a bad imagination, flat figures can be cut out from the layer of rolled marzipan using, for example, metal cookie cutters. You can also decorate Easter or Easter cake with marzipan flowers and leaves.
Preparing for Easter with your child
The feast of the radiant resurrection of Christ, Easter, is the main event of the year for Orthodox Christians and the largest Orthodox holiday. In 2015, Easter falls on April 12th.
About what kind of holiday, how to prepare for it and how to interest the child, we will tell in our article. Read more
Video recipe: Tsarskaya (brewed) Easter cheesecake. Cook at home