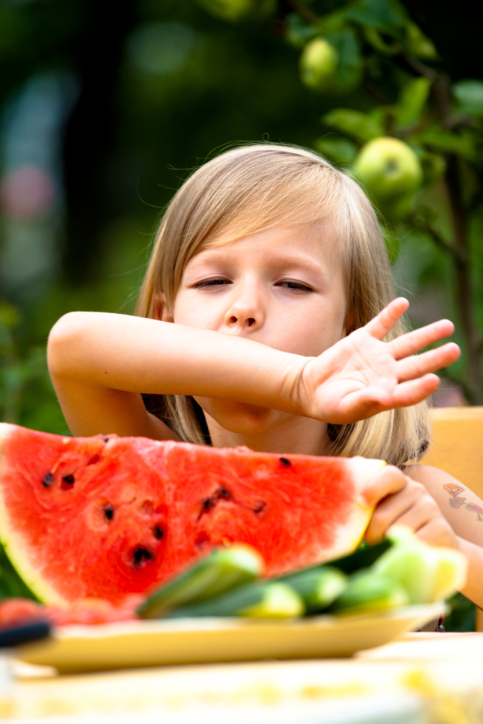 Tail, striped! Watermelon – a useful berry.
It contains a lot of sugar, mainly fructose, carotene, folic acid (150 g of flesh is enough to get the daily rate of this vitamin), magnesium, potassium, pectin substances, thanks to which the intestine begins to work better. Watermelon is almost 90% water.
He does not just quench thirst, but replenishes the salt reserves that we lose with sweat.
Everyone knows that the early watermelons are dangerous: so that the berries are more likely to ripen, farmers overdo it with fertilizers. The fact that the fruit is better not to eat is indicated by the following signs: the flesh is bright red in color with a barely noticeable violet hue; the fibers that go from the core to the crust are not white, as expected, but yellowish; The cut is smooth and glossy, while sparkling grains should be visible on it.
Verification check can be arranged berry at home. Dissolve a piece of pulp in a glass of water: if the watermelon is "right", the water will become cloudy, if not, it will turn red or pink.
Buy large watermelons, but avoid giant sizes. The tail should ideally be dry. On one side should flaunt yellow or orange spot.
A ripe berry has a hard, shiny, contrasting peel in color, it is difficult to pierce it with a fingernail, and it will spring from a light blow. Knocking on a good watermelon, you will hear a clear, sonorous sound.
Throw the berry into the water: it will pop up – it means ripe.
The queen melon melon, like a watermelon, consists mainly of water; It is rich in sucrose, carotene. The shape of a melon is spherical or elliptical; the surface is smooth, ribbed, fully or partially covered with mesh, and the pulp is white, orange or green.
These parameters depend on the melon variety and are not related to its quality. From the peel should come a strong, sweet aroma. Click on the opposite end of the melon stem: if the melon is unripe, this place will be hard.
The stem itself must be thick and dry. Knocking on a ripe fruit, you will hear a dull sound.
Do not take a melon, covered with dents: the pulp under them is bitter.
These simple rules will help you with your baby to avoid trouble.
Do not buy watermelons and melons on the roadside collapses: a lot of metals from automobile exhausts accumulate in the fruits in just a few hours.
Make sure that the watermelons do not lie on the ground: bacteria can penetrate micro-cracks into them.
Do not forget to wash melons with soap.
Do not buy damaged watermelons and melons: microorganisms multiply rapidly on the sweet surface of the fruit and can cause intestinal upset.
Store half-eaten gourds in the refrigerator for no more than a day.