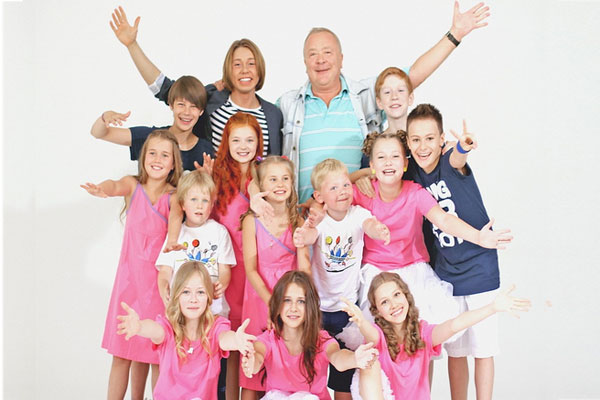 This studio is different in that it can be visited all year round, and you can come four times to take part in the production of the play. The whole "cycle of works" lasts four classes: at three of them children learn roles and prepare costumes with decorations, and at the final lesson there is a premiere for friends and parents.
In addition, teachers from the Home Theater can come straight home to conduct all classes and performances.
Training here takes place in a casual game form. The musical itself is a synthetic genre that combines dance, singing and theater. Therefore, in the Academy, children receive a comprehensive creative education in all these areas: choreography, vocal, drama.
In addition, many songs in performances are performed in English, so children have the opportunity to improve their linguistic skills.
This studio is for those who have seriously decided to devote themselves to theater or cinema. In the "Little Moon" there are three age groups (5-8 years, 9-10 years, 11-12 years). Here, in a playful way, children are introduced to the basics of vocal, stage skills, and classical dance.
In addition, here you can prepare for entrance exams to theatrical university.
The ability to hold well in public is necessary not only for playing on stage. Sometimes a child lacks the courage to ask something necessary, ask a clarifying question in an interview, and speak calmly on the phone. Classes in stage skills will help children relax, get rid of unnecessary complexes.
In the Constellation Cultural Center, children will participate in performances on a par with adults and perform on stage.
Although the studio "Gulliver" positions itself as a choreographic studio, those children who want not only to dance will also be interested here. Studio students regularly participate in children's fashion shows, speaking at the largest sites in Moscow.
In addition, the studio "Gulliver" is actively cooperating with television, for example, is currently working on a TV project "Seller of toys."
And if you want to see the performances and master classes of these studios live, come on August 18 to Gorky Park, where the Bright People Festival will take place, which the Moscow Credit Bank organizes in honor of its twentieth anniversary. Teachers from the best children's developmental centers will draw, sculpt, dance, assemble robots with children all day.
Here you can try your hand at dozens of workshops and find a good circle for your children.