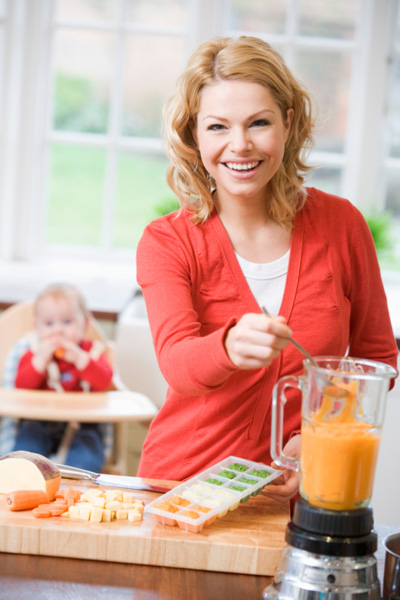 When modern mothers and fathers were small, their own mothers and grandmothers had to spend a lot of time and effort to grind food for a small gourmet. First, it was necessary to boil the vegetables, then knead them with a tolkushka, and then wipe them through a sieve.
In this case, the vegetables had time to cool down, and my mother – to fall into despair. The blender copes with this task in seconds!
So, in essence, a blender is a cross between a mixer and a food processor, but with one proviso. From the mixer, the blender was able to mix something, and from the food processor – knives for grinding.
Compared with a mixer, a certain advantage of a blender is that it can cope with more solid products and even beat ice. But only mixers are equipped with mixing hooks, so a blender can handle only a small amount of not too thick dough.
The food processor, of course, will be able to cope with tasks as quickly as a blender, but it is too big and not every kitchen will have a place for it. However, even if it will be stored in the assembled state somewhere in the closet, removing it every time just for the sake of preparing one puree will be a waste of time and energy.
1) Before using the blender, all products must be cut into pieces, do not put the whole fruit into it. It takes a few seconds, but the pieces are not exactly stuck between the knives and the glass and will be better ground.
2) Blenders deal with fewer ingredients, they are better suited for making juices and cocktails.
3) Recipes that contain any amount of liquid (such as, for example, soups or sauces), are best suited for cooking in a blender.
4) Never fill the glass of the blender to the brim, otherwise its contents will be on the table.
5) Conveniently, if the blender bowl has a spout, which makes it easy to pour liquids.
6) If you need the functions of chopping nuts, garlic or chopping ice, then you need to purchase a blender with maximum power and metal nozzles. The knife must be very strong.
Choosing a blender is not an easy task. Today, there are immersion and stationary blenders with a variety of nozzles, bowl volumes and capacities.
1) The stationary blender, or, as it is also called, blender-jug, blender-glass, is designed so that the knives are placed in the bottom of a large glass container. A stationary blender can prick ice, whip cream, egg white, smoothies, mix liquid and semi-liquid dough, prepare mashed potatoes and sauces. There are no nozzles for a stationary blender, except for one knife, except for one more knife for chopping ice, which, it should be noted, are not all models completed.
A blender is better than a blender, making smoothies with soft fruits. Liquid and semi-liquid mixtures are most suitable for this device.
It is not recommended to use a blender for processing onions, peppers and greens. The ground product scatters at high speed.
But to make mashed boiled potatoes with butter and milk, a blender can be very fast and good. Thanks to the spout from the jug it is very convenient to pour the contents.
An important feature of stationary blenders is what its bowl is made of. Two options are possible: glass and plastic, both options have their own advantages and disadvantages. The glass bowl will not be scratched by the sharp edges of the ground solid product or by splitting the ice, but it can easily break.
A plastic bowl can get scratched and become cloudy during use, but it is more practical. True, modern manufacturers, knowing about this feature, began to produce top models of plastic blenders, which do not lose transparency after long use, do not absorb odors and are not painted.
Basically, the capacity of the bowl most often is 1.5-2 liters. Think about what size blender you would be more comfortable to use.
It should be noted that the total and useful volume of the jug are different things: the effective volume will be 300 ml less on average.
Stationary blenders can be equipped with an automatic cleaning function. In principle, it is not difficult to wash the blender, but there is a possibility that in the process you will cut yourself with the sharp knives of the appliance.
In order to protect yourself from injury, it is better to choose a blender with a self-cleaning function. In this case, after the device is finished, you just need to pour warm water into the bowl and press the cleaning button.
The nozzle will rotate, and the water will wash the inner surface of the bowl and knives.
2) The immersion blender has the appearance of an iron or plastic "leg", which, in turn, is lowered into a container in which something needs to be mixed. It will be indispensable if you have a baby, as we spend a few minutes on preparing baby mashed potatoes and cereals.
It is also very convenient if you need to do a small amount of work: it takes up little space and can work in any containers.
Such a blender is more suitable for chopping meat into mincemeat, making breadcrumbs, finely chopping vegetables and fruits. But he also has his drawbacks: the submersible blender constantly has to be held in his hands – if there is a large amount of work ahead, his hands may get tired. As with the stationary blender, an important characteristic of a submersible blender is the material from which the "leg" is made.
If it is plastic, then the blender will be much cheaper. But the plastic can not be dipped in hot products – for such purposes, look for a blender with a metal "leg." Do not forget about the power and number of speeds.
The more power, the faster the blender will cope with the task, and your hands will not get tired.
Included with the immersion blender may be additional tips (for example, a whisk for beating eggs and others). But it is hardly worth giving preference to the blender, which has only one or two additional nozzles compared to the same.
Just think: perhaps this is a pleasant bonus to the purchase, which you will never use.