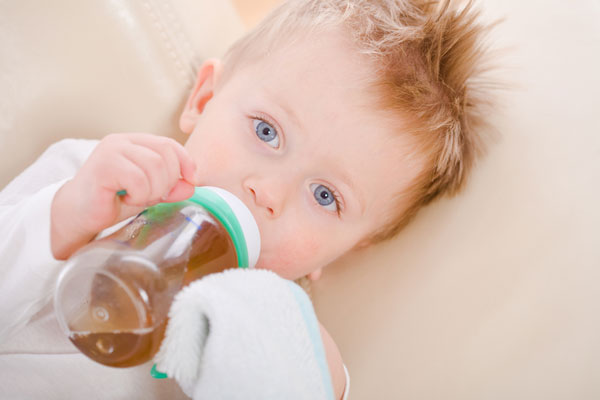 Children's tea differs from an adult in that it is not. tea, that is, tea leaves. It is a powder that contains extracts of medicinal herbs, berries and fruits. It is prepared almost instantly: it is enough to fill the mixture with warm boiled water, and warm it slightly before serving.
A child who eats only breast milk, drink tea with a spoon, and children familiar with the nipple – from a bottle. Offer your baby herbal infusions between feedings.
If he refuses to drink, do not insist: the daily rate of fluid may vary from 150 to 500 ml.
Teas are preventive and curative. The first contain components that enhance immunity: vitamin C, wild rose, anise, wild berries.
Healing drinks, depending on the composition, are capable of more. So, dill and fennel relieve intestinal spasms and relieve colic. Chamomile, anise, cumin improve digestion, eliminate inflammation.
Mint, lemon balm and motherwort soothe. Licorice, thyme, chamomile and anise help to cope with a cold.
Rosehip strengthens the immune system.
If the baby needs to be drunk immediately after birth, offer him boiled water, slightly sweetened with fructose, dill broth or baby fennel tea. At 1 month, give it a try with chamomile, after 2 months – with mint, anise or cumin, and from 3 months – with wild rose.
Mixtures with a complex composition (for example, herbal preparations) or with fruit and berry supplements can be given to babies after 4 months. At 5 months, try adding lemon juice to tea, and at 7 months honey.
Begin to acquaint the child with vitamin teas in half a year, and when he is one year old, make an "adult" tea, only, of course, not strong.
When choosing a tea for your baby, carefully read the labels indicating the composition.
Purchased children's teas often contain sugar. Fortunately, most babies tolerate this component well. An exception will be children who are faced with the problem of lack of enzymes (for example, with transient lactase deficiency, which usually manifests itself at the age of 4 months, and then passes away).
In this case, choose teas without sugar, and add fructose to them for taste. Keep in mind: any component of the mixture can cause allergies in the child.
To avoid undesirable consequences, observe the age limits indicated on the package and introduce new teas gradually: for the first time, give the child no more than 20-30 ml.