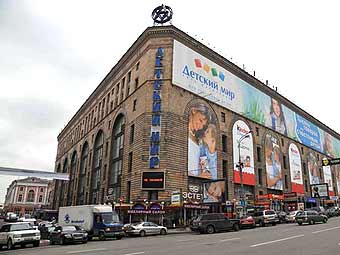 Lubyanka will open the city for children. The legendary store will open a children's tourism center, repairing toys, sewing carnival costumes, the Moscow office of Santa Claus, the Museum of Childhood, and a cinema with a special repertoire for toddlers and teenagers.
The department store will become the central venue for children's events: the two-level space of the central atrium will allow the use of mobile scenery and will be able to accommodate everyone who wants to see the performance.
The parent committee of the Central Children's Store on Lubyanka, organized in 2012, included the director and father of Yeralash Boris Grachevsky, TV presenter Tatyana Vedeneyeva, composer Grigory Gladkov, Ksenia and Lyudmila Moldavsky, historian Mikhail Korobko and Maxim Gasiev. In October 2013, the poet and playwright Yuri Entin and the Russian composer, People's Artist of Russia Yevgeny Krylatov joined the parent committee.
The renovated store building, according to the architectural design, will preserve the historical appearance of the cultural monument. In accordance with the concept, 15% of the "Central Children's Store on Lubyanka" area will be allocated for educational and entertainment functions.
On the seventh floor will appear the "Museum of Childhood".
The former host of the program "Good night, kids," Tatiana Vedeneyeva presented the "magic" mirror to the Museum of Childhood. "I found this mirror several years ago in the attic of my house in Staraya Kupavna, among the things that were left there by the former owners of the house. The mirror was very beautiful and unusual, like from a fairy tale, and I decided that, since it is from a fairy tale, you need to make a wish.
And two days later, the wish came true. And the following. My godparents also made wishes, looking in this mirror, and said that they were invariably fulfilled.
So we came to the conclusion that the mirror is magical, "she said.
Detsky Mir was opened in June 1957 on the site of the Lubyansky Passage building. The author of the project was an outstanding Soviet architect Alexei Dushkin. In Soviet times, the department store was the largest children's store.
Currently, the shopping complex is closed for renovation.