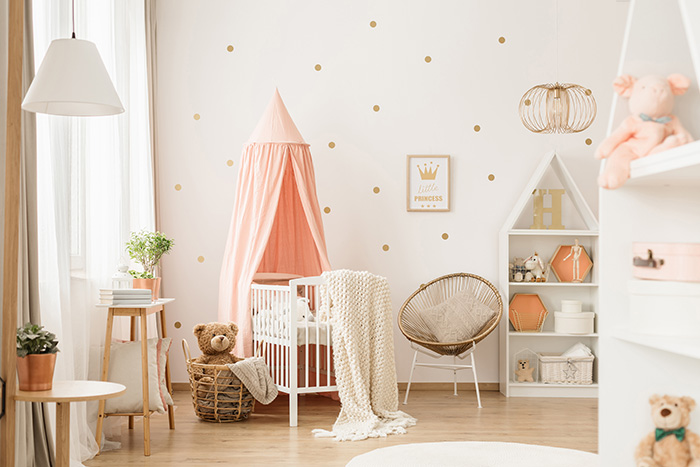 When choosing wallpaper, curtains, flooring, please note that bright colors stimulate the nervous system of a child, and their eyes get very tired. Therefore, in the design it is better to prefer shades of light green or pink shades (for girls).
Blue color is too cold, orange and red will tire the baby very much.
Sex should not be slippery, otherwise the kid risks getting injured. Carpeting – not the best option.
It is difficult to remove and clean, which is why dust accumulates in the pile and creates favorable conditions for germs. A good choice would be parquet, laminate or linoleum made from natural materials.
To warm the floor, you can lay a carpet on it, again from natural materials.
Buying a coating for walls and ceiling, think for what he sees on them baby. The pattern should not look frightening.
To maintain a normal "atmosphere" in the nursery, do a wet cleaning at least 2-3 times a week, wipe the dust at least once a week and air the room 5 times a day. A good helper in this will be a humidifier and air ionizer.
It not only saturates the air with moisture, but also retains dangerous microparticles, thereby cleaning the air and removing various allergens.
The normal room temperature for babies is 20–22 ° C, the humidity in the nursery should be at the level of 50–60%.
Usually, young parents spend a lot of time and energy on choosing furniture. But in fact, it is more necessary for adults than for children.
He will need only a cot, but his mother will also need a chest of drawers, a wardrobe, a changing table. Choosing the situation, pay attention to the quality of coverage.
It must be durable and smooth, otherwise you will not avoid splinters. Well, if the edges and corners of the furniture are rounded.
Otherwise, the situation will fix the protective lining.
Furniture must be sustainable. On the wheels of the crib, stoppers are obligatory, because, starting to develop the surrounding space, the child can use anything as a support.
Well, now it is time to put everything in its place. The main subject, of course, is a cot.
She better take a quiet corner away from doors and windows. At the same time, we must not forget that there should be good air circulation in the sleeping area.
If you bought a changing table, place it near the cot and provide additional lighting above it.