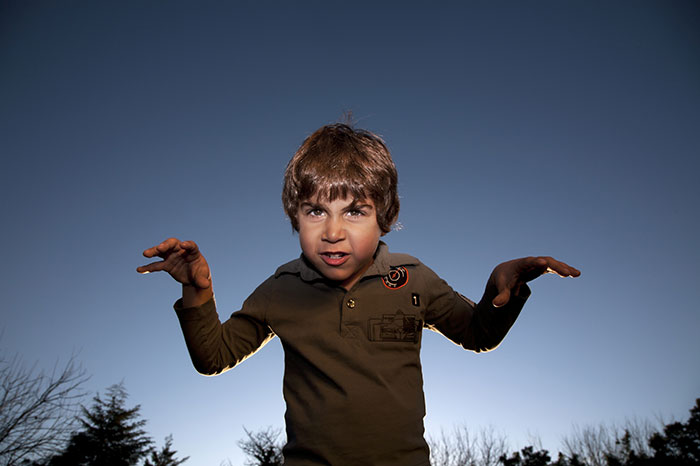 Oddly enough, but with the first characters, the villains of children, we are acquainted, the parents.
– This is Baba Yaga, Koschey the Immortal, Serpent Gorynych, – says Maria Aralova. – Having become older, children take the baton from us, inhabiting their world by others, but still the same terrible characters and incidents. Psychologists have long noticed that in a children's horror the traditions of a fairy tale are projected onto real problems that a child faces in its life. It's not for nothing that ordinary children become the protagonists of the horror stories.
They are confronted with a subject that, as the story progresses, begins to harm everyone. The plot, as it should be in a fairy tale, is straightforward and based on the principle: warning or prohibition – violation – punishment of those who disobeyed. There are horror stories with a happy ending: the police, caused by children or adults, or any other help restore order and arrest (drive away) those who frightened the children.
As a rule, modern horror stories are a synthesis from what they heard, saw and invented. Along with the winged, toothy unseen beast, police, robots, giants, ghosts can appear in them. So many children's horror stories have a completely "mundane role": to show the child that the elders must be obeyed.
Usually, horrors occur when a ban is violated or a warning is not taken into account.
Horror stories are not limited only to the plot. Equally important is the setting in which they are told.
As a rule, this occurs in the dark, necessarily in a more or less numerous company of children in the absence of adults.
What are they needed for? Children's tales give the child the opportunity to reproduce, and then successfully survive a terrible situation. Horror stories also allow you to show creative imagination.
Listening and telling horror stories, the child learns to control their emotions.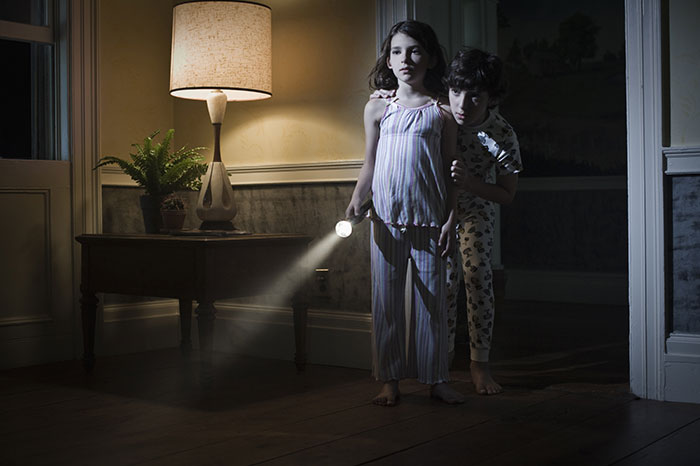 There is no better classification than the young trainee Rakhmanin from the book of Eduard Ouspensky "Red hand, Black sheet, Green fingers". He divided the children's fables into understandable horrors, sci-fi horrors and the most terrible horrors.
The first group is the traditional stories related to skeletons, vampires, Red cookies, and cutlets, in which a human nail is suddenly found.
For example: "Some girls had a mother, but there was no father. And my mother often came to visit. She and her mother had fun all night and left.
And the children did not remember this, because in the evening mother gave them Red Cookies, and they all forgot. And they had a red piano.
Once they played the piano, pressed a button, the piano pulled away, and the turn opened. The children went down there, there was a basement with a light, and there were guys with no heads, and the Red Cookies were made from their brains.
And then everything was forgotten. The children called the police, and she arrested everyone. "
Or: "One woman had a boy. They went to visit another aunt. And she invited to make witch patties.
Witches brought a basket of nails and began to make cutlets. In each cutlet they put a nail.
Cutlet with a blue fingernail went to the boy. When he ate it, his stomach ached. He underwent surgery and pulled out a blue nail.
But the boy is dead. "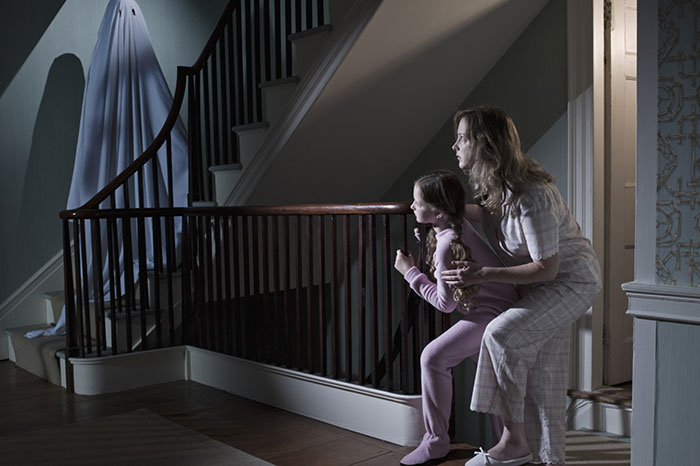 A modern horror story: "A little girl was walking down the street and saw a shop that had never existed before. The sign said that it sells mobile phones at a huge discount.
The girl bought a mobile phone. She came with him to school, began to listen to all the tunes in a row, and instead of the last melody, children's screams "Get us out of here" were recorded.
The girl said this to the police. When the shop was covered, a cellphone assembly workshop was found in its basement, in which legless children worked, and the evil witch ran them. "
The sci-fi horrors are associated with the Black Death from the sewers, the Photograph from the well, the Cosmic hypnotizing eyes, the monster that is a cross between a man and a bat.
For example: "Two travelers traveled through the forest. Suddenly they saw an ancient castle.
They broke down the door and entered. On the second floor, they went along different corridors.
One of them fell into a large room with paintings on the walls. He looked through all the rooms.
Going to the last one, he shouted and died. The second one came running to help, but, looking at the picture, he also died, because cosmic eyes were painted on the picture. "
Or: "There was an expedition in one desert. And suddenly there is a well on the way.
One geologist decided to drop it there. He was lowered for a long time, when suddenly he screamed wildly and jerked.
When they got him, he was dead and gray. Then they lowered the camera instead.
The camera photographed something.
That began to show the film. The developer looked at her and screamed so terribly and died. His assistant guessed to burn the photo, without looking into it.
He realized that this photo could kill hundreds of people.
So no one knew what was there, in this deserted well. "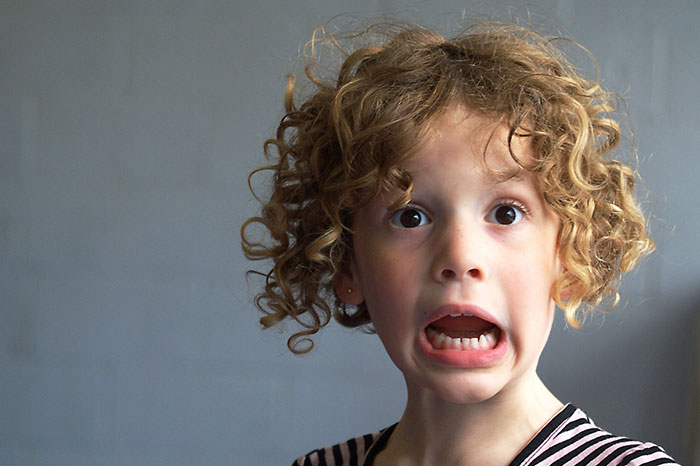 Unexplained horrors are Red Hand, Black Bed Sheet, Woman to Red Face, Green Fingers, etc.
For example: "One family received a new apartment. And there was a red spot on the wall.
He did not have time to cover up. And in the morning the girl sees that her mother died.
And the stain has become even brighter.
The next day, at night, the girl sleeps and feels that she is very scared. And suddenly she sees that a hand is sticking out of the red spot and reaching for it.
The girl was frightened, wrote a note and died.
Then the police came and found nothing. One policeman shot at a red spot, and it was gone.
And then the policeman came home and saw that a red stain appeared on his wall above the bed. He sleeps at night and feels that someone wants to strangle him.
He began to shoot.
Neighbors came running. They see that the policeman is strangled and there is no stain. "
Or: "The little girl had a black doll and black cubes. She loved to play with them. Once she heard on the radio:
– Girl, do not play with a black doll, and then come Black Tulip and eat you.
The girl did not obey and began to play with the black doll further. And on the radio again transmit:
– Girl, do not play with black cubes, otherwise Black Tulip will come and eat you.
Again the girl did not obey and continued to play with the cubes. On the radio again they say:
– Girl, beware, Black Tulip has found your city, it is looking for your street.
– Girl, Black Tulip has found your street, he is looking for your home.
– The black tulip has found your house, it is looking for your floor.
– The black tulip found your floor, he is looking for your apartment.
– Black Tulip found your apartment! He wants to enter it!
The girl ran to the door and saw in the eye of a Black Tulip. She was frightened, ran out onto the balcony and jumped down. "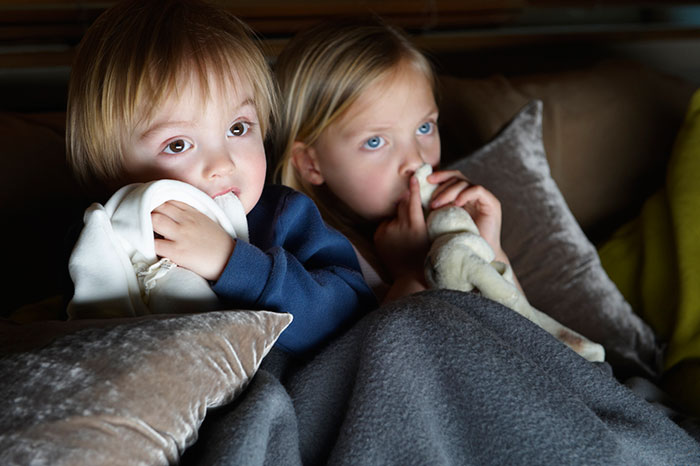 Children begin to tell stories to each other at the age of 4-5.
– Some kids like to invent different stories and share them with others, checking their reactions, our expert continues. – The first listeners are parents, brothers, sisters, grandparents. If the reaction is expected: "Very interesting. What happened next?
Oh, I'm afraid! ", The child is convinced that his story has caused certain emotions, while it does not matter to him exactly what, and begins to develop his fantasies. Having tried out another children's horror story on relatives, the peanut tells his scary stories to friends in a kindergarten group or on a playground.
Many children, as we have said, are thus struggling with their fears. For example, they may be intimidated by the outlines of objects at dusk or at night.
So, the child will invent a monster who lives under the bed or remembers the story of the black hand, green fingers. He will talk about their tricks every day until he realizes that he is no longer afraid of anything. Some children come up with and tell these horror stories to gain popularity among their friends.
In this case, the principle is triggered: whose horror story is worse, it is cooler.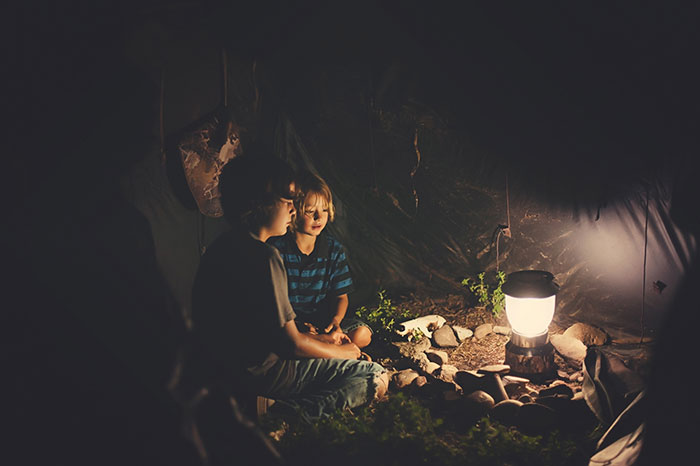 Telling each other popular scary stories, developing them and coming up with a new sequel, the children test each other for courage, sometimes, noticing that one of them is afraid, start to scare him specifically and so self-affirm in the team. Sometimes, the games of "horror" are so exciting fun company that every free minute, children gather to tell each other new details of frightening stories.
The reaction of the child to children's horror stories. Children perceive horror stories differently.
Someone may close their eyes, someone else may have ears, someone, on the contrary, will try to complement children's tales with even more horrific details. If you see that the child is afraid, you need to help him cope with fear.
– If a child tells a horror story heard from other children, listen carefully and evaluate how much the frightening information has touched him. If it is clear that the baby is really scared, help him work through this fear, – advises Maria Aralova. – Draw horror characters, tell them that they can be defeated and ask the child to figure out how to do it.
Compose a scare (or several scare stories) with your child that he can share with his friends. Teach him to invent a funny ending to a scary story.
Here are examples of such "flip-flops": "A black-black coffin rides through a black-black forest and a black-black man sits in it and thinks where to stop and … pop".
"One family moved to a new apartment. A nail was hammered on the floor, and they were told not to touch this nail.
In the evening, the parents left, and the children took the tongs and pulled out a nail. There was a noise, thunder, the lights went out.
Steps rang out on the stairs, knocked on the door, and a woman came in – all covered in blood. And said: "Children. what have you done the chandelier fell on me! "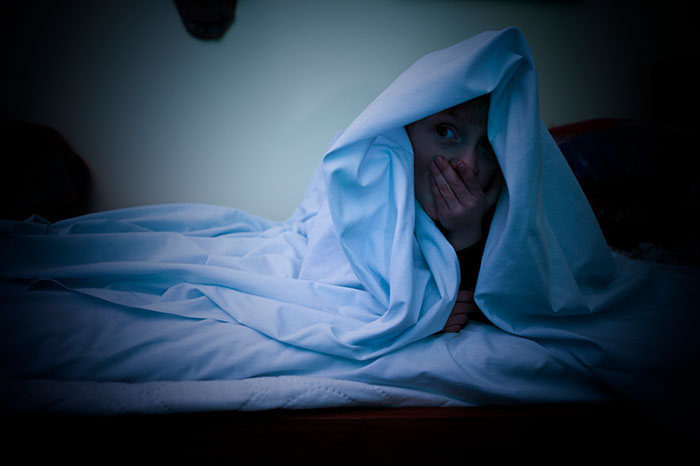 Dream up with your child, how you can cajole the villain. Say, give him something useful, funny, beautiful. Maybe then the villain will be corrected?
Discuss with the baby on this topic, ask him why this object could get out of submission, began to bring evil. Tell scary stories with a good ending by candlelight, encourage your baby if he is afraid.
Now, some psychologists and children's writers are writing the so-called therapeutic horror stories. Read them together with the baby and discuss, draw the characters. Write a family book of funny horror stories.
As an example, you can use the book by G. M. Naumenko "In the Black-Black Forest" or the already mentioned story of Eduard Ouspensky. By the way, at Ouspensky it turns out that all the horrors occurred only because people were afraid.
The conclusion suggests itself.
– To teach a child to overcome imaginary fears, you need to explain to him the difference between a real and a fictional situation, always maintain in him the confidence that he will definitely cope with fear. It will be pleasant for a child to find out that he is not alone and you have experienced similar feelings in your life too.
Fear of the dark: how to help a child cope with it
Many children complain about the fear of darkness to their parents. Most often, fears of this kind – darkness and loneliness – appear at the age of about 2-3 years, sometimes a little later.
The child does not want you to turn off the light, asks to leave the door of his room open, runs to you at night, or even refuses to sleep in his crib. What happens to him? Read more
Kids teasers and cheaters: what they give to our children
Do you think children learn to swear only from adults? No, they themselves have something in stock.
To tease, call names, bite the other with offensive words – all this kids are recruited already in kindergarten from their peers. Read more
How to deal with children's fears: a few sedative strategies
Nightmares dream at any age. But if adults can wake up with an effort of will, breathe a sigh of relief and quickly forget a bad dream, then it is more difficult for children.
Together with the psychologist Tatiana Shishova, we offer you a few "soothing strategies" that will help moms and dads deal with children's fears – real and fictional. Read more