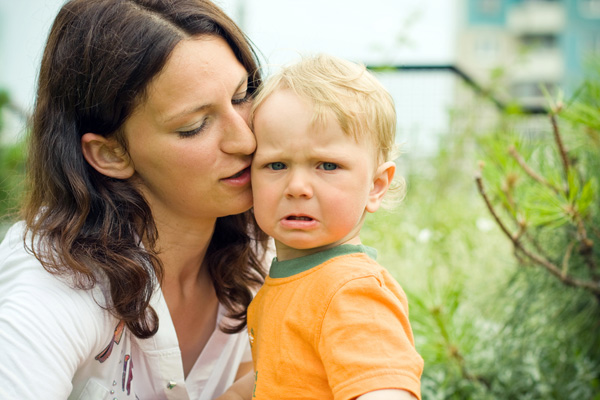 The manifestation of emotions, even positive ones, is sometimes so intense that it can disturb, tire and even frighten an unprepared adult (therefore, most of our childless friends get tired of the children's society so quickly). And not only outsiders "tense up" when the two-year-olds begin to express themselves violently.
Many parents, faced with children's activity, are often lost and do not know what to do. Almost all of us in childhood were forced to suppress emotions: the manifestation of anger, fear, resentment was considered unacceptable; stormy expression of joy is also not welcomed.
In general, a well-bred child should have been visible, but not audible. A kid who dared to cry in a public place or refuse a dish ordered to him in a cafe was immediately labeled as spoiled, his darkest assumptions were made about his future, the parents themselves were blamed as inept. Thus, the whole education of the senses, as a rule, was reduced to the suppression of emotions.
Therefore, several generations of people have grown up who do not know how to cope with their own feelings and generally know little about what they like, what their soul is for, what makes them angry and worried.
The fact is that if a person constantly suppresses his negative emotions, he gradually loses the ability to feel positive feelings – joy, peace, satisfaction, a sense of his own attractiveness and competence. It is difficult to develop the creative potential of the child if he lost access to his own.
Therefore, first of all, we, parents, will have to learn to cope with our own stress, to take emotions, including negative ones, for granted, to try to satisfy, and not to deny our own emotional needs.
This is a great work of the soul, and not every parent is willing to make daily efforts, educating and controlling themselves. But the result of these efforts will be a truly close and respectful relationship with the child.
To learn to cope with emotions, there are various special techniques and exercises. For example, even with a one-and-a-half-year-old baby, you can build faces in front of a mirror, using mimicry depicting fear, sadness, disappointment, envy, etc. You can take a cup and shout into it, as much as you like, until the anger runs out.
In a basin or bath with water, you can throw rubber toys. You can make any number of points and circles on paper, or you can tear it.
You can set a good example by telling children about your personal way of dealing with stress. For example: "When I am upset, it is worth walking a little in the park and keeping silent (do 10 push-ups, turn on your favorite music and dance) – and it's easier for me."
In the park, the child saw luminous balloons and demands to buy one, and after your refusal, he falls to the ground and makes terrible screams. Your reaction
Do not rush to strain through clenched teeth: "Shame and disgrace! No more presents! "- or respond with anger to anger.
If you see a baby in such a role for the first time, ask yourself: maybe the child is tired of daytime impressions and simply cannot control himself? Or was he trying for a long time to get your attention and this hysteria to no avail – the last resort?
You can shout obedience by shouting at him, but the child's feelings will be suppressed and will eventually be out of control in the form of rebellion, unjustified aggression or passive obedience.
Try to take a five-second pause and just let the child express his anger and frustration, try to stand in his place, listen to him. If at the same time you are experiencing strong resistance, perhaps the child at the moment expresses the feelings that you are trying to suppress in yourself.
Then you can say: "I see that you are really upset. The balls are really great. Let's go and take a closer look at them. "Often children are quite happy with this decision.
Most likely, he needed not a gift, but your caress and confirmation of your love. If during the whole walk he continues to be sad and sigh, no one forbids you to change the decision.
You can say: "I had no idea that it was so important to you. But maybe you would prefer to ride a pony? "This is not about" paying off "from the scandal – you can't do this in any way.
But it is also unfair to constantly deprive the child of the pleasure of educational motives.
Another familiar situation is that a ball accidentally released from a hand flew away, and the kid was very upset. You can upset him even more if you say irritably: "Well, I told you, hold on tight, but you're so awkward!"
It is also not necessary to demand that the baby immediately stop crying – the child will not be able to bring himself to calm down in an instant. Acknowledge his feelings – it's really a shame to lose what you like: "I understand, this is sad.
I would be upset too. Let me give you a hug. "
If the baby is very sad, you can buy another ball and try to learn a lesson from the situation: "What do you think can be done to prevent this one from flying away? Maybe tie him to the stroller?
Or to your hand? And what else can you tie to? "If you don't want to buy another balloon, try turning the first flight observation into a game:" I wonder where it went?
Probably from this height you can see the whole park and even, perhaps, our house. I wonder how he flies through this big cloud? Let's wave him a pen! "
Note: one of the ways to "let go" of your own experiences is to put them in a balloon and mentally send it to the sky.
The child asked for juice, and you mistakenly gave him milk. Now he pushed the cup away, frowned, folded his arms over his chest, and lowered his head.
Do not turn away from him, do not say: "I hate it when you do that!" (He will only hear that you cannot bear him). Do not demand to immediately "make a normal face."
The puffed up look is also the language with which the child tries to tell you about the problem. You did not hear his request, and now insist that he stop "capricious" and obeyed.
Mom and Dad, of course, the main, but the child at the moment does not dispute your power, but simply defends the right to their own tastes and desires. Sometimes, persisting, he "goes into himself," and it is difficult for him to get out of this state.
Help him do it with dignity, ask: "Is something wrong? Is something bothering you? Tell me".
Your authority will not suffer at all if you apologize (just try to do it without sarcasm) and replace the cup. You would do it for your friend who came to visit, why not do the same for the baby?
The kid refuses to slide down one slide or cannot let go of your hand on the rink. You are trying to hide the awkwardness and mentally compare him with a friend's son or an older sister who "never fears anything"; memories crawl into my head as you were "just thrown into the water" in your childhood and thus taught to swim.
And perhaps you yourself will freeze from fear and force the situation to overcome it. Remember, you are not at the Olympics!
There is no need to constantly compete with other parents.
In fact, it will be great if you learn not to brag about the child's achievements and, most importantly, not to compare him with other children (even if the comparison is in his favor). But if you manage to internally recognize the right of a child to his own rhythm in learning, to make a mistake and, of course, to fear, this will be your serious parental victory.
Instead of endlessly encouraging him: "Well, come on, you can do it!", Try to gently shift the baby's attention to something else – for example, you can just watch other children (just don't repeat all the time: "See, even little girl is not afraid! "). If you feel that today the child is not emotionally ready to overcome timidity, say that you understand what he is experiencing, and suggest that you continue later: "I see that you are afraid.
The hill is really high. You can go another time, like after dinner! "
On New Year's Eve, your child received a submarine, which he talked about incessantly for a month, but when he saw the helicopter, which was presented to his cousin, hesitated. He no longer needs a boat, all his attention is riveted on someone else's toy.
He is jealous.
Adults often do not recognize the manifestations of envy in a child. Usually, an upset kid is immediately tried to comfort or shame for impolite behavior.
And the child at this moment is trying to understand what the owner of the helicopter is better than himself. He is older? Smarter?
Love him more? It will take a very long time before the kid learns how to cope with such difficult situations on his own, now it is important to support him and make sure that the evening for him is not completely spoiled.
Hug him, you can even retire for a while, feel sorry: "Did you really like the helicopter? We can give you one when you grow up a little. "
Sometimes a child may resist your participation, in this case you should not insist or give too much advice. Just listen to him, and if he is silent – just be near. It happens that, together with the latest experiences, the child suddenly begins to talk about what was bothering him before that, perhaps, something that you didn't guess would come up.
Do not interrupt him, do not start a dispute.
Freed from the burden of accumulated experiences, the child will feel much better. After a while, invite the children to play together with new toys.
Well, if a cousin shows interest in your child's submarine, then the balance will be restored in part. Later you can return to this story by playing it at home with the help of dolls.