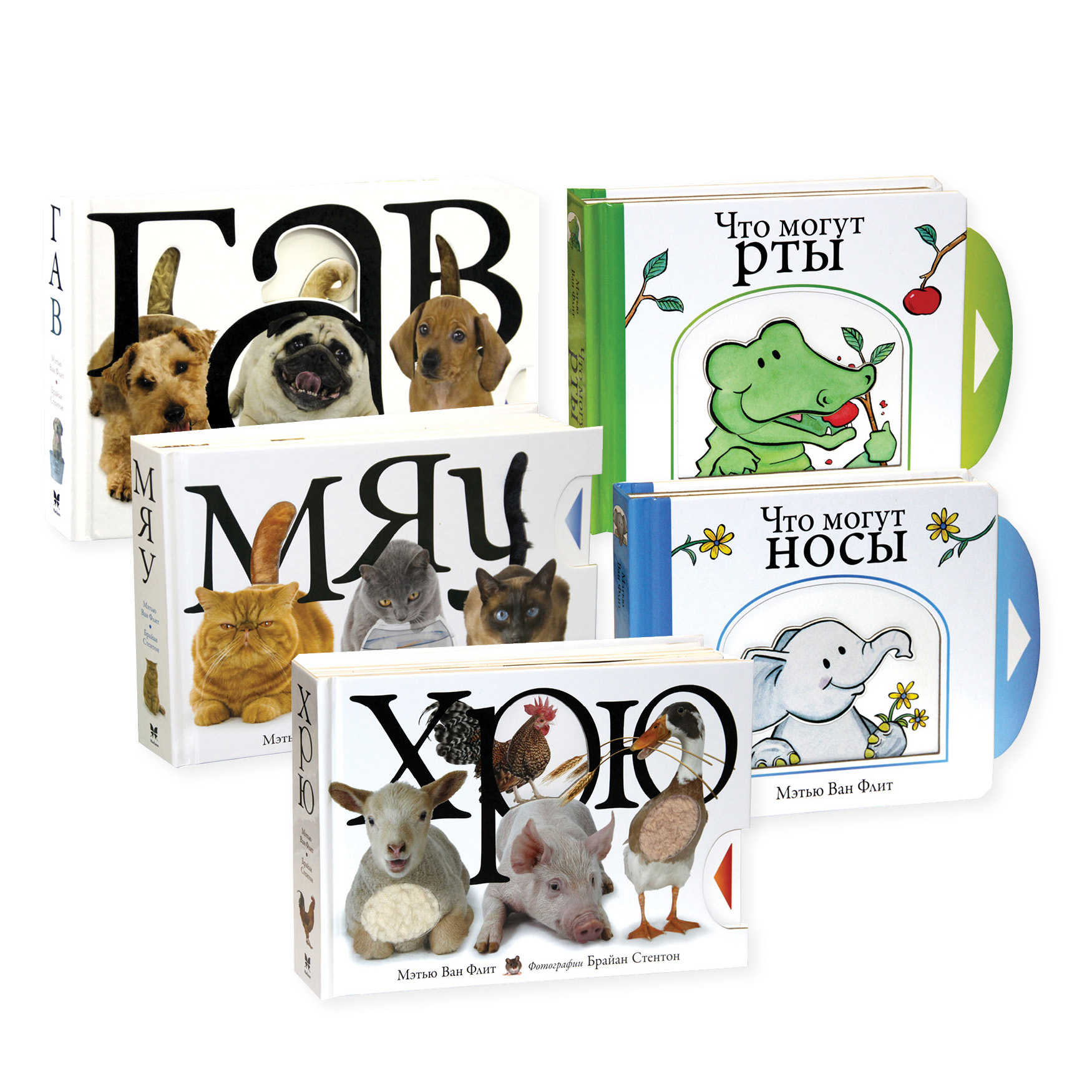 Matthew Van Fleet is an innovator-designer of children's educational books. Innovative books by Matthew Van Fleet have taught children basic concepts for almost 20 years, in Russia they are being published for the first time.
The unique formats designed by Matthew Van Fleet help kids to perceive the world: they can touch the interactive elements and imagine that they are stroking a dog or a cat, and they can even smell, so they explore colors, shapes, numbers, letters, opposites and much more.
His books "Meow", "Oink", "Woof", "What can mouths", "What can noses" have become the world's children's bestsellers. These books put on the first places in the list of bestsellers New York Times.
Fleet himself lives with his wife Mara, two sons Alex and Ryan, and two pugs, Boris and Tasha in Chappaka, New York. Van Fleet graduated from college with a bachelor of science degree in biology. He tried himself in the creation of cartoons, hoping to make a career as a cartoonist.
His first job after graduation is a technician in a biochemistry laboratory. He attended art classes at night, learning art and caricature.
The illustration seemed the perfect way to combine his biological background with his artistic talent. Van Fleet received additional opportunities in the book business as a secretary in the art department at Grosset Dunlap, publisher Nancy Drew.
Asking an interview about his most favorite stage in the preparation of the book, he replied with a grin: "To see the finished book on the shelf, which will bring people joy."
As is usually the case during his work, he first came up with an idea for a book – first a text, and then a mechanic of how animals almost come alive in the pages of books. "Using photos instead of illustrations for Gav made animals more realistic," said Van Fleet. Books "Oink", "Meow", "Woof" introduces verbs, opposites and synonyms for young children. The book has a large number of animated tabs that enliven dogs, for example, the dog turns its head from left to right.
Different textures, such as sticky tongue, to encourage readers to experience different tactile sensations.
For the shooting of the book "Gav" 20 dogs were used, which were brought by the local residents of Chappaka, as well as the neighbor's veterinarian. Photo sessions were held in the kitchen of Van Fleet.
The book presents a large number of different breeds: basset hound, Chihuahua, English Bulldog, English Shepherd, Golden Retriever, Jack Russell Terrier, Labrador, Retriever, Schnauzer, Springer Spaniel. On the cover of the book is a Welsh terrier named Molly, dachshund and pug Boris. Shooting untrained animals has created some problems.
She showed that most of the filming can only be relied upon for good luck, especially when it came to turning the head of animals. For example, the photographer and Matthew needed one dog to scratch its head with its paw, but it did not begin to do this on command.
The owner of this dog began to tickle her. And the problem was solved!
Van Fleet and photographer Brian Stanton visited the International Cat Show in Westchester to create a book about cats. They examined felines: their behavior, differences in breeds, characters.
They successfully filmed 16 cat breeds.
To create the book "Oink", Matthew Van Fleet and Brian Stanton went to a real farm to photograph farm animals in their natural habitat.
Another series of books for the smallest "What they can" will tell and show why animals need mouths and noses.
Funny poems, funny pictures, fully interactive, entertaining and educational toy books. Convenient format and cardboard pages with rounded corners provide safe leisure for children up to three years.
Matthew Van Fleet "Oink". M .: Machaon, 2013
Matthew Van Fleet "What can mouths." M .: Machaon, 2013
Matthew Van Fleet "What can noses." M .: Machaon, 2013
Matthew Van Fleet "Meow". M .: Machaon, 2014
Matthew Van Fleet "Woof." M .: Machaon, 2014