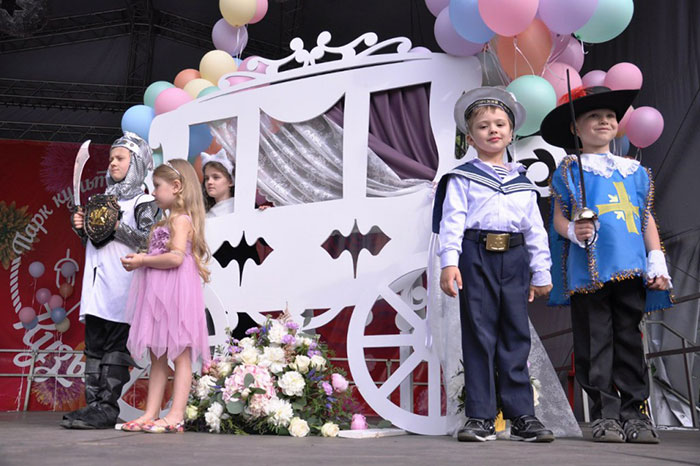 At 12:00 the Children's Day will begin in the park with a long-awaited event: on the main stage for the fourth time the annual beauty contest and talents "Little Miss and Mr. Kuzminki" will be held. Young participants will demonstrate their abilities and compete for the main prize – the opportunity to acquaint citizens with their work throughout the year by participating in the activities of the park.
The competition will be held in 3 stages: a "business card" with a story about yourself, a creative stage and a costume contest for which the children and their parents will prepare in advance at home: the participants will show hand-made outfits and their own performances. In the final, the jury will sum up and select two winners.
In addition to the main title "Little Miss and Mr." Kuzminki ", the guys will receive gifts in the nominations" Little Miss Charm "," Little Mr. Talent "," Mini-designer "Kuzminki" and others. Colorful children's books, toys and wardrobe items for the participants will be prepared by the same-thing shop, the publishing house Abrikobuks and the children's store DetMart.
At 14:00, after the competition, a charitable concert of the Gulf Stream foundation will begin to help little Dasha Sokolova: all those who care will donate funds to the girl to fight a serious illness. Also, visitors will take part in the lottery "Surprise" and family workshops: painting the cardboard house "Our Planet" and plaster figures, drawing on water and making wooden icons.
For young mummies, a separate playground with thematic and cognitive activities will be available during the holiday: master classes on wearing a sling, fitness for mothers and babies from 1 month to 3 years old, baby yoga and much more. The smallest company "Barrier" will hold the "Clean Water Lessons": talk about the interesting properties of H2O, conduct scientific experiments and reveal the secret why it is so important to keep water clean.
Organizers: Kuzminki Training Center, the Gulf Stream Charitable Foundation for Aid to Seriously Sick People
Information partners: "Happy parents", "Hedgehog-Hedgehog", "Riamo", "2Do2Go"