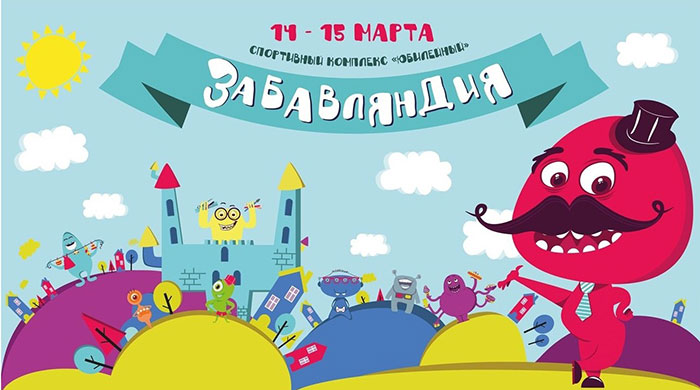 In St. Petersburg, spring will be celebrated with a bright family event. One of the largest urban sites will be transformed for two days into a fictional country called Zabavlyandiya, created specifically for children and their parents.
The country Zabavlyandiya will stand out of seven zones-towns, saturated with dozens of events.
The main events of the holiday will unfold in the central arena of IC "Jubilee". A performance will be held on a specially designed stage, in which, in addition to bright theatrical performances, numerous entertainment performances and musical numbers, an interactive show will be held with the participation of all guests of the event.
Magic show, science show, circus acts and recognizable cartoon characters! The symbol of this zone is funny Albert Usatich.
The second largest and largest area of ​​the holiday. It is in this area that numerous attractions, slot machines, and sports activities for the whole family will be located.
Dozens of animators will meet children in Olympic: face painting, giant soap bubbles, fun contests and gifts! Here will host Sportyagin.
Invites Master Sistemkin. For the most advanced children and parents, the technology zone will open its doors.
Within its walls you can control a flying drone, print a 3D model of your favorite toy, watch the dancing robots, take a robotics workshop and dive into the atmosphere of virtual reality.
Does your child constantly draws something, sculpts, constructs, and his room looks like a gallery of modern art? Then you are in Obuchalinsk! Culinary workshops, master classes in animation, modeling, makeup, the art of magic illusions – all this and much more will meet you and your children in the most inventive and creative area of ​​the holiday.
The curator of this zone is Mr. All-Knowing.
Those who are tired of activities are waited in the calmest area of ​​the event, away from the main events of Zabavlyandii. Cheerful Gray Cartoon is a children's cinema, comfortable puffs and a separate cafe for adults and children.
Here, parents can relax in peace over a cup of coffee, and children watch the premieres of the most anticipated cartoons.
A wide variety of hand-made shops, designer clothes, board games, services of medical centers, sports clubs, goods for painting, modeling and much more will be presented on the vast territory of the Market zone. All questions – to Comrade Selladze.
You can have a snack or have a good lunch, have a cup of coffee or a refreshing cocktail right here. The best restaurants of the city, shops with tasty and healthy products, as well as pastry shops and cafes will open the doors of their corner in the Food Court area.
Multi-armed Fatty Dog will feed everyone.
Particular attention at the festival will be paid to the youngest guests of the Republic of James. This is a special area in which the most experienced and sensitive babysitters will watch over the children.
The symbol and owner of this zone is the caring Zinaida Malyshkina.
Magical and circus shows, scientific experiments, theatrical shows, slot machines and family relay races, children's disco, dancing robots, master classes and, of course, the most recognizable cartoon characters. All this and much more will be waiting for the children and their parents at the main family event of spring!