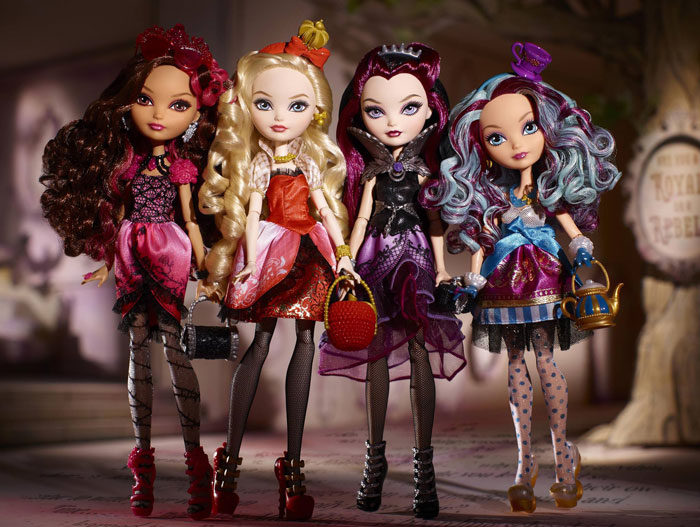 The Ever After High brand was launched by Mattel on May 30, 2013 in the United States, and on June 5, 2014 it was officially launched in Russia. The brand is presented in 4 directions: game dolls, books, cartoons and website.
Each direction develops the main plot of the brand, complements it and makes it more voluminous and interesting for fans.
Ever After High is a school where children of famous fairy tale characters study. Here they are taught to follow the life experience of their parents and repeat their fabulous fate.
The main plot of this original story is twisted around the concept of destiny – is it necessary to repeat the fate of the parents, can you choose your own path and how will the fairy tale change from this choice? The school was founded in 1812, all students are divided into classes according to their purpose: the children of the villains learn witchcraft and black magic, while the children of good heroes learn magic spells and transformations.
The school principal, Milton Grimm, is a supporter of traditions, and his brother, Giles Grimm, who lives in the basement under the school's fabulous library, is the custodian of the Asylum of Lost Tales. And he knows the fate of fairy tales that have ceased to exist …
The key event around which the plot develops is the separation of school students into Renegades, led by Raven Quinn, Daughter of the Evil Queen, and Heirs, led by Apple White, Daughter of Snow White. The apostates are sure that they have the right to choose their own destiny, while the Heirs are sure that they were born to embody the stories of their fabulous parents.
If the Departed refuse to follow their fate, the fate of the Heirs will be under threat. In the fairy world, as in the world of people, good and evil are interrelated and do not exist without each other.
The history of the school Ever After with the adventures of the Apostates and the Heirs is presented in the books of the American writer Shannon Hale, whose fame was brought by the princess academy for teenagers.