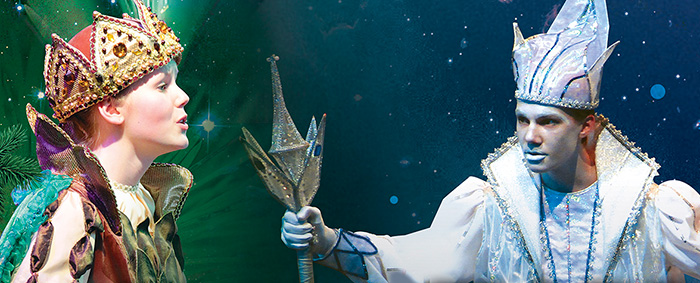 All actors of the performances are graduates and pupils of the College named after GP. Vishnevskaya, which gives the performances a special educational value.
Looking at artists who are not much older than them, young viewers will make even more efforts in their studies and creative development, so that, perhaps, someday they will perform on stage themselves.
Before the performance, viewers will be able to participate in an interactive educational program and join the process of preparing the performance: to see and participate in vocal and acting lessons, making costumes and scenery, as well as try the sound of musical instruments of young artists.
The program includes miniatures by composer Alexander Büchner (on the libretto by A. Fedorov-Davydov):
It has long been time for spring to come, but Tsar-Ledysh with his servants — Blizzard, Snowflakes, and Ice –– all lutuet: it is not giving way to spring, it is angry, it freezes everyone. So the boy Kuzu, who came to the forest for firewood, grabbed it and turned it into an icicle so that the rest were discouraged.
In search of Kuzi goes his sister. And it would freeze her evil Tsar-Ledysh, but she met Spring in her happiness.
Spring decided to help the girl and kindly asked Ledysh to defrost Kuzyu and give her a place, as it was established by nature, but it was not so easy.
Room naughty girl Lida, who went with her parents for a walk. The revived toys complain about a hard life: the little mistress doesn't love them at all, tears off their hands and feet, tears, throws them into the water. Having listened to the conversation of toys, the King-Fir cone appears in the room, who tells them how Lida saved his life and helped the whole forest.
His story is very surprising dolls: it turns out, capricious and self-satisfied Lida can be kind and responsive. But they are very offended and still do not want to be friends with the girl anymore.
Date: April 1 at 14:00.
Address: Moscow, Kremlin, State Kremlin Palace, Diplomatic Hall.