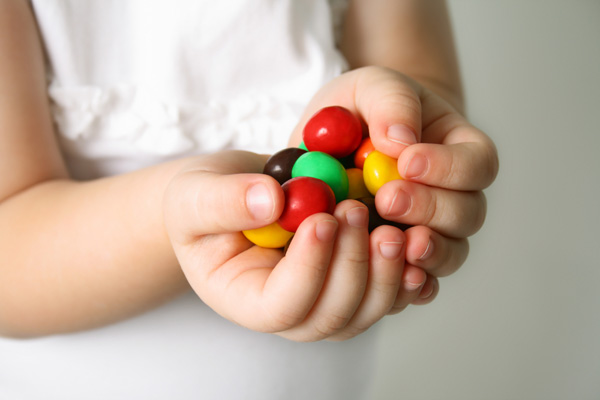 We all, from young to old, adore sweets, everyone has a favorite variety. "Sweet to children is harmful" – we got used to thinking. And really, what is good about these candies?
They are 95% carbohydrate, that is, sugar! Little use, it is true.
But do not forget that babies have a congenital adherence to sweets – because mother's milk is sweet to the taste. Scientists are well aware of this. They observed how newborns enjoy drinking sweet-tasting milk with pleasure, and if the milk is sour or bitter, they make a displeased grimace.
Growing up, children continue to love sweets. But do not worry – the addiction to sugar can not be formed.
It is proven. And a little sweetie with your help will discover other tastes.
It's no secret that there are no useful substances in candies. No calcium, no vitamins.
We expect nothing but pleasure from them. First, the pleasures for the eyes: red, yellow, green, variegated, they can be of funny shape – small round balls, snakes, etc. Secondly, pleasures for the ear – when they crunch, crackle and hiss in the mouth.
Thirdly, pleasures for touch – when the candy becomes so smooth on the tongue, and nougat – soft and volatile, like gum. But no matter how attractive and tasty they are, you should always follow the rule number one: eat sweets only after eating!
This is a moment of pure pleasure: the child relishes the candy just like you – a cup of coffee. If he eats candy before meals, he will partly satisfy his hunger and risk losing his appetite. And another important rule: do not use candy as a reward.
Food should not be manipulated in any form – either in the form of vegetables or in the form of sweets. Similarly, food cannot be a substitute for feelings and emotions.
If you want to encourage or punish the baby, express it in a different form: with words, gestures, facial expressions.
Alas, yes! Especially caramel, which is stuck between the teeth. But caries is a complex disease caused by many factors.
In the first place, its occurrence is influenced by innate predisposition. Some children eat a lot of sweets, but they do not have caries.
Others rarely eat sweets, but they have to visit their peers more often.
Then – oral hygiene. Ideally, it would be good for a child to brush his teeth after each candy, which, of course, is difficult to do.
If you are on the road or for a walk, give your child kefir or sugar-free drinking yogurt after the sweets in order to at least minimally "clean" the teeth. And if the child is already 5−6 years old, you can give him a chewing gum without sugar.
And finally, you need to take into account the number of products containing sugar, which the child eats during regular meals, – cottage cheese, buns, fruit.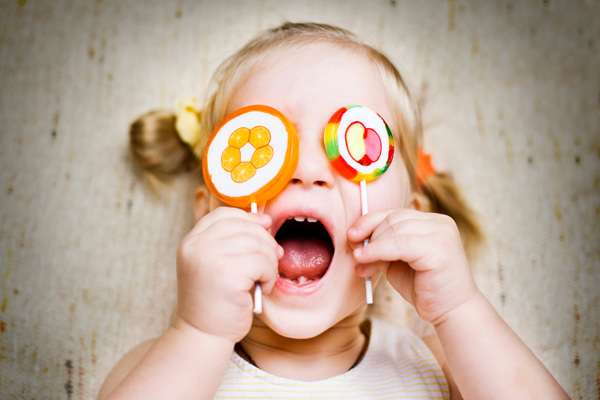 Candy contains some calories. 1 gram of sugar – 4 calories. One candy can contain from 10 to 40 calories, depending on the variety.
Not so much! Children are able to regulate their caloric needs, unlike many adults, they are more instinctive creatures.
Do you think your child is too plump? Some children do have problems with being overweight. The pediatrician will be able to notice this by tracing the dynamics of weight in the child's medical record.
If such a problem arises, it may mean that the child's eating behavior is disturbed. This may be due to some features of parent-child relationships.
Of course, you should not completely forbid him to eat sweets, focusing attention on excess weight. But you have to carefully monitor their quantity and, of course, give sweets only after a meal.
And here a personal example is important: none of the family members should abuse the sweet in front of the child.
So, what could be dangerous about these candies? Nutritional supplements? Choose sweets that do not contain them.
Sugar, which make candy, worse than regular sugar? There are only three types of sugar that can be absorbed by the body: lactose, which can be eliminated because it is milk sugar, glucose and fructose. Do you think that sugar or agave juice has better quality sugar?
But they contain the same fructose molecules as candies! If your child is not allergic to sweets and chocolate, you can safely indulge your child … taking into account our advice.
The only real danger is when the candy gets into the airways, which the child already has than the adult. This is especially true of hard and smooth lozenges: it is better not to give them at all to children from 5 to 6 years old.
If you want to limit the child in sweets, do not remove the candy vase overnight. Gradually replace sweets with dried fruit, yogurts, juices.
Wean guests to come with packets of sweets, warn relatives about your plans, who are looking after the children in your absence. Offer the child more than one big chocolate bar, but 2–3 small ones — it may not eat everything.
If she is alone, to finish her is a matter of honor.