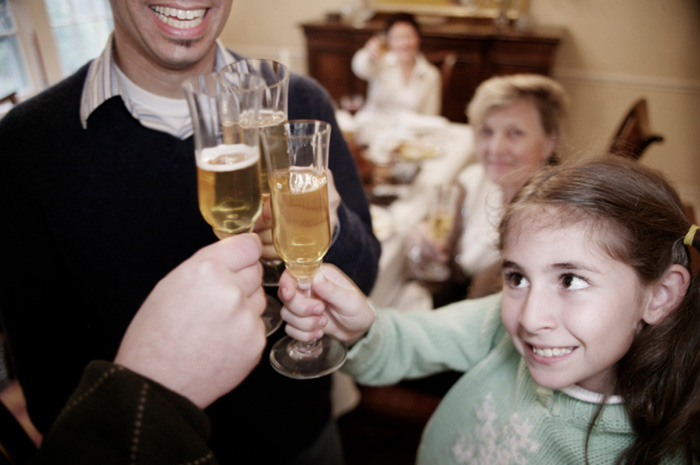 And in fact, if a 10-12-year-old child seems to be old enough to go to bed later than midnight once a year, can he be allowed to take a sip of champagne?
Statistics suggest that Russian children try alcohol for the first time between the ages of 10 and 13, and recent surveys in Moscow schools confirm this. Most sixth-graders have already become acquainted with the taste of beer and wine, and for the first time their close relatives were treated to alcoholic beverages — for example, dad or grandfather.
It would seem okay. But a recent full-scale study, which was attended by 25 thousand respondents devoted to the tolerance of Russians to alcohol, revealed a clear pattern: the earlier a person tried alcohol, the higher the probability of getting used to it in the future.
"I see such patients every day," says the psychiatrist-narcologist at the Narkomed center, Alexander Sokolov. – Alcoholism is considered a disease of adults, and for the entire 22-year practice I have had less than a dozen patients between the ages of 20 and 25. Nevertheless, it is characteristic that almost all my patients made their first sips in 14 years. "
It is believed that alcoholics are systematically drunk people. And how to determine this systematicity?
For example, there is an opinion that if a person twice a month allows himself a glass of wine, this is already the initial stage of alcoholism. But in many cultures this rule does not work: for example, the Italians drink wine every day at lunch and at dinner, then they get behind the wheel and drive home normally, while not counting themselves drunkards. In the Caucasus, wine is traditionally loved and valued, and there, by the way, it's in the order of things to give children to try it at a fairly early age.
Tellingly, the percentage of alcoholics in this region is small.
The main prerequisites for alcoholism are genetic predisposition, social environment, and family relationships. The latter is very important. If the atmosphere in the family is confidential, then the teenager is unlikely to go looking for pleasure on the street.
When he is busy in circles and sections, he has no time for dubious companies. But children deprived of affection and attention from dysfunctional families, from orphanages are the most susceptible to alcohol.
In this case, most often they simply do not understand all of his cunning.
"It is very important to explain to a teenager," says Alexander Sokolov, "that alcohol is not safe, it should be treated with caution. It is not forbidden to try once, but it is necessary to explain that if you drink constantly, you can become dependent on alcohol. Just pay attention of the child to the homeless in the yard, tell us that they were not always such that bad habits brought them to the homeless life.
And we must do everything possible to avoid their formation. "
Baby champagne is not as harmless as it may seem. Psychiatrist and narcologist Alexander Sokolov is absolutely convinced of this: "Yes, it's just lemonade in a festive packaging, a good marketing ploy, addressed to parents who want to create an atmosphere of a real holiday.
But an undesirable behavioral attitude is formed in the child's brain: a holiday without champagne is not a holiday. In my opinion, inappropriate thought for 5-10 year old children. "
Psychologist Yekaterina Dolzhenko fully agrees with the opinion of the narcologist: "by and large, there's no misfortune from a sip of champagne on the New Year. But if a child, seeing his dad with a bottle of beer, every time he asks to be treated, that's wrong. "
There is not and cannot be a recipe for how to save a child from addiction to alcohol in the future. But psychologists have a wonderful phrase: educate yourself, not children! If the parent does not have perverse tendencies, then the child will most likely not have much interest in this topic.
And if, when you come home, with the words "what a difficult day it was!" You pour yourself a glass of wine, you demonstrate how to relieve stress with the help of alcohol.
A family in which it is customary to celebrate with a bottle every holiday, "washing" purchases creates a bad pattern of behavior. There is no need to formulate in children the habit of "drinking up" the problem, because in fact alcohol makes it possible to forget the question and not to solve it. Because the child who grew up in a family with such a mentality, in any stressful situation, first of all comes to mind: "I have a saving bottle!"
By the way, in families with drunk dad and mom there are also reverse examples. Psychologists call this phenomenon "the depreciation of the values ​​of parents." Having watched drunk parents, a child or teenager decides for himself that he himself will never drink.
Sometimes a "addiction" is formed: a girl who grew up with an alcoholic father is more likely to choose a partner in the future as a drinker, because she knows how to manage it on a subconscious level.
The situation of double standards is undesirable when the topic is tabooed, but at the same time there is a rare celebration without alcohol in the family. This attitude will not save, but, on the contrary, will convince the child to find a way to try alcohol at another time and in another company.
And when a 15-year-old teenager returns home drunk, this is another level of the problem. You can not close your eyes to this, in this situation the reaction of parents is extremely important. If he is scolded, humiliated, perhaps he will not repeat this: a second, more likely scenario: he will conclude that it is more important to hide the consequences of intoxication, and will not think about the dangers of alcohol.
But if parents ask why this happened, this could be the beginning of a dialogue. You need to understand why a child got drunk – for a company, or it was boring, or he didn't know what could come of it.
It is very important that the child can talk to parents on topics important to him. But building partnerships should not begin at 15, but much earlier. Trust your child and he will trust you.
If your son or daughter does not find understanding in the family, then there will be another environment in which they will be more comfortable. And when a teenager knows that he is truly important and interesting to parents, it will be easier for him to survive mistakes, avoid temptations and grow into a self-confident person.