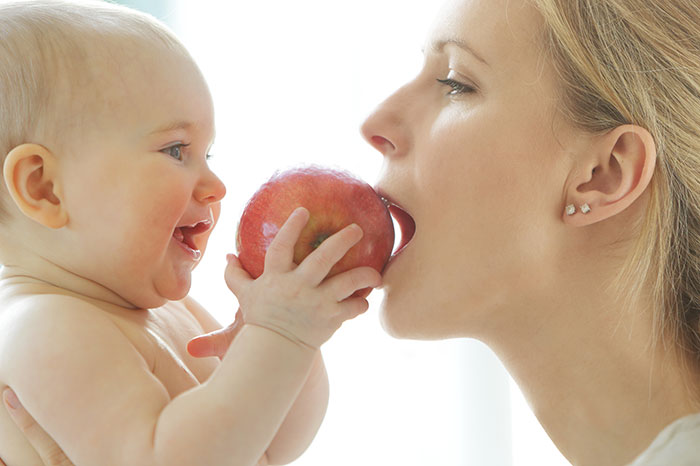 A child is 1 year and 3 months old. He has 11 teeth, but he categorically refuses to chew: fruits and vegetables are bitten off and spat out, and fish and meat are simply swallowed in large pieces.
How to teach him to chew?
Marina, Vladimir
Each age has its own consistency of dishes, and the child must go from completely homogenized to adult food. When a baby has teeth, he learns to use them: first he keeps food in his mouth for a long time, getting used to new sensations, and only after that he learns to chew. At this point, it is important to help him learn to enjoy food.
For example, a mother can set a personal example and demonstrate her delight to a child. It would also be good to arouse interest in "adult" food, beautifully arrange the dishes.
Try to avoid some common mistakes. Do not praise the baby if he spits out a piece of food, otherwise he will think that his mother is happy with what he has done and will repeat it again and again in the hope of praise.
It is also important to achieve unanimity in matters of food and table etiquette: if the father allows him to do what the mother forbids, the child will not have clear guidelines. Some children spit out food in protest or to attract the attention of adults.
Try to figure out what the baby really needs.
Our baby is 2.5 months old. How to use the vapor tube for colic and constipation?
And how often can this be done so that the intestines are not used to "outside help" and refuse to work independently?
By email
To enter the vapor pipe in two ways. In the first case – into the rectum by gentle twisting movements to a depth of 8–10 cm.
More often than not, colic is relieved by children with disorders of the digestive system. Another way is by 2–3 cm and several times moving it back and forth without removing it from the anus. There are no restrictions on the frequency of such manipulations, the tube is used as needed.
The main thing is to do it carefully and before the introduction it is necessary to handle the tip with vaseline oil.
Can a newborn baby be infected by an older brother who will have DPT vaccination?
Zhanna, Novosibirsk
Vaccines are live and inactivated. The first ones contain a weakened, but alive virus, the second – only its particles. Live vaccines include polio, measles, rubella, mumps and some others.
This means that a healthy child can become infected from a baby who has recently undergone such a vaccination. To avoid this, it is enough to follow basic rules of hygiene, that is, regularly wash hands. Inactivated vaccines include pertussis, diphtheria, tetanus (that is, DPT), pneumococcus.
In this case, there is no risk of infection.