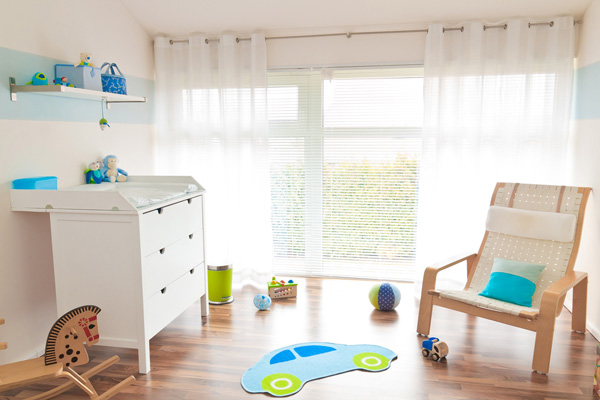 Dressers come in different shapes and sizes. Narrow chest of drawers, of course, more compact, but dressing the baby, lying across the chest, is not very convenient, especially since between him and the mother in this case is a protective board. Therefore, for such models it is better to provide an opportunity to approach from the side.
A wide chest of drawers will take more space, but it is more spacious and more convenient to use. There are also dressers with a folding changing table and dressers with trays (these are very popular in Italy).
Thanks to the caster wheels, Mom can move it around the house on her own. If such a chest of drawers easily fits in the bathroom, then it goes there for the time of bathing.
If you prefer to bathe the baby in the nursery, for convenience, you can push the dresser to the middle – it will save both the wall and the bed from accidental splashes. Need to move the chest to wash the floors beneath it or get a fallen thing for him? With wheels it is not difficult.
Upon arrival at the child's safety site, the wheels are securely fixed with blocking brakes. Access to the bath is carried out in two ways. In the first case, you need to lift the hinged lid with the changing mat on it and bathe the baby in the bath, located inside the dresser.
In the second case, the bath is retractable, which is much more convenient for the bathing person (it is not necessary to lower the lid after bathing and lay a diaper on it with a crumb) and it is safer for the baby (the table cover is guaranteed not to fall and not hit it).
After the end of the water procedures, the child is simply transferred from the bath onto a table on which a diaper and change of clothes are already prepared, is wiped and dressed. The combination "chest of drawers – bath", of course, convenient and has many advantages. However, attention should be paid to possible drawbacks.
Not everyone wants to spend every time the effort to fill the bath with water and then drain it, especially if the bathing is carried out in the room. Despite the supplied hoses and drainage pipes, you will have to run around with buckets.
And also: in order for the bath to fit in the dresser, it is made too small, so it will not work for a long time. In addition, despite the water-repellent coating, wood may lose its attractive appearance over time due to the constant exposure to moisture.
The durability, elegance and beauty depend largely on the material from which the chest of drawers is made. The best chests are usually made from valuable breeds of natural wood, such as beech, walnut, birch, maple or cherry. When choosing, be sure to keep in mind that furniture made of different wood species has different properties in use.
For example, pine chests are one of the cheapest, while pine is one of the softest types of wood used to make furniture. On such a dresser there will be more scratches, and when the baby begins to move independently around the room and explore the world "by touch", such a dresser can very quickly lose its original appearance. Children's birch furniture is much stronger, harder and more durable.
However, the most durable furniture is still considered beech. Beech is a noble and solid wood, so such a chest of drawers will retain its original look for a long time and will decorate your baby's room.
Remember also that any new furniture initially has a specific industrial smell. Therefore, be prepared for the fact that you just bought a chest of drawers will have to spend some time in a well-ventilated room (ideally up to 2 weeks) to save your baby from allergies and other troubles.
This is partly why changing chests, as well as other children's furniture, are made to buy in advance, at least ten to fifteen days before the appearance of the crumbs in your house.
To children's dressers, as well as to any other furniture for a children's room, special safety requirements are imposed:
the dresser should be made of natural, environmentally friendly material;
it should not have sharp protruding parts and glass inserts, so that the crumb could not get hurt about them while playing;
he must be stable so that the naughty baby cannot accidentally knock him over;
metal fasteners and bolts should be safely hidden from the prying eyes of the child.
If we talk about the design of the dresser, then, like all children's furniture, it should have a calm color, better than wood shade. Otherwise, the baby will quickly get tired, being in his room.
Many manufacturers decorate the front panels of children's dressers with drawings or applications to create a warm, cozy atmosphere of childhood and carelessness. It is also good if the surface of the dresser is easy to clean, designed for daily wet cleaning.
It is better if it is light, so that the slightest pollution can be seen on it.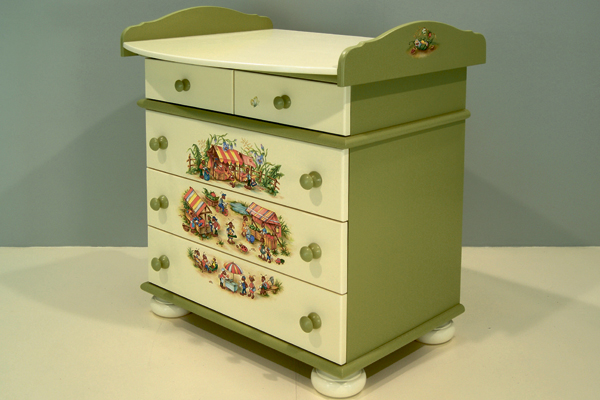 Ant's Village Removable Changing Table Top
Collection Willie Winkie, Woodright
Material: completely solid natural wood. Eco-friendly hypoallergenic paint. Hand art painting.
The chest of drawers is available in two sizes: height 900 x width 840 x depth 440 and height 900 x width 840 x depth 560.
77 300 rub. (chest of drawers 440 cm deep), removable tabletop – 6800 rubles. www.woodright-kids.com, children's sections in the stores Grand, Three Whales, Armada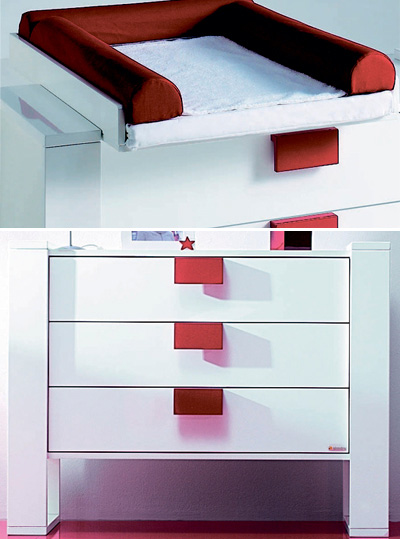 Chest with changing pad Alondra Red
Chest of 3 drawers.
Size: 116.8 x 90.8 x 51.5 cm. The changing unit consists of wooden and soft linings (15 x 60 x 90 cm)
Chest – 66 490 rubles, wooden cover – 6790 rubles, soft cover – 10 790 rubles, Kangaroo salon chain, www.keng.ru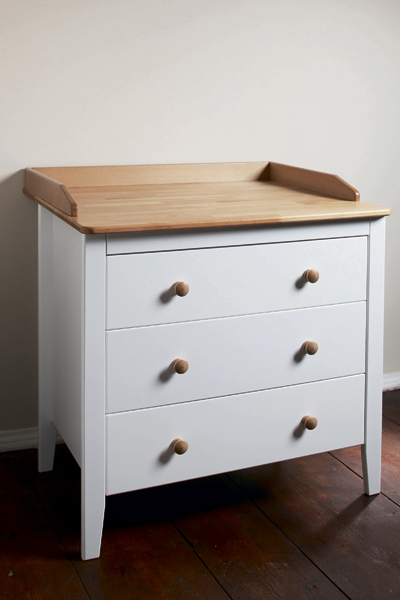 Changing chest LANA, LIP POLJCANE
Material: natural wood – beech.
Quite an interesting model with a wide changing surface (removable) and three retractable drawers.
Monophonic and color (a color average box thanks to which it is possible to pick up a dresser in color to any bed).
Size: 94 / 55.5 / 57 (75) / 88.5 (95.5) cm.
14 990 rub., Centers of motherhood and childhood "Olant", www.olant-shop.ru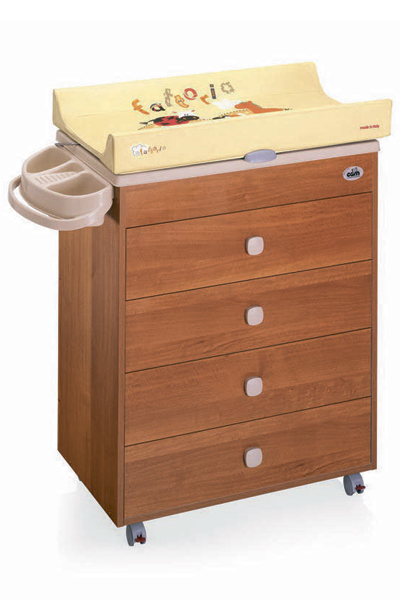 Wooden chest of drawers on wheels, with four drawers for children's clothes. The top is set anatomically shaped bath with a drain hole, accessories tray and changing mat.
When the child grows up, you can remove the bath and the mattress and, having covered the tabletop, use the dresser for its intended purpose. Commode Cam "Asia" is made of high-quality harmless materials, in compliance with European standards, convenient and safe to use.
Size: 100 x 97 x 50 cm
From 9500 rub., Www.deti77.ru www.m-detstva.ru www.dlyarebenka.ru www.kolomenka.ru www.karapuzam.ru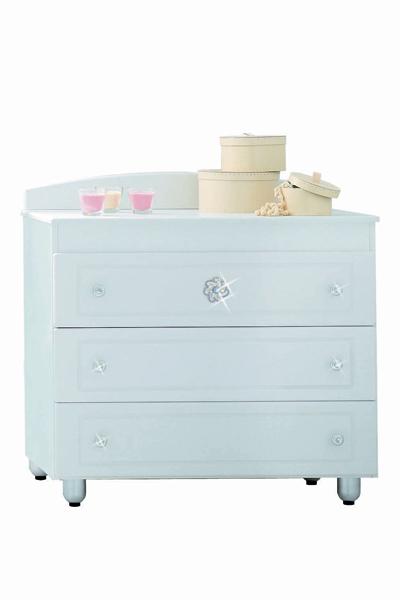 Baby Expert dresser, Gioello collection
Includes a changing pad and bath. Available in white and cream.
Inlay with Swarovski crystals.
52 490 rub., Kangaroo salons network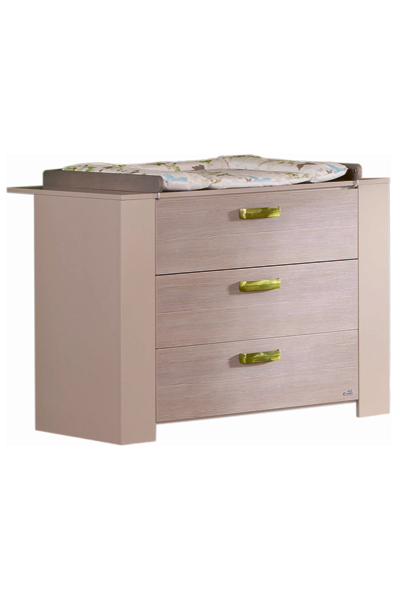 Geuther dresser, Stone collection
Included – changing pad. Delicate texture finish of Italian pine.
Metallic green pens.
From 31 010 rub., "Olant" store chain, design studio "Pinocchio", "Bebilend", shopping center "Grand"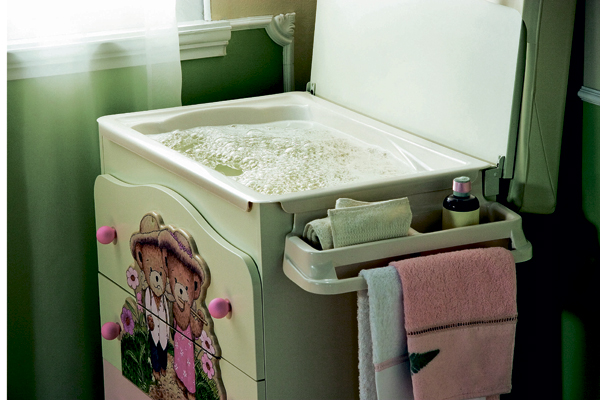 Changing chest with bath Giramondo, ERBESI
Material: beech. 4 boxes. Equipped with a bath.
Foldable changing board. Toiletry shelf on the side of the dresser. Wheels with lockable brakes.
Changing mattress, bath and shelf are removed.