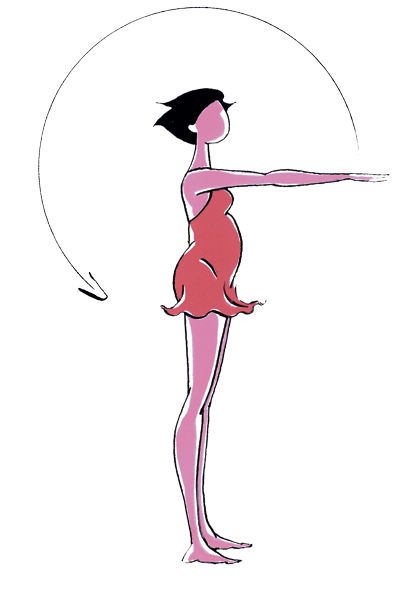 Standing position, feet shoulder width apart. Straighten your back, raise your straight arm and rotate it backward.
Your torso and head should follow your hand, and your legs should remain motionless. Perform 10 "circles" with one hand, then the same – with the other.
During the exercise, slowly count silently to 8, each "circle" should start at the expense of "once" and end at "eight". "Circles" train the spine along the entire length.
Lie on your back, bend your knees slightly and put pillows under your shins: legs should be 15-20 cm above your head. Place one hand on your stomach, the other on your chest, in the solar plexus area. Take a deep breath with your nose, puffing up the abdomen (you should feel the movement of the abdominal muscles with your palm), hold your breath for 1-2 seconds.
Then slowly exhale with your mouth, slightly clenched lips, as if blowing a candle (you should feel the movement of the abdomen down with your hand). Exhale, hold your breath for a few seconds. The chest should remain motionless.
Repeat breathing exercises for 2−3 minutes several times a day, it is useful for the lower back muscles.
Do not change position, but straighten your arms along your torso. This exercise to relieve tension in the muscles of the neck with the help of movements of the nose. Imagine writing a letter with the tip of your nose: for 3-5 minutes, carefully draw imaginary sentences.
The letters must be large so that the movements of the nose are directed in different directions.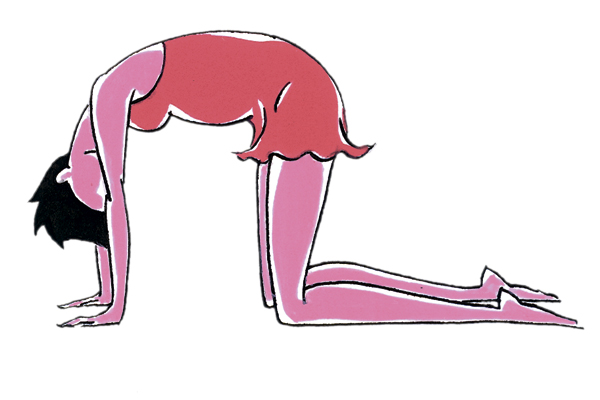 Stand on all fours, place your knees under the hip joints, wrists – under the shoulders, move your shoulders back, opening the chest, feet relax. Take a deep breath with your nose, bend your back, lowering your stomach to the floor, and pull your crown forward.
As you exhale, round the back, pull the forehead and the pubic bone towards each other. Repeat the exercise 12 times, observing a slow pace and deep breathing.
The contraction and relaxation of the back muscles prepares the spine for additional stress.