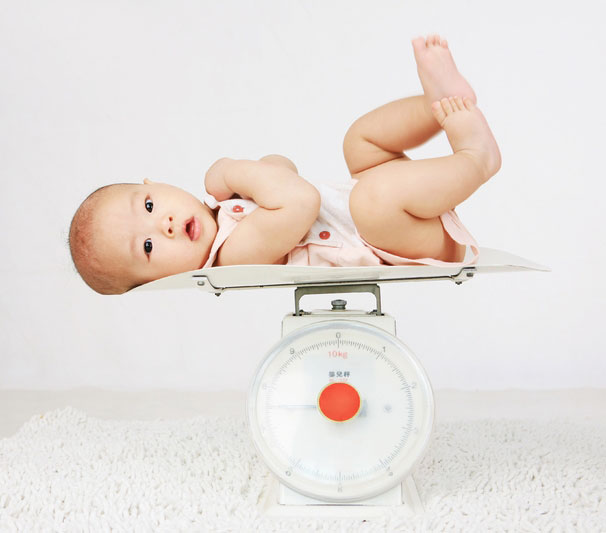 If up to a year a child gains weight "by leaps and bounds," you should tell the doctor about it. By 2-3 years, a big increase can be a big problem, especially if there are already cases of obesity or diabetes in the family. Excess weight may appear not only in infants who are fed mixtures, but also in infants.
Often, mothers themselves overfeed children – when, in an effort to feed on demand, they are applied to their breasts every half hour – an hour. The child's stomach, not having time to get rid of the former portion of milk (it takes 1 hour and 20 minutes), gets a new one; its walls are stretched, and the baby eats more.
Together with an excess of milk, the baby gets too much protein, which helps children to gain weight quickly.
If for infants the interval between feedings should be not less than 1.5 hours, then for the "artificialities" – at least 2–3 hours. It is important to prepare the mixture according to the instructions: if you dilute it thicker, the crumb will receive an excess of nutrients.
Later, the child may gain extra weight due to the fact that he is too late or incorrectly given complementary foods. It is necessary to begin in terms which are indicated by pediatricians, that is, no later than 4–5 months. Fat kids fruit and vegetable "gains" will be especially useful: their caloric content is lower than that of breast milk or mixtures.
But the cottage cheese and meat should be given to children carefully, so as not to overload the body with protein: no more than 50 g per day of each product.
How to understand if your baby has excess weight?
Only a doctor can determine this accurately, because small deviations are permissible. Each child develops at his own pace, and to keep this process under control, pediatricians are advised to bring a small one to the examination every month.
How quickly a baby should gain kilos depends on a number of conditions.
Birth weight
If a newborn was born weighing 3-4 kg, then by 6 months its mass is likely to double, and by the year it will triple. For large children (more than 4 kg), this figure will be lower, and for babies weighing 2.5 kg or less, by the year it is possible to increase the rate by 4 times. But in any case, if a child weighs more than 12–13 kg a year, this is a reason to examine him.
Gender and height
By the year children weigh an average of 10.5 kg with a height of 75 cm. At the same time, boys can be heavier than girls, just as tall children are ahead of short ones in height and weight.
Other indicators
Not only standards are important, but also how harmoniously the child develops. Doctors make a conclusion about this, taking into account, in addition to weight and height, the circumference of the head and chest and correlating them with each other using centile tables.