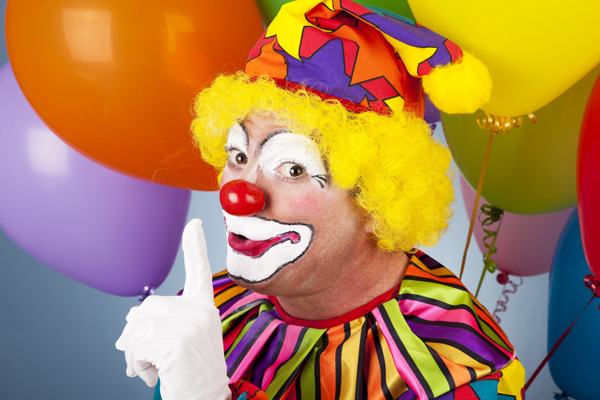 "When at my children's party my son saw that a clown was coming up to him, he started screaming and clutching my legs," recalls the mother of three-year-old Anton. "He saw a clown for the first time in his life and was scared to death!" Some kids are horrified by characters whose appearance is far from familiar. And clowns, and people in carnival costumes, and dolls in the puppet theater, and even Santa Claus can cause the most unexpected reaction. Educators who work with small children confirm that there are at least 2–3 children in the group who fall into a real panic when they meet up with make-up, unusually dressed artists.
Therefore, it is worth paying special attention to the preparation of children for the visit of a clown. Ask him to come "in civilian" and, if possible, to make up and put on a suit with children.
Kids will be able to observe all the metamorphoses, which will help them to understand the origin of this strange creature. Still, some children will feel uncomfortable.
This usually applies to more sensitive, anxious and fearful babies.
If the baby is frightened, having first met a clown, you should not immediately consider him a coward. The knowledge of young children about the world is very limited, and they may perceive the invasion of something new, unusual as a threat to their security. Imagine a Martian rushing into your living room!
How will you feel? The appearance of a clown (or just a person in a carnival costume) "turns over" the familiar world of the child, goes against his ideas about the "creatures" already familiar to him. Even if you just hide your face under the mask, the baby may be frightened.
He is not sure that you still exist there, behind this mask, and he is afraid that he will no longer see you. What can we say about a creature with a huge mouth, an unnaturally red nose, in a suit of screaming colors and giant boots. In addition, it still jumps and noise.
It is not surprising that the child perceives this "phenomenon" as a threat and tries to escape from it by all known methods.
Start telling fairy tales to your child (there are collections of "fairy tales for the little ones" that are great for children of 2–3 years old). So he will be able to dive with fictional stories with you and eventually learn to distinguish fiction from reality.
Play clowns with your child – wear hats, paint your face, change clothes – so the child will know that you can change your appearance. And most importantly, he will understand that under the most bizarre makeup and incredible costume hides an ordinary person.
Together with him, make a half mask out of cardboard, which cover only the eyes. Try on them, let the baby stay in the mask for as long as he sees fit. Offer him to arrange a doll carnival, dress up dolls and make masks for them.
You can also buy a toy clown and invite your kid to invite him to a doll holiday.
Let the dolls appear with you at home, with which it is easiest to handle: – finger dolls, glove dolls. Every time you play with these dolls, put on and take them off in front of the child.
Most likely, the child will be delighted and will certainly want to take part in a puppet show.
Often this first reaction softens over time and gives way to restrained curiosity. And sometimes fear remains.
In 2-3 years this is completely normal. Your child does not yet distinguish the real from the imaginary. He believes that monsters, sorceresses and cannibals really live in our world, and under certain circumstances you can meet them.
He also perceives the clown as a special magical creature. He sees that the clown behaves unusually, emotionally, does strange tricks – it fascinates and frightens a small child.
Clown gestures and intonations are so exaggerated and brought to the point of absurdity that the child cannot find any similarity between himself and the clown.
This strange creature that runs and waves his hands, laughs and cries loudly, actualizes his deepest fears in a child. And at the age of 2-3 years they have many children, especially those associated with extinction, absorption.
And the clown with his strange face, which seems unlikely to be human, for some time reinforces this sense of existential danger. Such fears, hidden in the depths of the child's soul, in the form of formless, objectless anxiety, appear on the surface when the child is confronted with something that embodies a threat to him. For one child, this is the Gray Wolf; for the other, Baba Yaga; for the third, a clown.
Fear finds the object, it becomes more conscious, so that the child can "present" it in a way that is understandable for themselves and others. It is much easier for a child, and an adult, to deal with something concrete than to try to cope with the fear of something vague, dark, having no name.
Whatever the fear of the little child, it is very important to understand that your crumb needs you to overcome it. Always respect the experiences of the child, even if they seem ridiculous and unfounded to you. Adults often underestimate the significance of a child's emotional life, considering fear and anxiety merely as childish "whims" that do not deserve special attention.
Whatever your child is afraid of: circus clowns, Santa Claus, evil fairy from a fairy tale or a big Gray Wolf, these are his feelings and experiences. And we cannot doubt them, let alone ignore them. But do not rush to the other extreme, showing the child an excessive concern about what is happening to him.
So you add to your anxiety also your own, instead of maintaining in him the confidence that you are strong parents, always ready to cope with any of his fears.
Impressive, emotional and excitable children fear clowns the most. Some of them and having matured will not be able to get rid of hostility, so strong are the negative emotions experienced in childhood. So, Elena, the mother of a child of two and a half years, still remembers her terrible childhood impressions of the circus: "I adored animals and acrobats, but when clowns went to the arena, I was gripped by incredible anxiety.
White scared me with his bluish face – I thought it was a ghost. And Red was no better. For me, both of them were "evil."
So I firmly decided not to take my son to the circus until he grew up. " Indeed, it does not make sense to force a child who is scared to watch the performance in a puppet theater or circus until the end – because it is "funny", "interesting" or simply because we paid for entrance tickets and specifically asked for it from work to attend the performance !
Quite often, when we want to please a child, we are guided by our own ideas, without taking into account his capabilities and desires. And we buy tickets, because we believe that the crumbs there will be very fun.
But noisy performances or holidays may not suit your child by age.