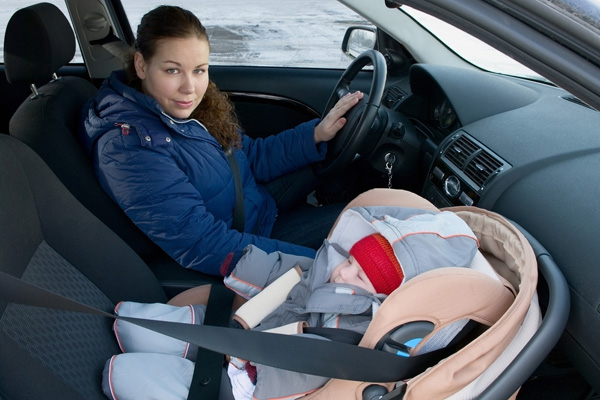 According to the statistics of the traffic police of Moscow, over the last 10 months of 2007, 1071 children were injured on the roads of the capital in 1051 road accidents and 23 died. In these accidents, 327 children were passengers at the time of the accident.
Of these, only 86 children (only 26%) were in special child restraint devices or were wearing seat belts.
While the probability of falling into a serious accident is relatively small, even the minimal risk always remains a risk. "Injuries can be sustained by a kid even during normal heavy braking at relatively low speeds," says Igor Koloskov, senior inspector for special assignments of the traffic safety promotion department of the Moscow city traffic police. – There is another rather dangerous misconception that in the hands of an adult the kid will be safe when transported in a car. This is not true.
During emergency braking, passengers inertia are thrown forward: on the front seat of the car or the windshield. At this time, the adult continues to pull the child to him, trying to keep.
As a result, the force of the load increases even more, the baby's spine is pulled out and the risk of injuries to the cervico-thoracic region increases. In addition, at the time of the collision, the weight of a person's body increases several times, and an unfastened adult can crush a child in a child's chair.
That is why it is so important that both adults and toddlers are fastened while driving. "
Unfortunately, many motorists still ignore the mandatory requirement of finding a child in a special restraint. "The deaf misunderstanding of the overwhelming part of the driver's community of this problem is surprising," says Igor Koloskov. "Parents do not want to understand that these new rules are not a whim of the traffic police, but a guarantee that their child will at least receive less serious injuries during an accident, but his life will be saved as much as possible."
Most often, inspectors hear the following parents' excuses on the roads: "I was just going to the store behind the seat, and you stopped me" or "I don't have money for a car seat now." Another common excuse is: "My child does not want to sit in a chair, is naughty." "But what does not mean? – continues Igor Koloskov. – If the child does not want to eat soup, but only sweets, no one will only feed him sweet? Any mother can find an approach to her baby! "Sometimes we have to deal with overt aggression:" I want it and drive it, this is my child. " "But who benefits from all this? – says Igor Koloskov. – After a serious accident, my mother is ready to buy at least ten of the best chairs, but it will be too late.
Is it really necessary to bring the situation to the point of absurdity in order to understand how serious all this is? So there can be only one advice: buy child car seats, wear your own and remember that there is nothing more precious than the life and happiness of our children! "