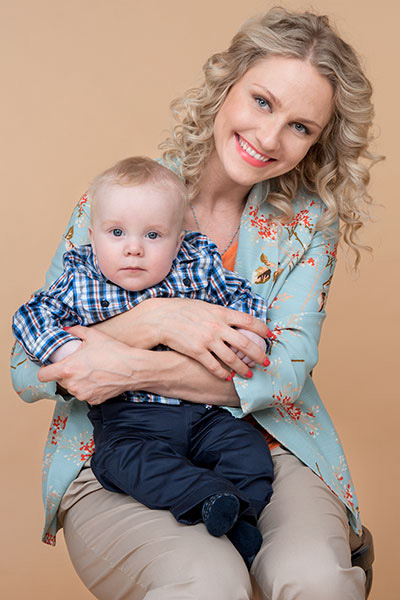 HAPPY PARENTS Katya, Daniel is still quite small, how do you manage to combine the role of mother with work?
CATHERINE GORDON With great difficulty. In general, almost nothing happens. I'm not only a journalist: in fact, my main child is the band Blondrock, where I am the leader and for which I write poems, music and sing songs.
The only pity is that this occupation cannot earn enough money … For work, I have only two working days and one day off. And at the same time quite a complicated system of substitution with my mother, who helps me.
Well, to be honest, while the son is so small, I have no particular desire to leave him for a nanny right now. I think it will be a stress for him and for me. Part of the responsibilities of caring for him, I will pass on to the nanny later and quietly, because my mother also works.
And now she really helps me out so that I can earn something, because I am a single mother and do not expect any help from anywhere.
S.R. Your divorce occurred during pregnancy. Probably not easy to experience stress in this already exciting time.
What advise future mothers who have fallen into a similar situation?
E.G. This was probably the most difficult period in my life.
Of course, when you are alone in the maternity hospital, the fathers of their child come to the women nearby, take care of them … A certain amount of stereotypes in the head collapses. In the hospital, a psychotherapist even talked to me, he brought me to life, because against the backdrop of a hormonal upheaval in the body, everything was perceived doubly sharply. Of course, it was hard to hold, but it was necessary to hold, because I had a child inside, and I knew that when, for example, a woman was crying, the baby's pulse rate drops and he moves less actively.
This is dangerous for the crumbs, and those fathers who do not understand that a pregnant woman cannot be so agitated are at least irresponsible. … But you know, in this difficult period, my big Moscow family helped me a lot.
S.R. Who is your family?
E.G. This is, first of all, my mom.
In general, she graduated from Moscow State University, and now works as a script writer (she wrote, for example, scripts for the series "Understand, forgive", "Trace") and teaches math. This is my stepfather – Danya simply adores him!
Always waiting for Nikolai to come to ride on it. I have a younger brother Vanya, he is married and he already has a daughter Martha.
And the head of our family is my grandfather, sailor, captain of the first rank. He is an example of courage and a real man. In general, we have a very friendly, ready to help all of their family at any time.
Therefore, if we talk about today, everything is gradually normalizing. Over the past year I was very sick of being a victim, and now I am firmly on my feet and I know what I want.
Today I speak about my situation quite calmly, because I am sure that this can help someone. And, honestly, I even have an idea to organize some kind of free lecture, of course, to call a good lawyer and girls there who find themselves in difficult situations similar to mys, where they would be told about their rights and advised how to act.
For example, did you know that, by law, a man during pregnancy and for three years afterwards is obliged to maintain a woman? And this is in addition to alimony.
Many problems arise precisely because we simply do not know about our rights.
S.R. All the events that happened lately with you, including the birth of Dani, somehow changed you?
E.G. I can not say that I have changed.
I am Katya Gordon, as I was. Rectilinear, maybe sometimes hot-tempered, but in fact – the same. That's what really changed – I became less self-centered.
Now, in any case, my son's interests come first. And yet: all these peripetias made me stronger. There is very little that can knock me out of the rut.
The rest is not scary to me. There were, of course, nights in tears in the hospital. I was terribly afraid when I was pregnant that I would be alone and that no one would meet me with flowers on the threshold of the maternity hospital.
No one met me, and I experienced it … And after a while it all turned out to be completely unimportant. The moment you stop feeling sorry for yourself and start loving someone else, it turns out that you can live and everything is fine.
For example, I really want another daughter. And in the near future, because I am 32 years old, and I still want to be in time.
If I soon meet a man who will love me and my son, face, with pleasure.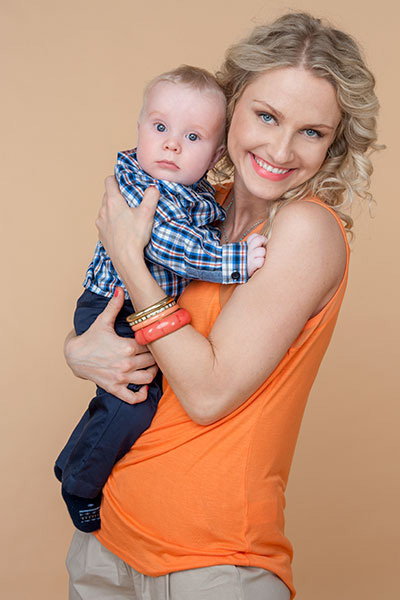 S.R. Tell us a little about Danya.
What does he look like? Is it difficult with him?
E.G. Danya looks similar to both of us, very much like her father (Catherine's ex-husband, lawyer Sergey Zhorin. – Ed.).
He quickly began to speak, or rather not to speak, but to utter some sounds similar, for example, to the word "mother." Earlier, time began to roar, to publish something similar to bird trills. And he is very gentle.
I am not one of those moms who believe that it is necessary for the child to sneak and just speculate in such a way that it will be picked up. I do not think that it is worthwhile to bring up such tiny children in such ways. If they want to handle, they should be taken and in every way create a feeling of comfort and love.
In my opinion, it is the disliked children who later do terrible things with other people. And for people who grew up in absolute love and warmth, it would not occur to them to throw someone in a difficult situation or do something disgusting.
I have such a small theory, and I recently find more and more of its followers. It is very important that children grow up in love. And we try to pamper him, to make Danya laugh more often.
I hope that I will continue to do this without being annoyed by twos or something like that. And the notorious sleepless nights with a baby … But there is nothing wrong with that!
Initially, when the body is still rebuilt, it is difficult, sleep for two or three hours, and the like. But now he is already sleeping six hours a night, which means that you can sleep quite well.
S.R. Many believe that in order to properly raise a son, there must be a man in the house …
E.G. I think that raising a boy in today's world is generally a big responsibility. But we have a man at home – this is my young and handsome stepfather, who has raised me and my brother for a while.
Therefore, with men in our family everything is fine. There are examples, and very worthy.
Again, I do not mind talking with Dani and his dad. Just dad himself does not want.
But you know, when I hear that the father does not communicate with the child, justifying it by the fact that his mother has a bad temperament, I do not believe in it, this is all excuses. For example, it is difficult for me to imagine a situation in which I would refuse to communicate with my child. You know, I really want our mothers in our country not to be afraid to be alone.
Because we have some sort of, almost tacit, but tangible, almost squeamish attitude towards single mothers. Some share of the fact that "I am guilty myself" is present in this.
In Europe, this is impossible. We have, if a woman was abandoned during pregnancy, it means that she is a monster in general.
Therefore, I think women should stop being afraid, and for bad deeds let the one who commits them answer. And if the father does not help the child, the mother is not to blame for this, but the father is to blame. And we have the opposite stereotype.
And women are sometimes just afraid to admit that they were left alone with the child. And there is nothing terrible about it; on the contrary, it even increases the scale of her small feat.
S.R. Do you have any basic principles of bringing up Daniel?
E.G. In my first education I am a psychologist-teacher, which, of course, does not make it easier for me to raise a child and does not mean that I know some truth.
But I believe in education by example. This is the main thing, but I don't have any universal rules.
The only thing I am a little keen on the theory of early development. For example, I really liked the book "After three is too late," which was written by one of the owners of Sony. It is about the fact that just before three years (although it is customary in the world to think that after) you should try your best to engage in the development of the child.
For example, giving him to listen to foreign languages, music, actively communicate with him, because it was during this period that the baby is extremely flexible and absorbs new information like a sponge. I think the sooner the better.
And Danya listens to me and loves the music of Rachmaninov very much, for example, she watches specially made videos for children about geometric shapes, children's cartoons.
S.R. And how did you understand that Danya likes Rachmaninoff?
E.G. He had a choice. I conducted an experiment, letting him listen to the works of several authors.
That is why he cannot stand Bach, immediately begins to be capricious. And Rakhmaninov's "Tenderness" is ready to listen endlessly, smiling and tweeting something in his own language.
As for further education … In addition to his own example, there are Christian dogmas, the correct literature. As a child, I loved to listen and when I was read, and all sorts of audio plays and children's songs.
Plus, my mother sang from childhood.
S.R. Do you sing to him?
E.G. I sing.
And he even sings along. He likes everything! He looks in the face and guesses what condition I am in.
And I am amazed how sensitive children are, how they catch the emotional background. You can smile at him, but if cats scratch at heart, he will read it.
Therefore, I can give advice to novice mothers: try to come home in a good mood. That is, if you feel bad, sit with a friend in a cafe, chat, but at home you need to be happy.
In addition, at home there is a huge reason for happiness – your child.
S.R. What kind of adults would you like to see Danya?
E.G. Most importantly, I want him to never experience a lack of love. So that he knows that he is caressed by the world, that the world is not a terrible energy cesspool in which you need to stretch out until Saturday to sleep.
I do not care who he will work and how much he will earn, I just want him to understand that you need to do something that brings you satisfaction and does not contradict conscience. This is probably the basic principle, because, for example, at the age of seven I knew for sure that I wanted to be a rock musician.
But I was told that this is not a profession, you must first learn this and that. And I studied, spent time, grew up and thought: damn it, but I still want to be a rock musician.
I can say quite sincerely: as it turned out at the age of 30, I never enjoyed working on television. This is not mine at all; it's not a thrill to me. Now I work on the radio and I also understand that this profession just brings me money, that's all.
Fair. And, if sometime music will bring me money, believe me, I will leave journalism.
However, I think everything happens for a reason, so that I would not relax, not dissolve. Now I, like a frog, beat the butter and advise everyone not to lose heart, because a child is happiness.
And don't let anyone take that feeling away from you!