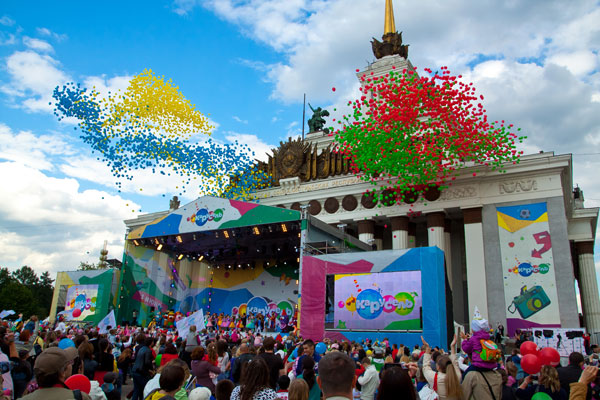 The holiday will unfold on a variety of venues, the central stage of which will be the large stage in front of Pavilion 1. Popular performers and stars of the Carousel channel will perform here all day: Berilyaka, Fairy Violet, Kalyaka Malyaka, Strekotusha, fashionist Agata, Count Batiskaf and pirate Sharkiyev, Vitaminka, Pedestrian Inspector and Interference, guys from "Singing F-Salt" "Commands" Navigator. Upgrade "and" Time to Space ", Natasha Rusinova and her" Jump-Skok Team ", culinary specialist Sergey Rudziewicz, Sasha Belogolovtsev and others. Favorite cartoon characters from Lentyaevo, Smeshariki, Fixiki, Belka and Strelka will perform with musical numbers.
It is expected that Sati Kazanova, Nyusha, Alexander Oleshko, Mark Tishman, Peter Dranga, Diana Gurtskaya and many others will come to congratulate the children on the beginning of the summer. The popular children's groups "Barbariki", "Street Magic", "Domisolka", "Fidget", "Heroes" and even the participants of the Junior Eurovision Song Contest will take part in the concert.
In the alleys around the fountain "Friendship of Peoples" tents will be located with a variety of entertainment. Separate zones are organized by the programs "Let's draw!", "Funny English", "Multstudio", "Belka and Strelka.
Naughty little family. The 10th anniversary of the holiday "Carousel" this year will celebrate the favorites of children – funny and colorful Smeshariki.
At the site of the "Road Alphabet" program, the presenters, together with the traffic police, will check the little guests for knowledge of the rules of the road. After all, this is especially true in the summer, when children are often left to themselves!
For the most stylish visitors of the holiday, the tent of the Fashion from the Dresser program will open its doors. There will be master classes on design of clothes and jewelry, "fashionable" games for the little ones.
A large platform this year is organized by the Ministry of Emergency Situations. Here, children will be able to get acquainted with the profession of a fireman, try on a uniform, sit in a real fire engine, and even climb a climbing wall.
In addition, the Emergencies Ministry staff will teach children to use a fire extinguisher and provide first aid.
At the end of the holiday, an amazing surprise is planned – a guest that everyone loves, but definitely does not expect to see it on June 1!
For those who will not be able to come to Moscow at the All-Russian Exhibition Center, the concert will be broadcast live on the Karusel channel. The presenters Svetlana Zeynalova and Mikhail Zelensky will show the audience the most interesting things that happen at the festival, and together with the artists they will congratulate all the children of Russia and the world on the International Children's Day.