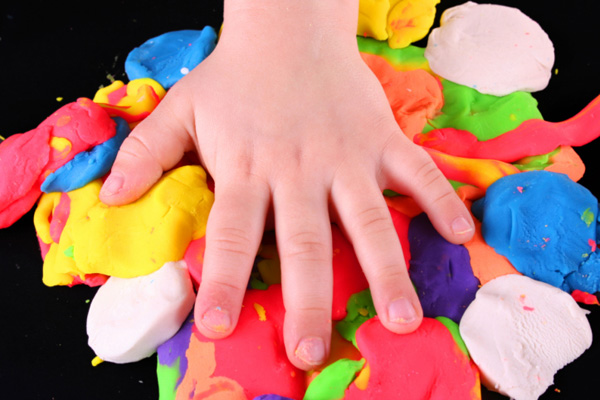 More recently, he lay wrapped in diapers. And now with a cheerful giggle, chasing a dog on all fours.
There comes a new stage in his life.
At the age of one year, the baby has, as a rule, far advanced in its psychomotor development: it sits steadily, crawls on all fours, and even starts walking. Now it's time to develop fine motor skills.
Do not be surprised if your crumb for hours beats the palms on the water, sorts out small pebbles, rubs clay or plasticine with your fingers. Not to mention the fact that it is so nice to dig in mashed potatoes!
"Sand or plasticine is the so-called" unstructured material, that is, material that can be changed at will, "explains child psychologist Ekaterina Vinokurova. – He has no clear boundaries, like a designer, he can take any form. If the child keeps the parts of the designer and moves them in space, he joins, then, working with clay, he creates, changes the material itself. "
It seems to us, adults, that these classes are boring and monotonous, stain clothes and furniture. But for kids, such games are not only interesting, but also important for psychomotor development. Fine motor skills are all the exact actions that a child learns to do with his fingers and thanks to whom he will eventually master the ability to hold a spoon, fork or tie shoelaces.
To study the world by touch is so natural for a child.
"Toddlers are starting to" try "the world around in the womb, – says psychologist, Volkhonka Center employee Vladislav Mozhaisky. – After birth, in the process of their development, children continue to do it more and more consciously. Due to this, psychophysical adaptive mechanisms are developed.
The simplest example of the action of such a mechanism is, for example, a child's play with a regular rubber ball. First, the baby squeezes the toy with handles, tries to touch it, throws it up. Then he hits the floor, noting that the harder he hits the ball, the higher he jumps.
A child rolls a ball, observes how he pushes off objects (from a table leg, for example) and thus learns how to handle it. "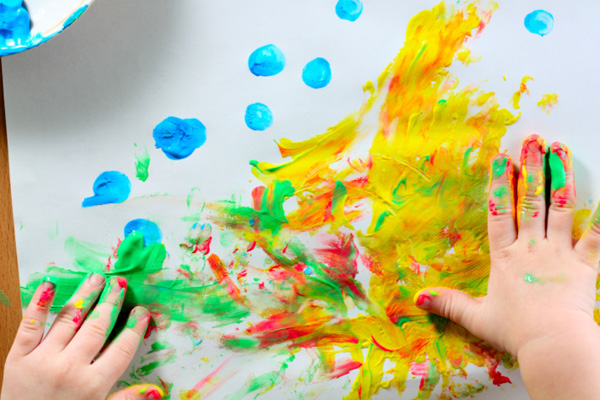 See how the child examines his palms, fingers, touches pencils scattered on the table, grabs small buttons on his mother's robe. Now he begins to understand that on each hand he has five fingers and each of them can move as he pleases.
To develop fingers, the baby needs special tactile exercise equipment. And this is sand, clay and water.
It's so interesting to mess with them! According to Catherine Vinokurov, in games with a designer, there is basically only a capture of a part, and in games with sand and plasticine there are a lot of other movements – patting, rolling, pouring, pinching, crushing and shaking off.
"There is another reason why children love to play with loose, flowing and viscous substances so much. A game for a child is a moment of creativity, happiness, amazing freedom, when he feels himself both a bold explorer, and a surprised sightseer in life, and the master of destiny, giving the game his own stories, and his clay and drawings his own forms and colors, "says Vladimir Mozhaisky .
The child learns the world through new sensations. Therefore, it is not worthwhile to prevent the inquisitive son from messing with clay, and his daughter should use his own hands as a tool for drawing.
Mom can also take part in the development of motor skills in the child. If we are talking about very young children, then it is primarily a massage of the fingers – all together and each separately, pleasant for the child to stroke and knead his hands, palms and fingers from the hands to the tips of the fingers.
You can massage not only with your hands, but also with the help of special tools, toys made of wood, clay, which are pleasant and interesting to the child. Then the massage will turn into an interesting game, unfolding on his body – on his hands, fingers and palms.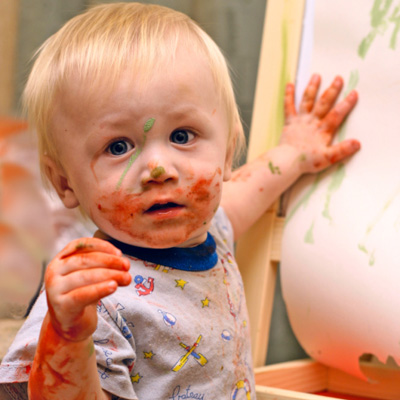 Children's simulators for the development of fine motor skills can be made from improvised means. In the usual basin pour sand (or pour water). All, take time.
A child can spend hours pouring grains of sand, pouring water from one cup to another and will experience genuine pleasure and interest. A basin of water, if desired, can be replaced by a box with clay or clay, which is sold in any art store.
Make sure that all this is intended for children and non-toxic. You can take the baby with you to the kitchen and knead the dough for pies together, for example.
Mixing eggs, flour, milk, sugar and cocoa in a large bowl, the child feels a variety of textures under his palms. Such games are especially necessary for children from 1.5 to 2 years, because at this age the child is no longer just the process, but also the result.
"Once the motility is small, then it must be developed on something small," says Ekaterina Vinokurova. – You can use the material that provides life itself: to play with coins, nuts, beans, buttons and other small items. The main thing is to ensure that the child does not swallow them.
You can roll them, put in different jars and cups, collect from the floor and stick to paper. In general, it's enough to sit with the baby on the carpet, take a handful of beans and a bottle – and the game will be invented. "
Modern medicine makes extensive use of haptic therapy for the treatment and development of young patients. Water and sand therapies have become popular in our country.
Sand games are adored by kids of all ages. What could be more pleasant than to dig in the hot sand or build kulichiki, castles and highways from this loose substance?
This was taken into account by game therapy specialists. Sand therapy is based on Jung's theory that each object of the external world causes a certain deep symbol in our unconscious.
Even an adult, touching the sand, feels a sense of peace and tranquility. Sand therapy has a positive effect on the emotional state of children.
Placing toys in the sand, the baby explores his feelings and feelings, listens to his body. At the same time, many hidden problems become visible to the specialist conducting the therapy.
At the same time, thanks to the sand, negative emotions of a person are also "grounded".