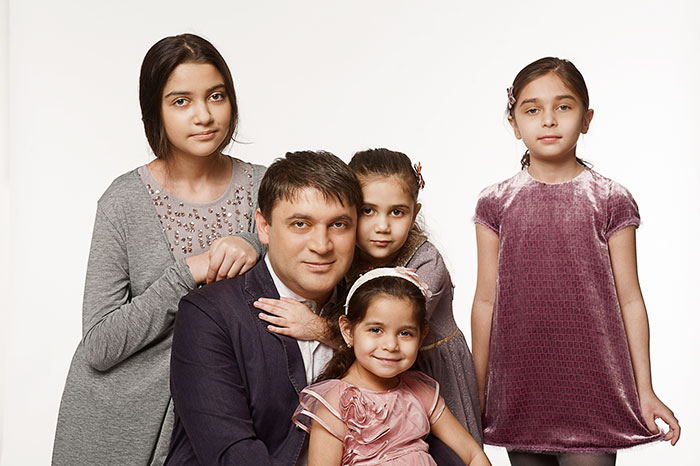 Happy Bush Parents, you have such a big family! Did you grow up in the same way?
Bush Goman Both me and my wife Elizabeth had the same large families. My family was even more current – five brothers and five sisters.
S. R. And what people are the roots of your families?
Bush Goman My family moved from Hungary, first to Ukraine, and then, in the eighties, my father moved the family to Moscow. And all my children were born here.
By mother I am a gypsy, and my wife too. And his father, in addition to the gypsy, still has a lot of different blood: Russian, Jewish, Hungarian.
S. R. Are there any national traditions that your family supports?
Bush Goman Nothing so special. By and large, I do not consider myself only a gypsy or Hungarian.
Born in Russia, a native speaker of Russian and I think that Russian is one who considers himself Russian. I consider myself a Russian person, I love Russian, I think that it is in him that a certain spirit lives, which forms certain traits of character. And the soul, which is called the mysterious Russian.
And this mystery lies in the word. I am sure about that. Wherever you are, if you meet a person who speaks Russian, you immediately feel a kindred feeling.
Even foreigners who have studied Russian are changing. They acquire something that they were previously deprived of.
S. R. But the wife, as is usual among the Gypsies, did your parents choose you?
Goman Bush is not at all. Elizaveta and I are distant relatives: she is my great-niece, we have a common grandfather.
My wife grew up in the city of Slavyansk, in Ukraine, and we lived an hour drive from there, in the city of Lozova, near Kharkov. In my childhood I often saw her at various joint holidays, but when I was transferred to Moscow as a child, our communication stopped.
And then somehow (we were already 18 years old) their family came to visit us. And that's it! No one was asked, they themselves decided to get married.
You know, love – it does not come by request. There comes, and that's it. Later, when children appear, love moves to a slightly different level, respect comes.
These are relationships that are difficult to define with words.
S. R. When there are many children in a family, does it help to strengthen the love between mom and dad?
Bush Goman More, perhaps, promotes respect and understanding. You look at the man whom you knew as a girl, and today she is already the mother of seven children! And with age, when wisdom comes, more and more you realize how much a wife deserves respect.
And just because this person is loyal, loving. As for the consolidation of love, then, I think the whole thing is in the correct model of the family, in its main secret, if you will. And it can be found in the Bible.
It says that the head of the wife is the husband, and the head of the husband is God. For me, this is precisely the secret of the family.
The secret of a successful family, the secret of happy parents. And the absence of the divine leads, in my opinion, to sad results, because our God is a god of order and, if he is not in the family, then there is no order in it.
The secret of success is in the algorithm that was given long ago in the commandments. After all, they are not a set of prohibitions at all; commandments are useful tips.
And, if a person is not a fool, he will listen to them. I finally understood this when I had children.
S. R. What should be done so that this order is not violated?
Bush Goman Attend church and pray more often. And, of course, the man in the family must take responsibility for everything: for his wife, children, money, home. And with all this we must deal not with our own property, but with the property of God.
All this is his, but we use it. If this is taken into account and kept in mind, the approach to everything, and to the family as well, will be completely different from what is customary today.
S. R. And how difficult is it for you to be the main big family?
Goman Bush On the one hand, this is already some kind of machine gun. That is, I just do what I need, depending on the prevailing circumstances. That which is given from God is right.
Another child is born – that is how it should be. On the other hand, a large family, many children is, of course, a big responsibility.
Very big. You know, there was a time when my wife and I had been thinking for several years that we could not have children.
S. R. Did the doctors tell you?
Bush Goman Yes. Just diagnosed: childlessness. But despite this, we continued to want children and didn't believe the doctors too much.
Moreover, in the tradition of our fathers and grandfathers were not just families with children, but families with a large number of them. The matter has reached the point that this question has become a matter of principle. What could we do?
Just pray. And we prayed.
S. R. And the miracle happened?
Bush Goman It is a miracle! Children began to be born in response to our prayers.
Seven children – seven wonders! And I gave God the word that I will speak and tell everyone about it.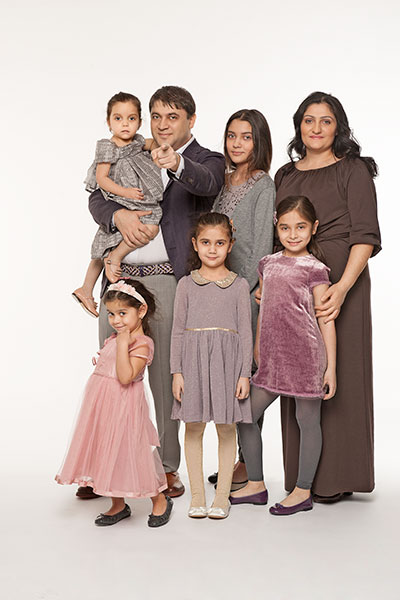 S. R. Today, only our girls are our guests, but there are also two sons. Let's call all the children by name.
Bush Goman The eldest son is Alexander, he is 18 years old, Antoshka is 17, Marie is 12, Dasha is 8, Arians are 6, Gloria is 3 and Reveke is 2 years.
S. R. Does it happen that they do not obey you? What are you doing then?
Bush Goman Here you can draw this analogy: for example, the police in the state exist to keep order, doctors – to treat people, but parents for children – educators, of course. It happens, of course, that you have to raise your voice and slap lightly. But this is not rude, this is a way of warning the child to remember: you can't do that because it's dangerous.
In the family, as in the state, must have its own laws. For example, the requirement that the road cannot be crossed in an unauthorized place – is this a law?
Law! And it must be respected. And parents, in order not to punish once again and not endanger children, are obliged to inspire such things to them immediately, still small ones, developing something like an instinct in them.
So, while uttering these very "laws" with their children, parents thus save them by warning in advance. In addition, children need to cultivate respect for their parents – after all, they should have reason to observe some rules, which they may not yet fully understand.
This is exactly what makes a child, already ready to go across the road, stop. No fear, no! But respect.
And by my own example, of course, I also show them how to behave. Or suppose I sit reading something and immediately share what I read with my daughter. And we talk with her, each express our opinion.
It is important and joyful for me when I see that children are hurt, sincerely worried about the same thing as me.
S. R. How does your family find a balance between keeping the commandments and modern realities, where there are many temptations?
Bush Goman Naturally, my children live a normal life and, like their peers, also do not get out of the Internet, social networks, watching TV. They quarrel, sometimes they quarrel among themselves, like all children. I am struggling with this, but I understand that absolutely impossible to avoid this.
But I hope for my children and trust them. The world is like a huge laid table, from which everyone is free to take what he needs. I hope my children will take the right things from him and will not reach for harmful or dangerous things.
Of course, I cannot say that none of them will ever be tempted by anything, but for the time being I am satisfied with their choice. And then we will see.
Moreover, I am convinced that if there is music in the life of children and they are not only listeners, but are directly involved in it, then everything will be fine with them.
S. R. Do they sing, play instruments?
Goman Bush Learn to play. And they all sing.
The eldest, Alexander, plays the guitar and sings. Antoshka, however, is not a musician, but a good football player. But the music listens and loves.
As a music expert, he's cool. All the girls sing very well, and Rebekah does this without learning to speak. And so accurately reproduces, like a professional, it happens, will not work.
And the notes are all in place, and tonality holds.
S. R. Would you like your children to have families like yours?
Bush Goman I think it's not up to me to decide how things will be. Maybe enough for two or three children … Although, we have many children from generation to generation, it seems, is passed.
Just like the love of singing, because in the family where I grew up, everyone sang too. As for the future of children, I think it is wrong when they say that it was supposed to be so.
Everything depends on the person, only he himself is the creator of his destiny and his life.
S. R. Participation in the "Voice" somehow changed your life?
Bush Goman "Voice" greatly contributed to my concert activities. If yesterday I worked for some money, then today – for others. Before the project, of course, I was also known throughout the gypsy world in different countries, but still it was quite local.
Now everything has become much more ambitious. There are concerts, there is money, but we don't want to stop there.
For example, on May 24, for example, I have a solo concert in Crocus City, where there will be a lot of guests – pop, film and sports stars. And for this concert we are preparing an album of my copyright songs.
S. R. You said that everyone in your family is singing, and they did not think to organize a family ensemble?
Bush Goman Of course, we thought, of course, we want, and all this will be! But my youngest ones are very small, my brothers have no time.
And, as soon as everyone grows up and free, everything will be. Our family will still make itself felt, and we will definitely show love for our country, for our city, for our people!
Alexey Tikhonov: "It turned out I was wrong: love is not a hindrance to sporting achievements"
World champions, athletes, artists, members of the most popular ice shows of the country … And, according to many viewers, they are the most charming pair of our figure skating. Maria Petrova and Alexey Tikhonov with their daughter Polina are our guest today. Read more
Natalie: "I went to the second child to ask Matronushka"
"The wind blew from the sea," "Oh, God, what a man!" – you also sing these hits, between which, by the way, 12 years of difference? Then this story of the singer Natalie's performer of songs and the heroine of the Toch-to-Tee show about her work, family and sons – Arseni is 13 years old and Anatolia is 4 years old for you! Read more