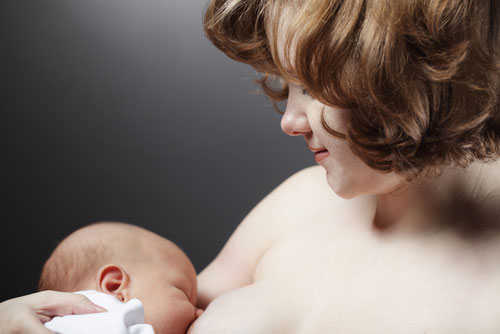 One of the main rules of success – the correct position of the mother and child during feeding. When the baby sucks, it must seize with its mouth not only the nipple, but also the isola, the areola. This is important both for mother and baby: due to the large coverage area, enough nervous impulses from the skin surface are supplied to the woman's brain, and milk production increases, and no cracks appear on the nipples.
It is easier for a baby in such a position to suck out the milk, because it is worth only slightly squeezing the lips as it flows into the mouth – and this is especially important for weak and premature babies.
Comfortable position. The child with his whole body turned to his mother and pressed to her.
His head is in line with his body, not tilting back. The baby touches her mother's chin and sees her face well.
In this case, a woman can settle down as she is more comfortable: sitting, lying down or holding the child under her arm.
Babies have a reflex that makes them suck as soon as something touches the sky: just touch the nipple to his upper lip – and the little one will grab it. But in order to make it easier for him to hold his chest in his mouth, he would need mother's support. For this, a woman raises her breasts with her hand, putting her thumb on top, and the rest from below, not too close to the nipple so as not to pinch it, and sends the entire mammary gland into the baby's mouth, and not just the nipple.
In this position, the child's mouth is wide open, the lower lip is turned out and under the nipple, and the lowered but not protruding tongue is planted under the breast. The areola and nipple fill almost the entire cavity of his mouth, and movements of the baby's tongue massage the breast.